Are you planning a trip to Vietnam? Here are some things you really want to know before you catch your flight to this incredible country!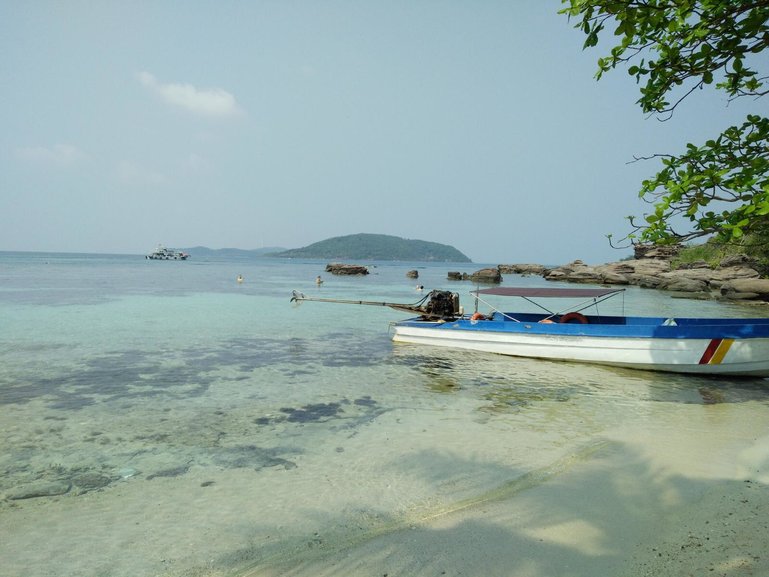 Peaceful Phu Quoc
1. Culture shock
---
Well, let's begin. When you are from a Western country, be prepared for a culture shock. If you are used to Western food and norms and values, Vietnam could be shocking in the beginning. In Asia everything is different from the Western world, it is just a completely different way of living. For us it definitely was a culture shock because it was our first country ever we visited in Asia. When you arrive in Ho Chi Minh city or Hanoi you will probably feel a bit overwhelmed because these cities are so crowded and so noisy but just let it happen. It is absolutely okay to feel impressed by everything around you, that is exactly what makes a counrty like vietnam so special.
2. Currency
---
The currency in Vietnam is the Vietnamese Dong. 25000 Dong (VND) is about 1 euro (EUR) or 1 dollar (USD), so be prepared to always have thousands or millions of cash in your pocket haha.. Feels a bit weird if you are used to euro's or dollars. People in Vietnam always pay everything in cash and on the most markets or in shops it is only possible to pay cash so make sure you always have some cash with you. The exchange rate may change, so it is wise to download a currency converter app on your phone in advance :)
3. Normal bankcard or a credit card?
---
We would definitely recommend you to have both! In many hostels or at ATM's you can just pay with your normal bankcard but it is not everywhere accepted. Especcialy in the rural area's in Vietnam the ATM's do not accept your normal bankcard. Personally we were super happy we brought our creditcards with us because we have used them several times. It can also be that an ATM also doesn't accept your creditcard for some reason so make sure everytime you find a working ATM get yourself enough cash for a few days! Besides that it is usefull to have enough cash in your pocket it is also recommended to pin as little as possible because you often pay high fees for the pin. And another advice, the US dollar is also accepted as a currency everywhere in the country.
4. Temperature differences
---
If you thought Vietnam is a tropical country where it is always warm and you can wear flip flops everywhere you are wrong. Vietnam is a diverse country and it has a lot of different landscapes, tropical beaches, mountains, caves, everything! So prepare yourself and make sure you pack enough warm clothes as well, especcialy in the North of Vietnam it can be cold. If you plan to do some hikes around Sapa it is also wise to bring a rainjacket and some good hiking boots. For the South of the country a pair of flip flops and some dresses will be alright :)
5. Language
---
In Vietnam most people speak Vietnamese. A very difficult language for non-native speakers, and almost impossible to learn in a short time. Fortunately, the Vietnamese learn to speak English better and better and with body langauge you can make a lot claer. Nevertheless, the Vietnamese really appreciate it when you speak a few words of Vietnamese. We learned how to say hello, goodbye, thank you and see you in Vietnamese, very useful :)
6. Vaccinations
---
Before traveling to Vietnam it is useful to check which vaccinations are required for the country. At this time, a hepatitis A vaccination and a DTP vaccination (diphtheria, tetanus and polio) are required. If you are going to travel to the border with Cambodia, malaria tablets are also recommended for some areas. It is also useful to take diarrhea tablets and mosquito repellent, you never know what the spicy (but so delicious!) food can do to your stomach.
7. Prices in Vietnam
---
Vietnam is a very cheap counrty is you are used to Western prices. Because converting Dongs to euros or dollars can be difficult at first, the Vietnamese often try to make you pay too much. Especially in markets, they often try to make you pay too much for a bunch of bananas or a bag of strawberries.Very understandable because for them it is a little extra pocket money. However, it is not fair and that is why we recommend to always use your currency converter app on your phone to convert the prices. You can make Vietnam as expensive or cheap as you want, but in general Vietnam is very cheap. Below is a list of the costs in Vietnam for food / drinks, transportation and accommodation.
7.1. Food and drinks
Vietnamese food: in VND this will be 20.000 - 150.000 dong --> 0,75 - 7,50 euro max. (0,75 for a Bahn Mi for breakfast or lunch and max 7,50 for an extensive dinner with a drink)

Western food: in VND this will be 100.000 - 350.000 dong --> 3,70 - 13,20 euro max

Vietnamese beer: for about 30.000 VND you can drink a Hanoi or Saigon beer (about 1,15 in euros)

Cocktail: prices starting from 100.000 VND (about 3,70 in euros)

Coffee/tea: for about 30.000 - 50.000 VND you can drink an authentic Vietnamese coffee or tea.
7.2. Transport
Many types of transportation are possible in Vietnam. Some travel the country by bus, others by motorbike and others by train. We traveled Vietnam mostly by bus and for us this was a perfect type of transport, it is cheap, they mostly drive overnight (sleeping buses) so it saves you costst for accomodation and you don't waste time at daytime. Here we got you a list of what transport will cost you in Vietnam:
Bus: for about 300.000 - 400.000 VND you can catch an overnight bus (5 to 8h drive, in euros this is 10 - 15 euros)
Train: 25.000 - 1.400.000 VND for a single journey by train (the prices depend on the distance you travel, in euros this is 8 - 50 euros)
Plane: 800.000 - 1.700.000 VND for a single flight (depending on the distance, in euros this is 30 - 65 euros)
Taxi (Grab/Uber): 10.000 - 25.000 VND for a ride on a scooter or in a car (this is for taxi transport in a city, very cheap! In euros this is about 0,35 - 1 euro)
Scooter rent: 100.000 - 150.000 VND for a day (about 3,70 - 7,50 in euros, depending on location and condition of the scooter)
7.3. Accommodation
Hostels: prices starting from 130.000 VND (about 4,90 in euros for a bed in a dorm room + breakfast)
Hotel: prices starting from 200.000 VND (about 7,50 in euros for a 4-6 persons dorm room) for a super luxurious private room you pay about 1.800.000 VND (about 70 euros)

8. Traffic
---
Prepare yourself for some hectic and chaotic traffic in Vietnam, haha. Especially in the cities, traffic can be very busy and hectic. We therefore did not feel safe enough to immediately rent a scooter in HCMC. Once we got used to traffic we dared to rent scooters outside of the big cities and, it was absolute freedom to drive a scooter through this beautiful counrty! So we definitely recommend renting a scooter, but feel safe enough to do it :)
9. Travel insurance
---
Before you go to Vietnam, it is wise to check at home what kind of travel insurance you have and what it covers. For people from Europe for example, your standard travel insurance often only has europe coverage, so make sure you convert this to world coverage. It would cost you a lot of money if something happens and you are not insured for this, so very essential to check before you go, saves you a lot of money and hassle!
10. Hand luggage
---
It is always possible that your luggage arrives late in Vietnam because it went on the wrong plane during your transfer, this also happened to us. For us it took 5 days for our luggage to arrive so it is useful if you have all the essentials in your hand luggage :) If you put your wallet, phone, charger, visa, toothbrush, hairbrush and clean underpants and a shirt in your hand luggage, you will have all you need.
11. Visa
---
Vietnam has granted exemptions for some western European countries, including France, Spain and Germany. Unfortunately, this exception does not work for the Netherlands and Belgium. So check before you leave whether you need a visa for Vietnam or not. If you do need a visa, just like us, there are 3 simple ways to apply for a visa. First, you can apply for an e-visa via the internet, this will cost you about 49 euros. A second option is to apply for a visa at the embassy in your country, this option is a bit more expensive, but then you have a nice stamp in your passport and you are not struggling with an online version, this costs about 78 euros in the Netherlands. The last option is a visa on arrival, which you can already apply for from home and you can arrange this further when you arrive, but this is not recommended because it takes a lot of time when you arrive and your visa can be refused.
12. Plan a route
---
Make no mistake in how big and elongated Vietnam is. On the map it may not seem like a very big country, but you need at least 4 to 5 weeks to get the most out of your trip. If you go shorter than 4 weeks you will have to accept that you cannot see everything. So plan an overall route before you go. Then you can prepare for it and you know that you don't have to rush. If you have 5 to 6 weeks to go you can get the best out of Vietnam, then you can travel the entire country and even visit Cat Ba or Phu Quoc. Nevertheless I would already plan a route so that you have a goal. You do not have to book anything from home for the entire trip, you can easily arrange this on site. In that way you stay flexible and you can still adjust your route if you want.
13. Ninh Binh or Tam Coc?
---
Tam Coc is the place to be! Many people make the mistake of booking a hotel or hostel in Ninh Binh because it is the city that everyone knows. Tam Coc is a few km from Ninh Binh but is much nicer. Almost no one knows Tam Coc beforehand, which is why people make the mistake of going to Ninh Binh. So make sure you book a nice hotel or hostel in Tam Coc and avoid Ninh Binh, there is nothing special.
14. How safe is Vietnam?
---
We have experiences Vietnam as a super friendly and safe county. I traveled Vietnam on my own (solo female traveler) when I was 18 years old and I have never felt unsafe. Most of the people were nice and helpful, of course there are always people who want to scam you for a few euros but those are things you should prepare for before coming to vietnam. You shouldn't be too naive when you come to a country like Vietnam, but in general the people were very sweet and sincere.Vietnam is a perfect backpacking country and it is great for solo travelers. The country is full of backpackers and there are always plenty of new friends to make.
15. Is Vietnam worth a visit?
---
YES, Vietnam is definitely worth a visit if you ask us! Vietnam has captured a special place in our hearts and we are still in love with the country. The landscapes, the culture, the people, the food, everything in Vietnam is impressive. So pack your bags and explore this amazing country!