The #9SuperFriends trip to Chile and Argentina was anything but traditional. We traded seasons: winter for late spring and Thanksgiving dinner and turkey for a gourmet dinner in the heart of Chilean wine country, the Maipo Valley. Piles of beef and fish were the superstars, not a Butterball. Santiago was full of surprises besides the ongoing civil unrest that included a giant tarantula sighting on a hike in the Parque Metropolitano.
We discovered that Malbec is NOT the only South American wine… we can assure you that Chilean Cabernet and Carménère are on par and better. And, the best way to discover new wineries, on two wheels, of course. We elected to bike The Ruta de Vino in Colchagua Valley, pedaling up/down rolling hills to Viña Montes ending with a significant ascent up the terraced vineyards of Ventisquero. When you combine the mountain views with their Vertice blend of Syrah and Carménère, it was well above a 90-point rating.
Besides many nights of wine research, this 12-day #GAdventures itinerary featured an optional active volcano ascent and mountain biking with Freeride Pucon also on volcanic terrain. Pucon is aptly known as the adventure capital of Chile. On vacation, it's important to choose activities that require helmets and emergency-medical evacuation insurance! And, once in Argentina, the activities were no less adventurous. The drive through the Lakes District en route to Bariloche and the northern tip of Patagonia was simply put, jaw-droppingly gorgeous.
We did try to chill out by joining two gauchos for a leisurely horseback ride on a vast 85,000-acre ranch. Though during our ride, we saw a real-time wildlife special when the two herding dogs cornered a fox in the sagebrush, and a wild skirmish ensued. We witnessed a dustbowl of ferocious fighting ending in the fox's death! The Andes range, Cerro Catedral, and alpine lakes also in Bariloche provided the playground for group kayaking and some un-sanctioned trekking and bouldering. And, we saved Buenos Aires for last where we discovered its people and their true passions: Tango and futbol (soccer).
The trip was planned around celebrating milestone birthdays – this time at 50, it was my turn to choose the destination.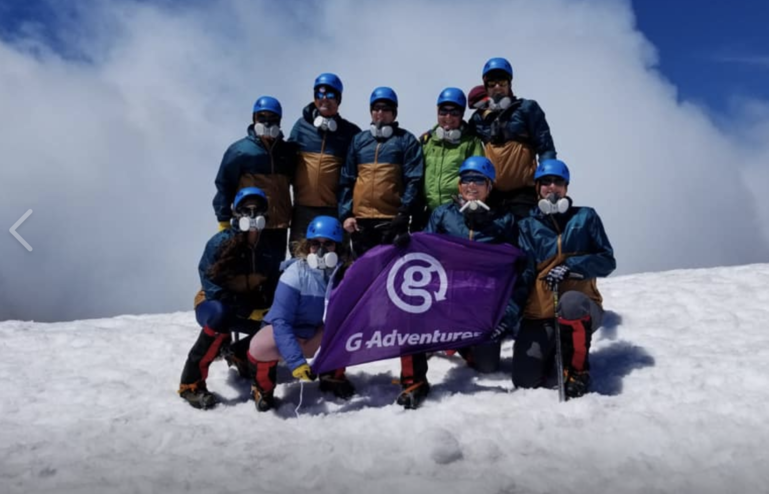 Volcano Villarrica summit in Pucon, Chile
Chile is a massive, long, and narrow country, so it took an eight-hour van ride to go from Colchagua Valley to Pucon, the adventure capital. We drove by several white-capped volcanoes en route all with puffs of white floating above the craters, making it seem as if the earth was exhaling fumes from its core! We traded the heat of the city and valley sun for mountain-tinged air with sulfur fumes. Fernanda (our fantastic trip leader) went over the activity choices during the lengthy logistics: volcano hike, white-water rafting, mountain biking, kayaking, and a thermal springs visit, just to name a few.
After the trip, I asked everyone to name a favorite activity. One of the top choices was the Villarrica volcano hike. Some of us signed on for summiting an active volcano with a local guide. As Jen always says, "What could go wrong?" It's a six-hour experience that starts really early. After a bumpy van ride to the ski area base, we handed over 10,000 pesos for a short chairlift ride that saved us 1000 meters of walking in heavy boots. All flatlanders, we gladly paid! The wind on the trek made it seem more extreme, add in crampons and ice axes, and it felt like Everest in our minds. Nearing the summit, both Fernanda and I actually got knocked to our knees twice from wind gusts! After success photos at the top wearing gas masks, we witnessed vast plumes of smoke billowing out of the cauldron that was quickly whisked away by the wind. The best part of the Villarrica experience was a surprise, sledding down vs. hiking. The guide team equipped us with the gear: wind pants with reinforced ass padding and a mini saucer to sit on. We took turns racing down the snow chutes using ice axes for rudders. It took over four hours to go up and less than an hour to make it down.
Besides extreme activities, I should mention we were treated to a proper barbecue on La Fragua ranch after recovering from the call of a wild show. I was reminded that foxes eat sheep, so the dogs had done their job. Fernanda also demonstrated an important Argentine tradition of drinking Mate tea. More than just the taste of the strong tea, drinking Mate is about community and bringing people together by sharing the drink. The barbecues here do not include burgers and dogs (no pun intended) but piles of slow-cooked steak and sausage with a traditional Chimichurri sauce. Bowls lined the long table filled with crusty bread, pesto-topped potatoes, and a tomato salad paired with unlimited bottles of Malbec. The two-hour meal was complete only after devouring a traditional crepe filled with a melty caramel sauce (dulce de leche).
The activity level was high. Everyone collapsed into bed each night, deeply tired and satisfied. Perhaps my second place memory to the volcano was a spontaneous hike to Refugio Frey near Cerro Catedral. Everyone chose activities to suit, four of us choose a mountain hike on our free day. We tried to find our own way, only to experience bouldering that required three-points of contact (two legs and a hand to prevent sliding to an untimely end). Free had a price: my legs paid dearly and ached for two days after. The Frey hike started innocuously enough, we hailed a cab to the resort base then we took the cable car to Refugio Lynch near the top. The trekking officially began past the ski area boundary to a ridge and a narrow trail with loose rocks and scree. That led to more precarious terrain with vertical cliffs to our north and a maze of boulders to climb up and around. We scrambled for two hours until a trail marker highlighted a chute opening that descended to an alpine lake. The hike transitioned, and we squished forward on soft sun-baked snow, several times we fell through to our thighs.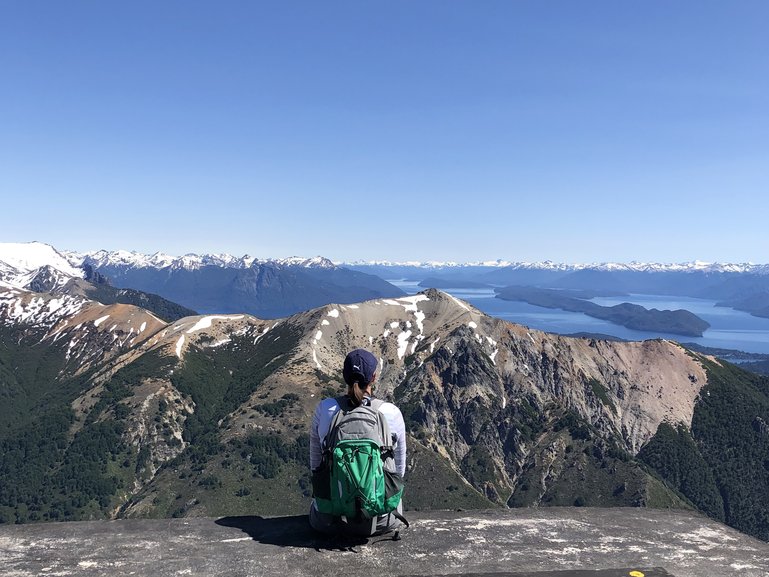 Cerro Catedral Resort in Bariloche, Argentina
We celebrated when Refugio Frey appeared like an apparition in the distance beyond the lake. I blinked to confirm the two-story hut and its bright red shutters. This oasis of goodness had cold drinks and grilled sandwiches. We greedily scarfed them down and guzzled sodas and beer. I was all smiles and living in the moment until Steve informed, "We are only halfway around the loop." "What?" I lamented, with a mouthful of ham and cheese. 10 kilometers more to go, he confirmed. Crap. We still had to descend to the forest and hike the length of Lake Gutierrez back to the ski resort.
We left the Andes behind for bustling Buenos Aires, the hub of passionate performances, both on stage and on the pitch. Fernanda's team, River Plate was playing local rival San Lorenzo in a pivotal home game, so we persuaded her to buy us tickets and show us around. Over 60,000 surrounded us in sound and a sea of red of white that showcased a local passion for the beautiful game. The only disappointment was an unfortunate 0 – 1 loss. We continued to soak up BA energy. Instead of River Plate red, we put on collared shirts or LBD's (little black dresses) for a Tango dinner show, El Querandi. The dancers and musicians combined for a riveting experience equally as intense as soccer. Indeed, the tango dance exhibits how close two people can get with clothes on! My cheeks glowed pink from many glasses of Malbec and the intimate display of the dancers' bodies intertwined.
The music faded, the dancers slipped backstage, and I sipped the last from my glass. In the last awake moments, words drifted through my thoughts that I did not have the energy to write down. Adventure, adrenaline, fox, wind, volcano, vino, and passion…