Marrakech is unlike anywhere else I have ever been. It is a city so full of hustle and bustle, it is almost exhausting to the senses. The sights, smells, sounds, colours, and heat make it an incredibly full on experience. That being said, it's an experience I would happily have again and I wouldn't change a thing about our trip. I would honestly recommend a visit to Marrakech to anyone, even if you stay outside the city and spend a day here – it really will take your breath away.
Day 1 – Arrival and Orientation
---
So, when we arrived in Marrakech, we were immediately taken away by the busy-ness of the place. We had booked a dorm at the Earth Hostel, because it was located close to the centre and was really reasonable price wise. As it turned out, it was even more in the centre than we realised. It was located on one of the many winding streets that make up the Souks Medina (market area) of Marrakech and was just a stones throw away from Jemaa-el-Fna – the main square. The hostel itself was really lovely, with a brilliant roof terrace with views over the city, a tasty breakfast included in the price, comfy beds, decent showers, and really friendly staff.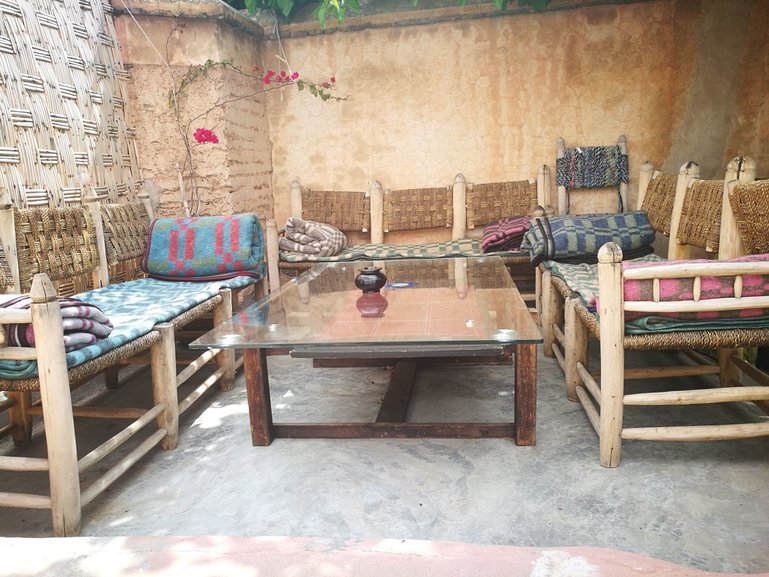 Once we were settled in our hostel, we decided to set out through the souks to find a spot for lunch. Marrakech is absolutely littered with cute little restaurants and cafes, most with roof terraces to boot. We stumbled across a particularly lovely one of these called Kafe Merstan, where we enjoyed traditional Moroccan mint tea and a gorgeous tagine on the shaded roof terrace, with stunning views out over the city.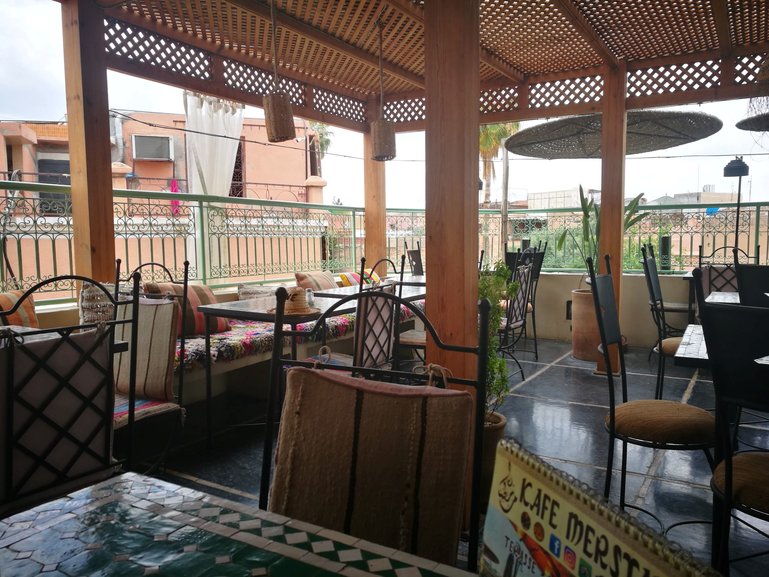 After our lunch, we decided to get out and explore. We had been told the tanneries were a must see whilst in the city, so we decided to head there first. I must point out, whilst in Marrakech, you will be constantly sidetracked by beautiful buildings, bustling souks, and entrepreneurial traders, so be prepared to spend longer getting to places than you originally intended! When we eventually reached the tanneries, we were offered a tour by one of the tannery workers. This was definitely an experience, and not for the faint hearted. For one thing, the smell was pretty nasty at times (as you would expect from drying out animal remains in the open air), and of course, if you are an animal lover, you need to be prepared for the fact that the tanneries are essentially drying out cow skins, which you will see in all stages.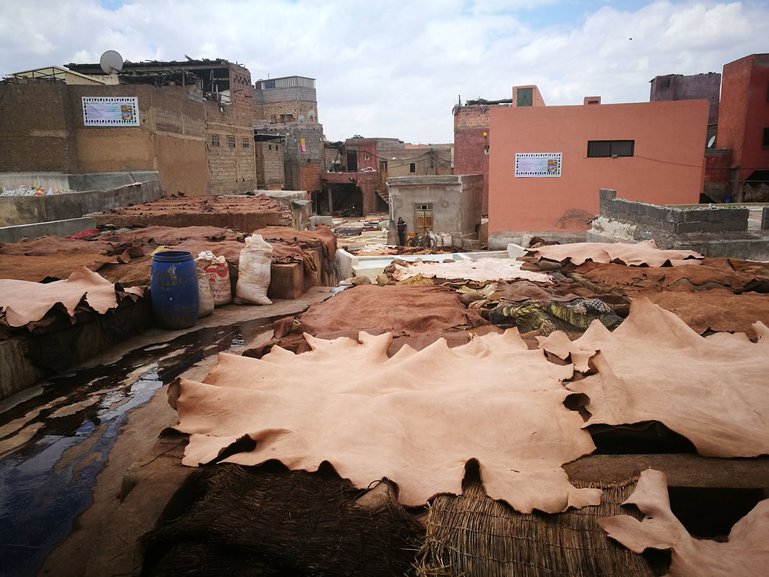 Disclaimer – this was not an official tour and we had a minor disagreement on completion of the tour regarding payment. Obviously, we paid the worker for his time but as a price had not been agreed upon, there was some friction. I would recommend seeking out a tour or making sure you agree the price you are willing to pay in advance.
Following our little excursion, we did a little more wandering around the centre of Marrakech and earmarked a few places for a visit later in the week. Having had a hefty tagine at lunchtime, we opted for picking up a few snack from a market and accompanying these with a few games of card on the rooftop of our hostel before bed.
Day 2 – More exploring!
---
On our second day, we decided to stick around the city centre and have a closer look at some of the sites. There are two large squares in Marrakech – Jemaa-el-Fna is the more bustling area, which is where our airport taxi dropped us of, and marks the entrance to the Souk Medina. The second large square, Place de Ferblantiers, is in a more expensive area of the city and is surrounded by bars and restaurants. This was where we headed at the beginning of day 2.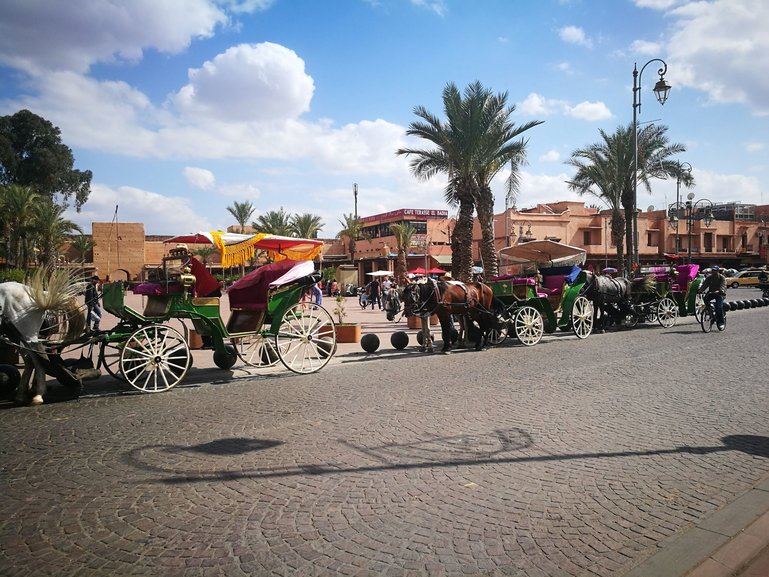 We had been hoping to visit the El Badii Palace, which backs onto the Place de Ferblantiers, but unfortunately, this was closed due to some ongoing constructions. However, it was still very impressive to walk round the perimeter and see some of the typical Moroccan architecture. After having our plans to visit the palace dashed, we decided to find somewhere for a drink and a spot of lunch. Our trusty lonely planet guide recommended Kosybar as a hip place to visit, with lovely views over the square. Although it was a little more pricey than some of the smaller cafes we had visited, it was a lovely place, well decorated and with the promised view over the square!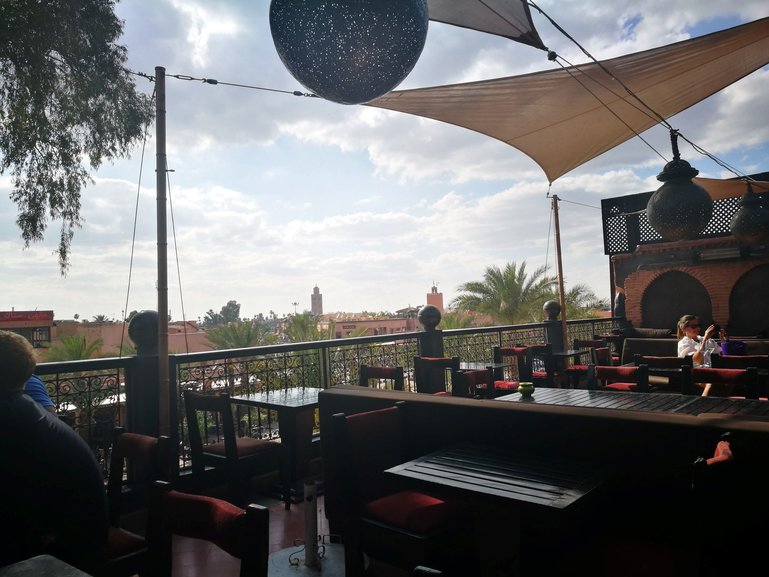 Following some refreshment, we decided to go and see what Marrakech is famous for – some of the beautiful Mosques. Obviously, it is not acceptable to enter many of the mosques in Marrakech unless it is for worship, but they are just as impressive viewed from the outside. We went to see the Koutoubia mosque which is the largest in the city. Non-Muslims are not allowed to enter the mosque but you can view the outside and the surrounding gardens, as well as the site of the original mosque which was replaced by the current one in 1158.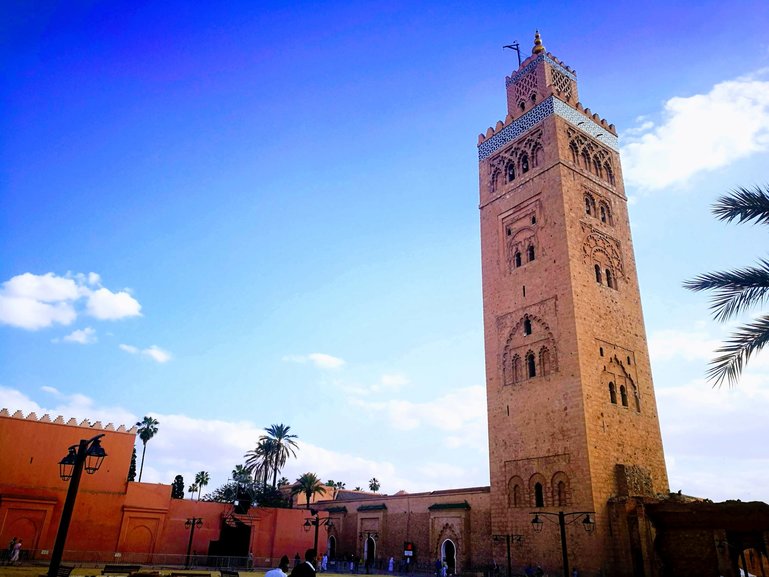 For dinner on our second evening, we decided to brave the Jemaa el-Fna food stalls. Each day, at around 5pm, the square transforms into an enormous street food market. This is a brilliant thing to experience but be prepared – it is quite full on as soon as you enter the area with so many stalls to choose from and enthusiastic touts trying to draw you in to eat at every one. You can find all sorts of foods at the market, from very traditional, to more Western delicacies, but all freshly cooked in front of you. I would recommend spending a little time wandering around, and trying not to get drawn in by touts, to have a good look at what food you feel like eating. My second piece of advice; look for stalls which are busy, but especially busy with locals, as this is a surefire sign of a tried and tested good option! We had some delicious grilled meats and rice, along with the typical Moroccan accompaniment of flat breads.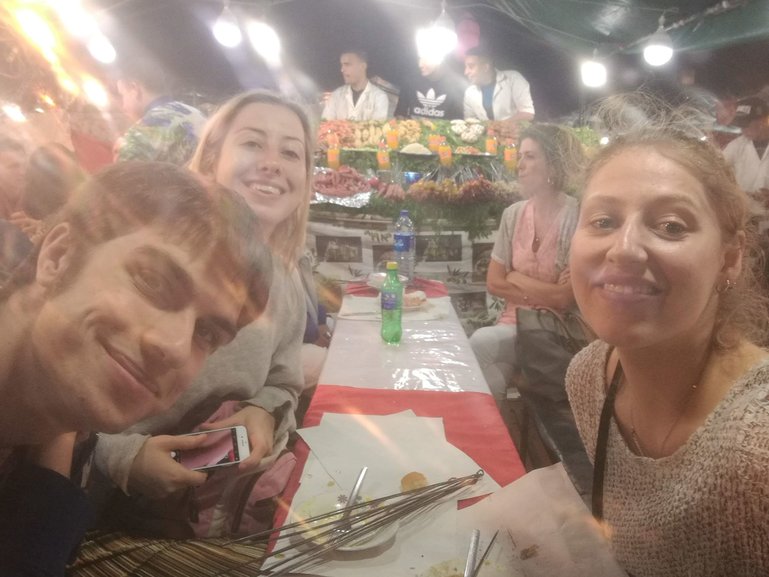 Day 3 – Ouzoud Falls
---
On our third day, we decided to book an excursion through the hostel and visit the Ouzoud falls just outside Marrakech. There were lots of options such as 4×4 trips into the Atlas mountains or visits to the coast near Marrakech for a beach day. Most hostels have their own company they recommend but there are also plenty of offices throughout the city if you wanted to shop around.
We were up bright and early, and the hostel owner very kindly got up to prepare our breakfast early so we could make it onto the tour. It was about an hour bus ride out of the city to the base of the falls. The tour was really worthwhile, as it also included a local guide and a visit to the local artisans in the area, as well as a tour of a traditional mountain village.
We were given a very thorough guided tour of the village area before beginning the walk up to the falls. The walk was not too hard going but was quite up and down so would recommend wearing sturdy trainers or boots rather than sandals or flip flops. There were several beautiful views of the falls along the walk and the guide was more than willing to stop for photo opportunities. It was a really hot day so we were quite glad of the shaded walk down to the base of the falls.
One of the highlights of the trip was the local troop of monkeys which live in the area around the falls. They are very friendly, being used to tourists, and there were locals nearby ready to arm you with nuts if you wanted to get up close. Some of the monkeys were even a little over friendly – as you can see in the picture above! Just remember that these are still wild animals and you should always allow them to approach you rather than the other way around.
At the base of the falls there was the opportunity to visit a cafe for a cold drink, and even have a boat ride in the lagoon at the bottom of the waterfall. As we were on a guided tour we didn't have the opportunity to do these things, but the guide did wait very patiently to make sure everyone in the group got the chance to take some photos – particularly as there was a very conveniently placed rock which made for the perfect shot!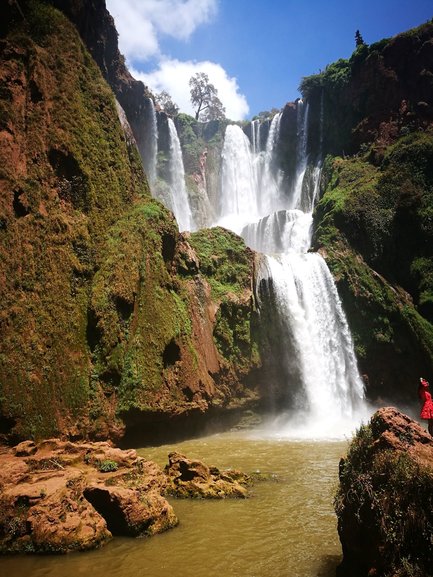 We then walked right up the side of the falls to reach the top. This is quite a steep ascent but there is a handrail to aid getting up so it is not too challenging. At the top there were lots of market stalls and a restaurant overlooking the falls where the group stopped for lunch before walking back to our bus.
All in all, this was a really lovely day and the guided tour was really worthwhile. This would be a place which would be relatively easy to visit on your own if you didn't want to be restricted by being with a group but I was really impressed with the whole tour package so would definitely recommend this. Our guide was particularly knowledgeable, friendly, and spoke several languages.
Again, after a heavy lunch, we opted for snacks and games back at the hostel. We even taught the hostel owner how to play 'go fish'!
Day 4 – The Gardens of Marrakech
---
Although the centre of is all hustle and bustle, there are some really beautiful nature spots located around Marrakech. Some of these are slightly further outside of the centre so you may want to consider a taxi or public transport, however, we decided to walk and visit some other sights along the way.
The main garden attraction of Marrakech is 'Le Jardin Majorelle' which was owned by Yves Saint Laurent and designed by Jacques Majorelle.
"For many years, the Jardin Majorelle has provided me with an endless source of inspiration, and I have often dreamt of its unique colours."
Yves Saint Laurent
As I have said, this is slightly further out so we visited a few other gardens on the way. The Cyber Park, is an interesting and beautiful garden which has wifi throughout the park and is sold as a good place to come and work peacefully. I thought this was a really lovely idea and the park itself was very beautiful.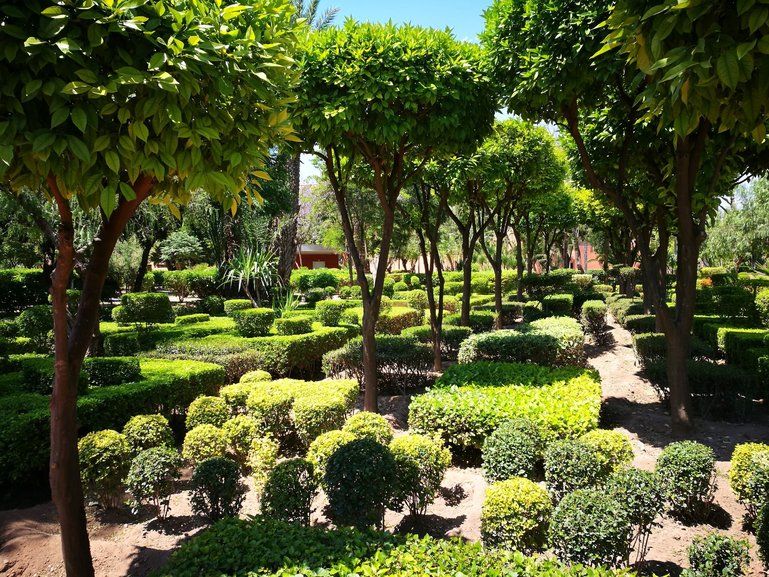 Further along our route, we came across the main shopping district of Marrakech, which stood in stark contrast to the bustling souks of the medina. This area of Marrakech is characterised by high end shops and fancy restaurants rather than cluttered market stalls. We had a quick wander through one of the malls but, unless you're a shopaholic, we weren't all that enchanted. You can find similar pretty much anywhere. We did however, take advantage of one of the many cafes for a spot of lunch before heading to our destination.
Now for 'Le Jardin Majorelle' itself. It is truly breathtaking. It costs 70 Dirhams to enter, which is around £15 but it is honestly worth it. The gardens are full of thousands of exotic plant species, and at the centre of the gardens is the famous blue house known as 'Villa Oasis' where Yves Saint Laurent lived after he purchased the gardens. You can also visit a Berber museum within the gardens, and enjoy refreshment in the Cafe Majorelle which serves breakfast, lunch, beverages and pastries. We enjoyed a mint tea and a pastry in the lush courtyard.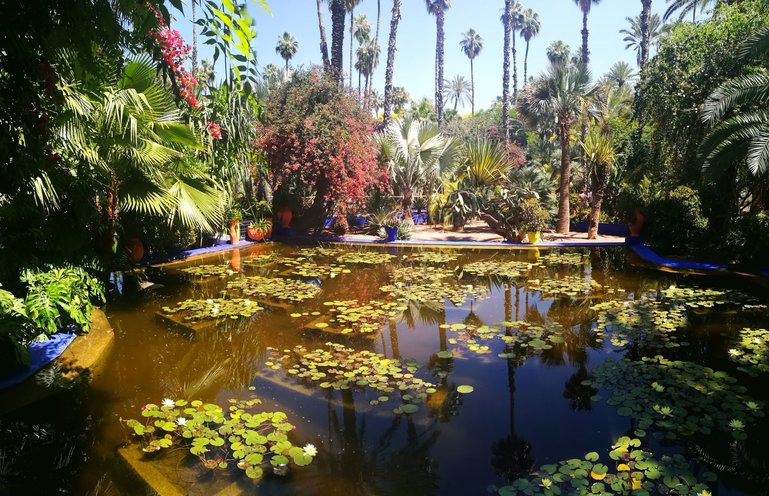 We topped off our day of beautiful gardens with a dinner in a beautiful rooftop restaurant with an absolutely incredible view over the city. Nomad has really lovely, relaxed vibes and delicious food and cocktails – we would highly recommend!
---
For our final day, we decided we couldn't leave Morocco without experiencing a Hammam. We did some research and came across 'Les Bains de l'Alhambra' who offered the more private style of Hammam for a reasonable price. Now, once again, be prepared and do your research before embarking on this experience. A Hammam is a style of bathing, which can be done either privately or in a more public setting. We opted for a private Hammam and I must say I'm glad we did. The Hammam consisted of a scrub being rubbed all over the body and then spending some time lying in a steam room before being washed down with a shower. Me and my girl friend were put into the same room whilst our male friend was taken to have his treatment separately. We assumed private meant one to one but we girls were treated in the same room so make sure you go on this venture with people you are close to!
Although the treatment was a little odd, and not what we are used to in Western spas, it was enjoyable all the same. Our Hammam was followed by a face mask, foot rub, and mint tea in a small lounge area where we were reunited with our male friend. This was very enjoyable and relaxing.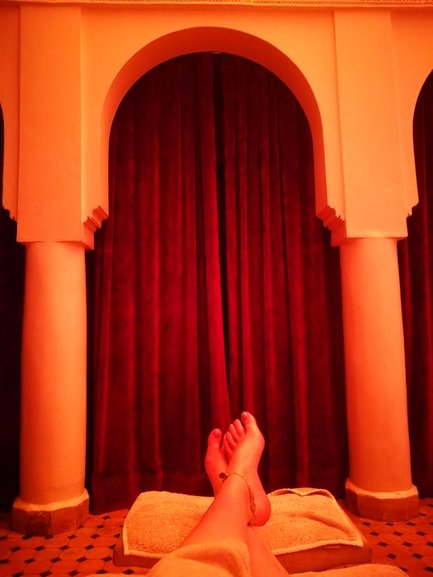 Following our Hammam, we went shopping. We had spent a lot of time wandering through the Medina but hadn't taken the time to do any shopping as of yet. We had spent some time looking to see which kind of items we may be after before embarking on our haggling missions. I would say, you must be prepared to haggle for the price in Marrakech. Particularly in the Medina, most market stall owners will give you an extortionate price to begin with, on the off chance that you might take it. As with any haggling, it is worth going in with a price in mind and working up to it rather than starting with the price you want to pay. Similarly, don't be afraid to shop around. If you see something you like but aren't happy with the price – ask for the best price they will give you and say you will come back if you don't find a better price elsewhere. They will either agree to this, in which case they have likely given you the lowest price they will give, or they will suddenly be able to drop the price even further!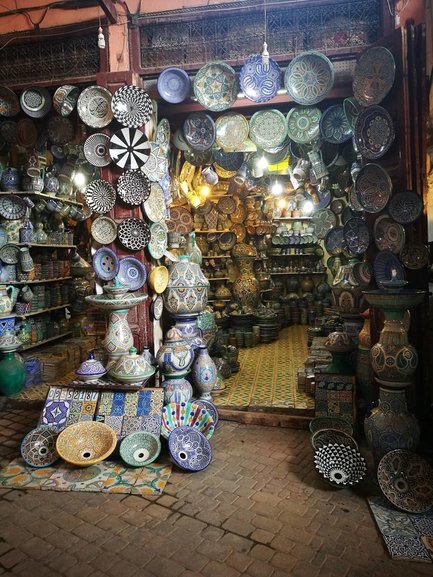 Disclaimer: Do remember, this is these people's livelihoods and the prices must make their work worthwhile. Lots of what is being sold requires time and effort to make so, to an extent, you must take into account, when you are being told the lowest they can go, that this may be the case in order to make the sale worthwhile. Be savvy but don't undersell the efforts of the craft work and time which has gone into items you are purchasing.
Finally, once our arms were laden with souveneirs of our trip, we headed for a quick wander around Saadien's tombs. There are some truly breathtaking mosaics, doorways and architecture here – it only costs a few dirham to get in and is highly worth a visit!
So that concludes my suggestions of what to do with 5 days in Marrakech. If you are limited for time, my top 3 suggestions would be:
Spend some time wandering around the Medina
Visit Le Jardin Majorelle
-Take an excursion to the Ouzoud Falls
Thanks for reading – let us know what you think, or if you have any questions, in the comments!