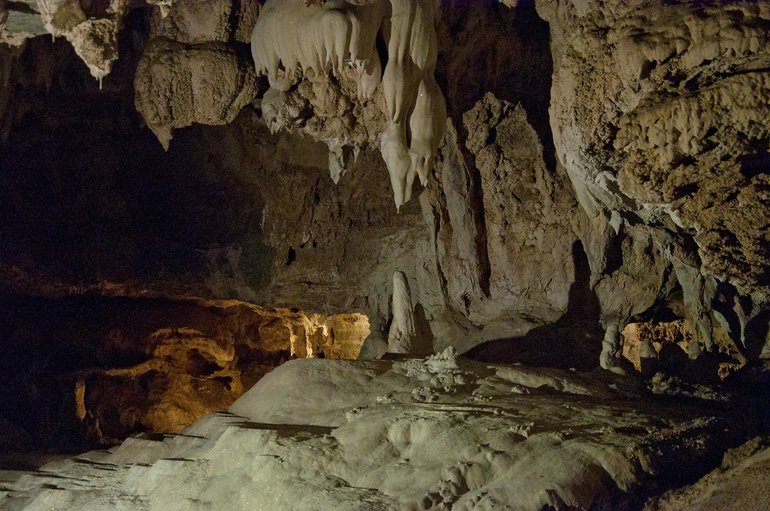 Crystal Cave in Sequoia National Park
Crystal Cave in Sequoia National Park is a fun, family-friendly adventure! The cave is accessible only by guided tour but luckily tours generally run May-November and it's easy to purchase affordable tickets.
About the cave
---
Crystal Cave is a marble solution cave which means that it was naturally sculpted by water thousands of years ago and is predominantly comprised of marble, which is rare, only about 10% of caves in the world are made of marble. Expect gorgeous white sparkling calcite formations inside as well as multiple water features. The cave was discovered by accident in 1918 by two park employees and remains a popular destination, inspiring curiosity and awe. The walkable underground tour route has paved paths and is lighted by solar-power. The whole experience is both exciting and calming and is sure to be a truly memorable adventure.
Tours
---
The Family Tour is 50 minutes long and is the perfect, all-ages introduction to Crystal Cave. Other types of tours are also available, check out www.sequoiaparksconservancy.org/crystalcave for more information. All tours are led by Sequoia Parks Conservancy Naturalists and are educational, entertaining and full of wonderful natural and human history. The tour is 2 miles round trip; 1/2 mile from the trail head parking lot where you check in using your ticket confirmation number, 1/2 mile route inside the cave on the guided tour, and 1/2 mile back up the cave trail to the parking lot. Expect to spend about 2 hours round trip. The trail to get to the cave is beautiful and you pass several waterfalls along the way. There are a few flights of stairs and narrow corridors within the cave so accessibility by wheelchair is not an option.The only items allowed inside the cave are your jacket, water bottle, flashlight and camera. No bags of any kind are allowed (including baby carriers) but they may be left unattended at the entrance of the cave during your tour.
How to prepare
---
Aim to arrive about 15 minutes prior to the time of your tour so you will be ready. There are no refunds for missed tours. Be sure to bring your own water and use the restrooms that are available in the parking lot before your tour as there are no restrooms at the cave. No food is sold here except bottles of water and small snacks but they do have souvenirs and parking is free. Temperatures inside the cave are 50 degrees F (10 degrees C) year round, so remember to bring a light jacket. Flashlights are not required but they sure do add to the fun so I recommend bringing one. You will be in active Black Bear habitat so you will need to put any food or heavily scented items from your vehicle into the free 'bear boxes' located around the parking lot. The road to get from Generals Highway to the cave parking lot takes about 20 minutes to drive and doesn't allow vehicles over 22 feet in length. The Sequoia Shuttle bus does not go to Crystal Cave. Drive slowly along the cave road as the road becomes a single lane at some points.
Cave protection
---
When visiting Crystal Cave, preservation of this irreplaceable resource is very important. Do not touch the formations or the walls of the cave as the oils in your skin can cause damage. It is also important to know about White-nose syndrome, which is a fungal disease killing millions bats in North America. Luckily the disease has not been detected in Crystal Cave but people can spread the fungus from one cave to another because it can be carried by shoes, clothing, or gear. Therefore if you have visited caves in other parts of the country, you must not wear the same clothing or equipment when visiting Crystal Cave. Thank you in advance for doing your part to protect the cave!
All in all, when visiting Sequoia and Kings Canyon National Parks, Crystal Cave is definitely a must-see!
Purchase tickets
---
​2020 Crystal Cave Tour Season: FRIDAY, MAY 22 - SUNDAY, NOVEMBER 29
Purchase your tickets in advance at Recreation.gov https://www.recreation.gov/ticket/facility/251898