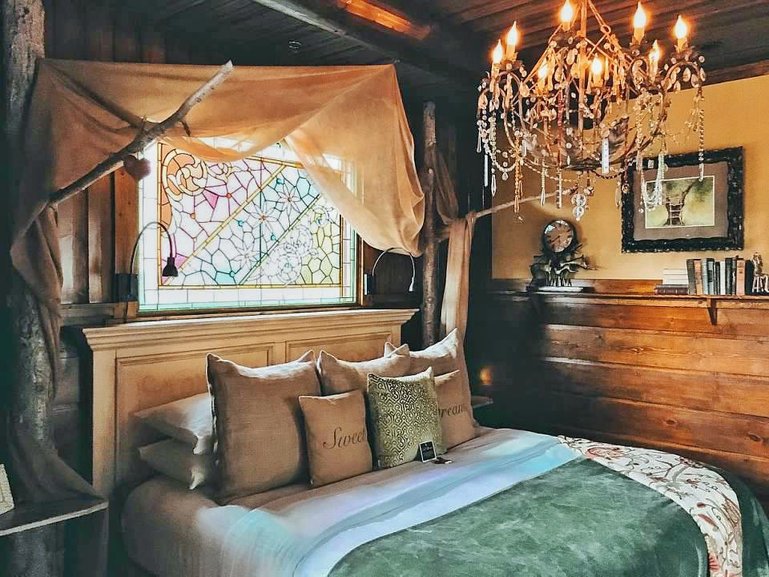 Highland Haven Creekside Inn
---
Evergreen is a quaint mountain town nestled in the Rocky Mountain foothills, with a population of just over 9,000 residents. Its location just off of I-70 makes it a close 30-minute drive to downtown Denver, and only a 15-minute drive to the popular concert venue, Red Rocks Amphitheatre. But, we weren't looking for Denver-proximity on our anniversary weekend. We were just looking for a romantic weekend away from the tourists and the people, out in the woods.
Highland Haven Creekside Inn
---
This award-winning property has 18 different rooms of varying sizes and purposes. Some are ideal as a bridal suite, some allow dogs, and some are perfect for families. The most popular is to stay in the opulent TreeHouse, which was designed for romance and appeals to childlike wonder. Upon checking in, you are greeted by the friendly staff who help make dinner plans and offer complimentary Happy Hour wine and a warm, gooey chocolate chip cookie.
The Charming TreeHouse
---
The TreeHouse itself was built on top of large cedar poles (because let's face it… trees native to Colorado just can't hold the weight of a three-story treehouse. I've tried.).You enter the TreeHouse with an Alice-in-Wonderland-esque key, there is soft music playing, champagne on ice, and fresh flowers throughout. Whimsical treehouse paintings and photographs adorned the walls, antique stained glass hung from windows, and every nook and cranny of the space held something charming, quaint, cutesy, and I dare say "magical".
So much thought and attention went into the placement of every little detail in the TreeHouse, and you could spend well over an hour just exploring the space and proudly showing off your finds. Therefore, I won't ruin the fun of discovering them all by listing the finds here. You will want to find them on your own!
One of the main draws for this TreeHouse for me was its beautiful aspen canopy bed, crowned with a large Swarovski-crystal chandelier. With a gas-powered fireplace that puts out a lot of heat, this TreeHouse would be equally delights in the winter to snuggle up on that gorgeous bed in the snow.
Even though the TreeHouse maintains its rustic charm, it is not without its high-tech amenities. The room had a kitchenette with a teak root sink, microwave, mini-fridge, and Keurig coffee-maker. There was a stunning petrified wood sink in the bathroom and an artistically laid river rock path on the floor leading to a steam shower. Additionally, the top floor had a romantic two-person champagne-bubbles jetted tub and a mini-bar that was surrounded by windows on three sides.
I really believe that love is in the details, and this TreeHouse was clearly made with a lot of love.