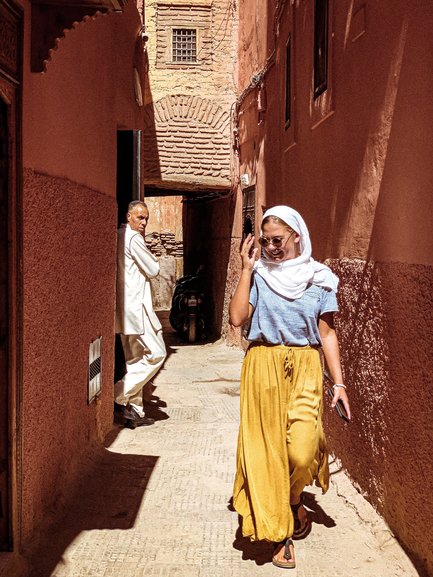 When writing these posts I want to be transparent about the good and bad sides of the places we visit, and provide you with my first impressions contrasted against the more fair second impressions. Morocco is a perfect example of that. On the first day we got here, we were dropped off by our taxi and pointed into a maze of windy streets in the direction of our Riad.
With no WiFi, and giant backpacks on our backs we struggled to find our bearings, and the locals took notice of that. At first some kids came up to us trying to direct (we were weary they would want cash in return) and then a man with a donkey approached us saying our Riad is very far away and we would need a ride. Luckily, moments after a western- looking woman approached us and said "I was in the same boat, where are you staying? I'll type it into google maps". Turns out our Riad was only 400 meters away.
We were unprepared for what we walked into, and at first impression the old town of Marrakesh resembled how I would imagine inland India to be. I was worried about walking around by myself, overwhelmed by motorcycles and merchants overcrowding the dusty streets, and uncomfortable by all the looks I was getting. Now that we've been here a few days I have an updated perspective.
I have adjusted to the busy streets and the hassling, I feel safer and I'm not worried about exploring on my own. I have learned my way around the windy streets, I have bartered with countless merchants and I don't get the same stares as when I walked around clueless. In fact, I learned a thing or two about Eastern hospitality. When we got our of old town I also noticed the dress is more liberal, there is city traffic, cafes, hotels, restaurants and gas station, patios and roundabouts and grocery stores, even ones that sell alcohol (that is otherwise forbidden by the Muslim religion).
What we saw in old town doesn't represent how modern Morocco has become. It actually more closely resembles Spain than India. The school of travel is endless and Morocco has taught me to stay open and give it time. That is how I will be approaching my next adventures.