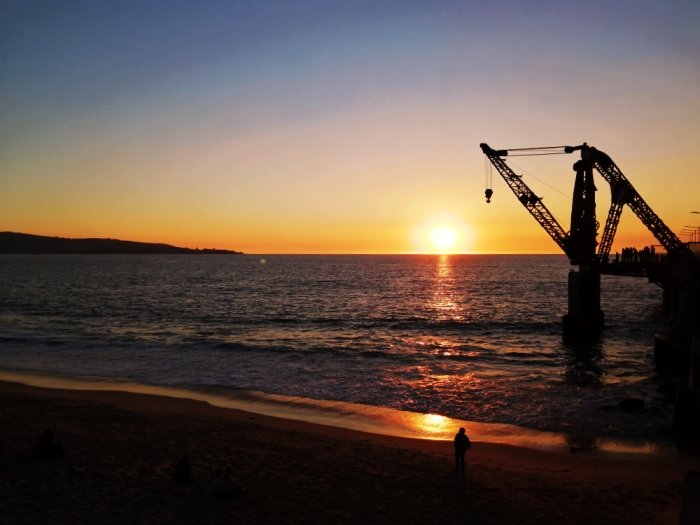 Viña del Mar, Chile, photo by cuentomisfotos
All the info you need to know before coming to Chile
In order from A to Z...
Ages: The legal age is 18 and you are also legal to drink, but just so you know in some disco's entry age is above 21.
Airports: The International Airport SCL is located in Santiago but you must make a connection to the airport anywhere you want to go.
Banks: Most Banks work from Monday to Friday and open their doors from 9:00hrs to 14:00hrs.
There are some banks that have special offices open until 19:00hrs on weekdays and open until noon on Saturdays.
Bikeways: For security matter the rider must wear a helmet and reflective lights.
Caution: As a personal opinion I will tell you the truth. Please...Never leave your belogings unattended.
Specially in places where is crowded. Always keep an eye to your valuables items such as cameras or cellphones.
Never leave them on the back pocket of your pants or leave your things just lying around.
Climate: In Chile you can find all existing climates.
Tropical humid climate can be find in Easter Island
Desert climate in Northern Chile
Mediterranean climate in central Chile
Temperate climate in Southern Chile
Polar tundra and at the height of the Andes and the Patagonia of Chile.
If you want to know what clothes to bring Chile I advise you to read the section called "travel in style" on my blog.
Credit cards: If you shop with credit cards will be charged on your current currency.
If you have a card from another country that is a debit card, you must ask to be charged as a credit card.
In Chile the debit system is called "RedCompra" and is not compatible with the system of debit cards from other countries.
Electric power: 220v
Geography: The 15 regions of Chile are classified as North (from Arica to Coquimbo ), Center from the Valparaiso region to Maule and South (From the Biobio to Magallanes and Chilean Antarctica).
Language: The official language in Chile is the Castilian Spanish.
Many people specially in tourism business, speak english or portuñol .
Main attractions, different forms of tourism:
As you can see Chile's tourism offer is very extensive.
For exemple... In these cities you'll find:
Santiago de Chile :ski centers at the mountains nearby, business center, urban life, shopping
Punta Arenas and Puerto Natales - Chilean Patagonia , ecotourism, ethnic tourism
Casablanca and Maule Region, vineyards, water sports.
Valparaíso: main port and cultural city, Ski Centers and vineyards.
La Serena - Astronomical Tourism and vineyards
Viña del MAR: sun and beach, entertainment, Music Festival, Derby.... Fun!
San Pedro de Atacama, Atacama Desert, ecoutourism, ethnic tourism, archeology
Pucón, Villarrica- Ecotourism, Hot springs, volcanoe hiking, watersports, lakes, indigenous tourism
Island Easter - Polynesia.
Money Currency: The official currency in Chile is the chilean peso.
I always recommend having Chilean money because You can not pay with others currencies.
There bills $20000 $10000 $5000 $2000 $1000 and coins $ 500 $ 100 $ 50 $10.
For some time we've had " the law of rounding". This is because a few months ago we had coins of lesser value. So now if you check is $994 it will go to $990 . But if the final bill is $995 you'll get to $1000. Get the point?
Mosquito repellent: In Chile there is a deadly spider called "Araña Rincón". If you are bitten by one of these spiders is important that you go to the hospital or clinic right away. You are going to have around 7 hours before you die. I'm Not kidding. To avoid their deadly bite you must shake your clothes before you wear it, don't forget to clean at home because they tend to hide in corners and wardrobes.
Fleas and Ticks: you are usually infected by contact with animals that have bad hygiene.
Natural disasters: Earthquakes and tsunamis, waterspouts, high winds, volcanic eruptions, storms, drought, snowstorm, and tornadoes.
New laws: There are some new and very important laws.
Zero Tolerance Alcohol Driving: The only allowed level for driving is ZERO 0. You'll get jail time and cancellation of your driver's license forever.
You can not smoke indoors: discos, restaurants and certain parts of public places smoking is forbidden.
There are no more plastic bags: You must bring your own bag everywhere. You can buy your own eco bag at most supermarkets.
Please, do not leave garbage: If someone catches you throwing out your garbage in random places like beaches or public spaces you are going to be fined.
This incluides your pet's Poo. If you walk out your dog you must to clean your pet's mess and take it with you.
Be a Responsible Pet owner: If you have a pet, it must be listed on the National Register of pets and must be healthy and in good condition.
Official Travel Webs: Chileestuyo.cl (Official webs of tourism in Chile) Chile.travel (Chile's Official website for the rest of world)
Population: 17,000,000+ Chileans
Pharmacies: There are everywhere ... They work all day and at night there are pharmacies on duty.
You should check at their door which Pharmacy is on duty that night at your city.
Some medicines are sold only by prescription.
Prices and Taxes: In Chile the taxes included on the prices. Taxes are called IVA.
Restaurants: If you are eating at a restaurant, prices already include tax.
It is suggested to give a 10% tip. Some restaurants don't accept tipping with credit card. You must pay in cash.
Tourist information: In all regions you'll find Tourist Information Offices of the National Tourism Service (SERNATUR)
There's also tourist offices of City Hall and tourism info stands.
Transportation in Chile:
In Chile you will find different types of transportation
- Taxis, Uber, Cabify, Train, Metro, Buses, Micros, Colectivos
Typical food: Chilean cuisine is based on vegetables, meats, seafood and some body types.
Vaccines - Medicines: No vaccinations are required to enter Chile, but it is important that you have at least several of the vaccines that give you immunity to serious diseases worldwide like Diphtheria, Measles, Rubella, Mumps, Tetanus, and please come immunized with the vaccine for H1N1 virus.
Visas and Documentation:
Countries with the Mercosur Treat can only enter the Identity Card (These countries are: Argentina, Brazil, Bolivia, Colombia, Ecuador, Paraguay, Uruguay and Peru)
If you want to arrange an extension Visa, it must be managed before the finishing term.
Other countries must verify if you need a visa to get in. Check out the Chile's Embassy web in your country.
---
I hope this information will be of great help to organize your trip to Chile.... If you have any question about it just write me and I'll give you an answer as soon as I can.