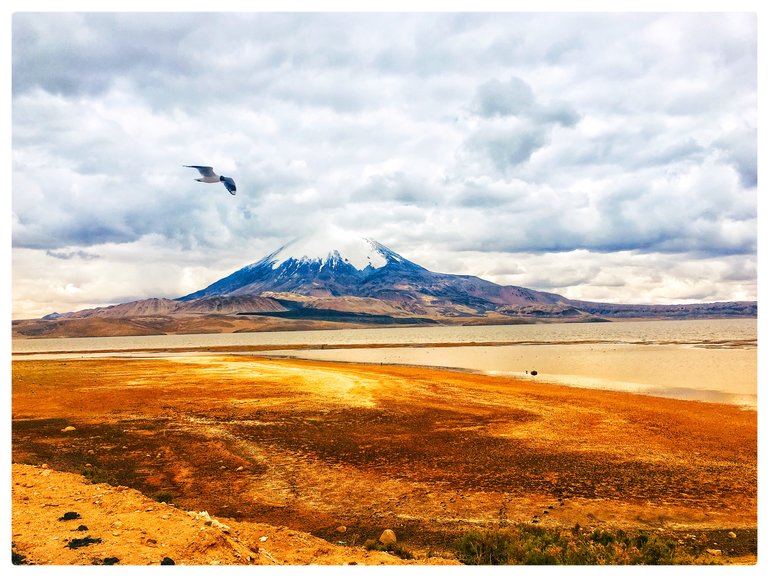 Lago Chungará, Arica y Parinacota, Chile
So... what can you do in the city of the "eternal spring" in the north of Chile? We will give you all the basic info to enjoy a short but intense trip in this wonderful city:
1. How to move around
---
Since you are a traveler with just a few hours, one great option is to rent a car. For 2 days it would be around CL$52.000, or USD$75.00. You can also share a transfer from the airport to your hotel (CLP$4.000 USD6.00) and ask for an Uber or a taxi in the city and coordinate a private tour to visit Chungará lake.
2. Where to stay
---
We stayed at Diego de Almagro Hotel, at Las Machas beach. Breakfast is included and you are right in front of the ocean. It has a pool and gym. Room service is available.
3. What to do in the city
---
a) Day 1. "Must-see":
Start visiting Arica downtown. Go to Plaza Colón, the main square, walk around and take photos of the wonderful Morro de Arica from the plaza.
After this, go to the top of the Morro de Arica, at 100 meters of altitude. You will get an amazing views from the city and the port. Right there in the top of the Morro, you can visit the Historical and Weapons Museum, which is dedicated to the War of The Pacific, between Chile, Perú and Bolivia. The ticket is CLP$1.000-USD 1.50
Now go to visit some of the great beaches in the area:
* Playa la Lisera: there are no waves, water has a nice temperature, but it gets very crowded during the summer.
* Playa El Laucho: For us, this is the best in the area. It's still crowded, but you can find spots with umbrellas to avoid the sun and is great to swim. There is a restaurant right at the beach, called "Tuto beach". Go there to grab some cold beers. Also, try the Camarones al Ajillo, tasty!
* Playa Chinchorro: It is perfect for taking a long walk during the sunset, or in the morning. You can take surf classes or just enjoy watching the people playing with their dogs, practicing sports or watch the kids play in the sand. Calm and peaceful.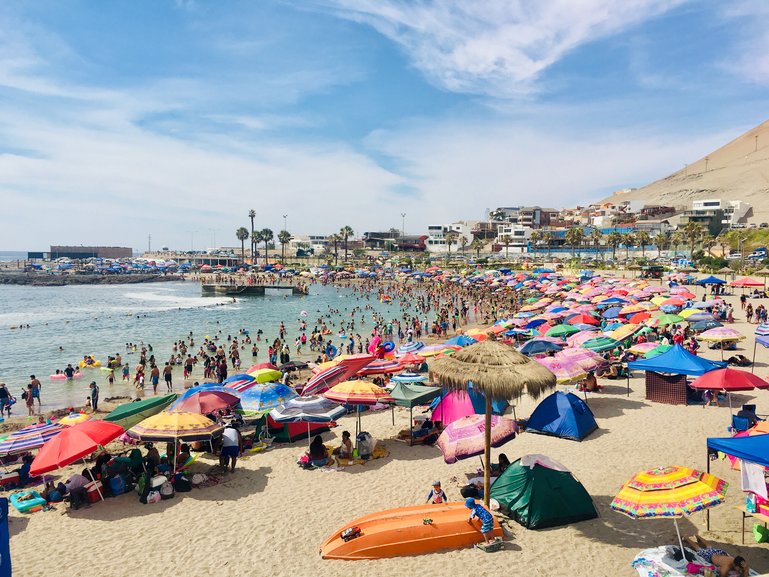 Laucho Beach
You can finish the first day of Arica in one of the many restaurants that the city has to offer. I had dinner at "Maracuja", right in front of the beach, in Avenida Comandante San Martin 321, Arica. We ordered Rissotto a la Huancaína and chicken milanesa. Special mention to the Strawberry mojito, it was perfect!
b) Day 2. "Wow factor":
Since it was our first time at the XV región, We wanted to make it memorable. This is why, besides Arica, We wanted to visit Putre and Chungará.
Start the second day early! It is highly recommended to leave your hotel at 07.30, the latest. Pack a light snack and water or juice, since you will be driving around 2, 5 hours through the desert.
The road until Putre is ok, although, you will see a lot of huge trucks from Bolivia. Drive safely and you will be fine. You don't need a jeep to make this trip, We drove a mechanic city car and we were just fine.
After leaving the city you will drive in the Desert Route. After 40 minutes driving you may encounter a lot of fog. Don't worry about it, it will last around 15 minutes.
Before arriving to Putre, there is a Mirador, where you can stop and take a picture with a wonderful view from a high distance.
Once in Putre, go to the main square, you can park in a near street. At the square you can find small shops and public restrooms (CLP$300-USD$0,50). Once you are in this city, try to buy products to help you with the "puna". If you get "apunado" it means that you got mountain sickness. You can drink coca-tea or coca-made candies, to help you feel better. In our case, we felt dizzy, with headaches, heart bit accelerated, but it passed after a couple of hours.
In Putre you can find typical altiplano architecture in houses and churches.
Try to stay at least 1-2 hours to get use to the altitude. Putre is located at an altitude of 3.500 mts, so resting in this small city of 1200 people is not a bad idea. Take a look at the small shops of artisan work, influenced by aymara culture.
Chungará lake is about one hour away. Once you enter to the National Park Lauca you can find beautiful llamas right next to the road.
The last 15 minutos driving to the Chungará Lake are a little bit dangerous, since the road is still under construction and there is only one side of the road fully. You just need to drive slowly, everyone is percauses. Nevertheless, once you are at 4.600 mts of altitude looking at the lake and the animals, you will forget the 3 hours that takes to get there. The view of the lake and the Parinacota Volcano is just amazing! Remember, take a warm jacket because the temperature goes down easily at 8°C during a summer day. We even saw rain and hail in the road!
When you come back, be careful with the road and the mountain sickness. Stop a few times if necessary, checking the wonderful landscape.
By the end of the trip, we went to the small town of Poconchile, where we eat a late lunch around 15.30 (chicken and french fries). The chicken was made in a traditional clay oven in the backyard.
After this tour, if you still have time and energy, we recommend you to take a walk at the beach, eat dinner in a restaurant in Arica Downtown (we heard Rayu is really good) or relax in your hotel and check the great photos of the day.
Well, we hope you have a wonderful time in Arica, as we did. See you in our next adventure!!