If you are at all into nature and exploring and challenging yourself, Kashmir is the place in India you have to see. A few weeks ago, I got to see the most amazing mountain views in India. Of course, I had seen mountains the whole time while in Kashmir, but from the bottom, it is completely different to climb the mountain and look down. And for this Kashmir is just so perfect.
There are many treks in Kashmir, and my best friend and I decided to go this 3-4 day hike up to Gangabal Lake. My tour guide, my best friend, asked me many many times whether or not I want to have horses to help us carry the stuff we needed and I refused. I really didn't know what to expect from the hike, but I was determined that when we are going, it is going to be for real hike. Meaning that we are carrying our own stuff up the mountain. So as a side note, many people are actually using horses on their hikes and hire people to cook for them, just so you know, that is a possibility.
We left from Srinagar at 7AM on lovely sunny Saturday morning and after two hours ride, we were ready to head up to the mountains. And I must tell you, it really wasn't an easy journey. For one thing, because we had a total of about 40 kilos of stuff to carry up, but also, once we hit the road, climbing was the only thing that we needed to do; for hours. So, for the first five hours that was exactly what we did, climbing up. We were walking on a path that was covered with big rocks. So we really needed to watch our every step, being extra careful that we won't slip.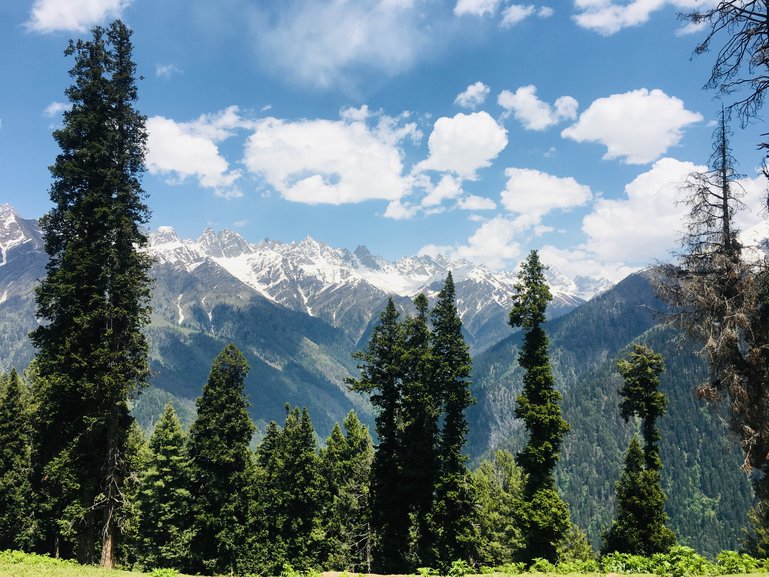 Views on the way
After five hours, we took a first proper break and had something to eat. By this time, I really felt the lack of energy which my friend had to deal with because I was really cranky by that time. After the break, once we continued toward our camp, the path also became little easier, meaning that there were flat pits also. And, of course, eating something made my world a brighter place. After seven hours of climbing, we reached our destination and set up our camp.
At the first evening, there wasn't actually nothing else to do besides eating something, rest and getting ready for the next day's hike. The original plan was to camp by Gangbal Lake but since the winter in Kashmir had been really cold the lake itself was still partly covered with ice. We had to change our plans and make it a day trip. On the second day, we headed to Gangabal Lake. It took us about 90 minutes to reach there. There was still quite a bit of snow on the way to the lake. But the destination was totally worth to visit. We hang out by the lake for a while and eat something before heading back to our camp.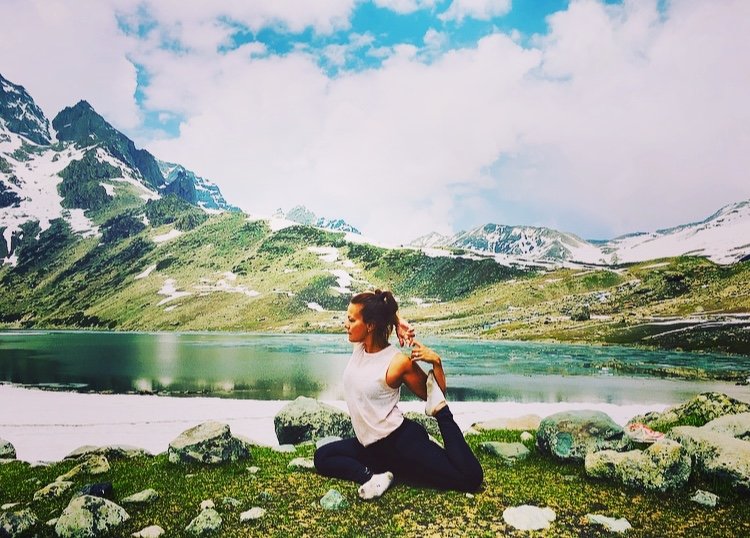 The Gangbal Lake, is a lake situated at the foothills of Mount Haramukh, north of Srinagar city in the state of Jammu and Kashmir, India. Surface elevation: 3,575 m
Since I was about to leave from India within few days after the hike, we decided to keep the hike short. After two nights we were ready to leave our camp, and we started to climb down. There was a heavy rain during the second night and it had made the trail a little bit muddy, but luckily it was like that only from here and there. So in case you happen to be on a hike when it rains be prepared that trail is more tricky to walk on afterwards. We were lucky because the weather was warm and sunny all the time we were going down. The funniest thing I found out while climbing down, was that the path and scenery seemed completely different from what it was when we were going up. From time to time, I was sure the path wasn't even the same. But for me, the most astonishing part was, how difficult the path was to climb. I couldn't believe we went 40 kilos up the mountain on that same path. With this knowledge I still wouldn't take horses on the hike with me but most certainly a third person would help. :)
So, why on earth you should go to this kind of hike? First, it is really good to challenge yourself once in a while. It really keeps you alive, and you might learn something valuable about yourself. But, most importantly, the views are just so breathtaking that you really need to go and experience all of it with your own eyes.
And if you are planning to go for a hike somewhere, why not to Kashmir? And if you are interested in going, you can send me a message, because I happen to know the best tour guide for you to take with you to the hike. Now just start planning, mountains are waiting.