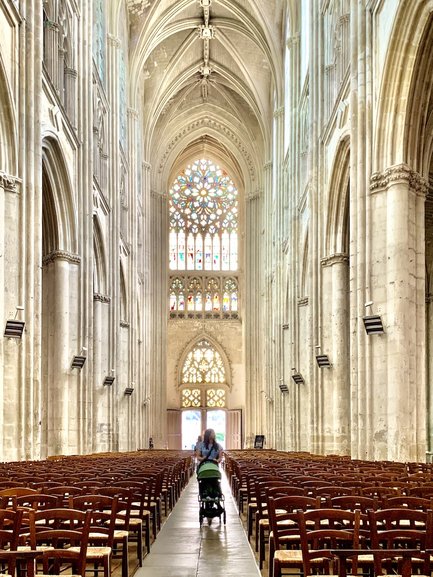 Saint-Gatien Cathedral, Tours
During our Paris trip, we didn't get time to go for those wine tasting tours and over here we found this grandeur wine tasting festival, called Viti Loire. Tours (France) is the centre of the region and an international city of gastronomy(source vitiloire festival).
When we went inside the pavilion noticed so many people cheering and laughing, some pouring the wine, some tasting it, and some talking about it with the Vitiloire wine glass in their hand. Numerous of them sitting on the picnic table arranged around the trees and many standing at the stall sipping the wines.
Other than wines, we found traditional delicacies and yummy french desserts. Exciting, isn't it? The atmosphere so festive that no one wants to leave. We loved that and stayed to enjoy it.
Viti Loire wine festival is an open-air exhibition for the local wineries of the region, an opportunity to taste authentic regional food with some top chefs from the Loire region. This festival gives you a glimpse of the heritage and culture of the area. You can look for this festival, happening every year over here.
Around 150 plus winegrowers and professionals participate in this festival. Viti Loire wine festival is visited by approximately 35,000 visitors every year (Figure facts from Vitiloire website).
The Surprise
---
How lucky is that? This was a great surprise for us. We only had to pay 6 Euros each for the entry where they provide you with a list of the local wine stalls, participants and a glass printed VitiLoire on it to taste the wines and buy it if you like.
We saw many people with boxes full of wine bottles, they must have bought at a reasonable price. Oh wow! Why can't we buy these wines too and take them with us? I also the Viti Loire inscribed glasses as a souvenir(which they let you keep). Somewhere in my heart, I felt.
With this incident, I learnt we need to look for the festivals and exhibitions around the town prior to our visit.
The City Of Tours
---
The city of Tours is a charming little town of France, the centre of Loire Valley and a gateway to explore the chateaux de Loire Valley. Right from its history to its beauty, the city of Tours (France) has so much to offer. The city's Cathedral, Museum of Beaux-Art, gastronomy, wines and Stroll along the River Loire. River Loire is Europe's last wild river and classified as a UNESCO World Heritage site. Tours is an ideal place to visit spectacular Loire Valley and surrounding region vineyards.
How To Reach The City Of Tours
---
Tours is a centre of France and an easy drive to the Loire Valley chateaux.
The city is around an hour away by train and about two hours by car. Tours is easily accessible from Paris.
Train connections from Paris are numerous and quick. You can take the TGV (high-speed train) from Montparnasse train station in Paris direct to Tours.
If you are travelling by a car from Paris, take the A10 motorway towards Bordeaux.
Where To Stay In The City Of Tours
---
Tours was our next stop from Paris. To visit Loire Valley the next day, as I mentioned earlier its a traditional gateway for Loire Valley. The plan was to catch an early morning train to Paris to change and catch another train for Geneva, Switzerland from Paris. We booked 2 nights in the Hotel Novotel next to the train station Gare de Tours came out to be a great decision. The hotel is a convenient place to start checking out the city being the city's centre.
Our room was not that big but still spacious enough for 2 Adults and one baby. Though the crawling space for Aanick wasn't sufficient, he always found some. Along with many support of furniture for him to stand and enjoy the room.
The room included a wall-mounted TV, a writing table and a chair, a Single Sofa bed, a luggage rack attached with a side table and had tea/coffee set up and also a mini-fridge. Though a let down was a paper cup, It felt strange as the hotel claims the 4-star category for itself. Not forgetting to mention the window was wall to wall three large glass windows which you can open to have a city view. We had a pleasant stay at the hotel except they don't replenish your tea/coffee set up once it's used for the day. I felt sad because I am a tea lover. Related to this let me tell you a small funny tale. It made my husband laugh at me.
A Short Story
---
So here it goes – When I called the receptionist to ask to replenish some tea/coffee, first, the girl didn't understand me. The language becomes a barrier sometimes. Tours(France) is one of the cities in France; they speak the "purest" form of French in the whole country. When I opened our hotel room door, all happy, thinking finally I can enjoy some tea, I found a server probably from the restaurant, with a smile, a tray of one portion coffee with a bill of 9 Euro uh what!!! Not only that I had asked for a bottle of water, so we ended up paying 13 euros for misunderstanding.
However, we had a decent stay at the Novotel hotel and loved the breakfast buffet they offer. The hotel also has its own free car parking second reason to choose this hotel. Not many hotels in Europe provide free parking. And it can get expensive if you have to pay everywhere you go for parking. So be aware of this fact too while choosing the car option.
There are many more hotels you can find on a budget around the station. The town is small but offers many good hotels to stay in. We prefer booking.com to compare the rates.
Car Hire In The City Of Tours
---
Mostly we book the car a few days early then our arrival, but this time due to our jobs we forgot to book the vehicle.
Upon reaching the station of Tours we marched straight towards the Avis car rentals, to book the car, but we found out there was no car available with them at the time. But then, after a few hours, they managed to arrange a vehicle for us, hurray! Now it is sure we go to visit Loire valley with that car. We got Peugeot 208 for around 80 USD a day.
Worst case scenario, we were prepared to take the local train services to visit the castles if we couldn't have the car.
Whereas if you fall in a similar situation, now you know you can hire a car directly from the station tours station too.
The Middle Story
---
While rentals looking for a car, we headed to our hotel to get some rest.
After settling down, we went out on a hunt for a good lunch. It was just the afternoon when we arrived.
Near the hotel, there are many interesting cafes and restaurants. But unfortunately, most of the shops and restaurants were closed. We saw a Vietnamese restaurant open and rushed to find out they do serve Chinese, but this was authentic Chinese, not the ones most Indians like. Anyway having plain Chinese was better than starving.
Viti Loire Festival At The City Of Tours
---
After having lunch, we headed to a crowded place opposite the station, curious what's going on, is it some kind of flea market. We couldn't be happier with what we found.
A Few Places We Could Manage to See in This Charming City in A Short Time
---
Jardin De La Préfecture
The festival was held in the Jardin de la Préfecture (in easy words Préfecture Garden). Opposite the train station. A beautiful, elegant garden with plane trees, chestnut trees, and a small lake. Also has a statue of writer Anatole France. You can spend some time over here if you like to see the Gardens.
The city of Tours is not huge, but you can walk and visit the place. Because we had a baby, we decided to go directly to these tourist attractions and have a look.
Cathédrale Saint-Gatien
In our search for Tours attractions, we found a Church. It is called Cathedral: St Gatien de Tours. Built between 1170 to 1547 (when it was completed). The cathedral was established to honour the first canonized bishop of Tours, Saint Gatien. The outside of the cathedral is as remarkable as the interior, with its Gothic windows, facade with Renaissance pinnacles and flying buttresses. The architecture is imposing. The cathedral has been a classified monument Historique (a national heritage site) since 1862.
Musée Des Beaux-Arts de Tours
Near to the cathedral you can visit the museum. The former archbishop's palace is now an art museum. It exhibits magnificent collections. We couldn't visit inside of the museum, it was late by the time we reached over there. But definitely, a beautiful place to see some terrific arts from renowned artists from their times and history of tours.
Château de Tours
The Château de Tours was the residence of the Lords of France. Built-in the 11th century, the castle featured an architecture of the Carolingian period. The Royal Castle of Tours used as an aquarium where about 1,500 fish of 200 different species could be seen. It also served as Grévin museum. We saw the castle from outside. As it was closed by the time we reached. You can also have a glimpse of it from the road.
Pont de Fil Or Pont de Saint Symphorien
Pont de Fil or Pont de Saint Symphorien is a calm pedestrian and bike bridge on the river Loire. We reached this bridge while evening stroll, which provided a picturesque view of the river, bridge and town.
We wandered to some narrow roads, small shops, around the banks of the river Loire and a bridge (Pont de Fil) over it.
Walking back to our car, we found this intriguing place, a street full of various restaurants offering a variety of cuisine.
Rue Colbert Street
Rue Colbert street full of gastronomy. Being a foodie, I wanted to taste and try in all the restaurants, but my husband's choice won, and we ate Indian food. The restaurant Le Palais du Rajah (Rajasthan) is probably good for the people living in Tours or other foreigners. Indian restaurants out of India, prepare Indian food extra spicy as soon as they see Indian customers.
We met a fantastic local old couple, and we had a lovely talk over dinner. I love meeting local people and talking to them to know their life at the place. I suggest you have at least one dinner over here. The location offers diverse cuisine and is buoyant in dusks.
Place Plumereau
Not far from Rue Colbert you can walk up to the Place Plumereau, another sparkling and cheerful medieval place in Vieux Tours. Where you can find half-timbered houses. This is an old town of Tours, and it's impressive to see how they have kept it preserved.
On our half-day of Tours visit, we loved the place. And won't mind going back. Who knows we may end up making a plan only to see the Viti Loire festival, but this time with a foolproof plan to absorb the most juice out of it. We will eat in one of the restaurants at Rue Colbert street again, probably the first one in the row. Where they were serving an enormous round platter with different food in a bowl. I wonder what those dishes would be. It would be lovely strolling at the nightfall at Place Plumereau and enjoy the nightlife a bit more.
However, we planned to visit the Loire valley the next day. A unique place to spend a day or two traversing all the french castles.