I've been in Sikkim before, but this time something different happened to me. Possibly, this time I was experiencing this place through my camera.
Hey, this is Supriya, I'm sharing my experience of Sikkim. My first footstep in the North-East region of India was through Sikkim. When I planned for this trip, it was on my mind that I'm going to do something different from usual, I'm going to cover the offbeat places of Paradise! So I chalked out my itinerary and discussed it with some of my friends, they showed up interest, then here we go!!!
The most nearby railway/airport is NJP (New Jalpaiguri)/Bagdogra or Pakyong. We took a train🚆 from Shealdah, Kolkata to NJP, which took around 12 hours to reach there. Then we took a car🚗 on rental to reach our first destination. It takes about a half-day to reach any destination of Sikkim.
Day1-PELLING!
---
Our first destination was PELLING! Pelling is located in the West zone of Sikkim, approx. 5 hour to 5 hours 30 mins by road. So we arrived there by 5 pm approx. and after checking in to our hotel room, we were the witness of the beauty that mother nature has gifted us. We were blessed that we got a clearer vision of the majestic Sleeping Buddha from our hotel veranda. If you want this same magnificent view of sleeping Buddha, stay at Hotel The Naamsaaling Residency.
Sleeping Buddha Kanchenjunga
Without wasting more time, we jumped out of our happiness, got out to hike towards the famous Helipad. The helipad is about 10 minutes walking distance from upper Pelling, via Pelling Football Ground. It was somewhat dark outside, and we had the astounding sunset view from the helipad. We were so exhausted but our excitement gave us so energy to be the witness of this beautiful sunset over the mountains.
Day2- Pelling Sightseeing!
---
Next morning one of my friends woke me up and made me see the wonderful sunrise view from Kanchenjunga peak through our window. Trust me guys it was unbelievable, the real beauty! I gazed to this sight of Kanchenjunga hill. I've never ever seen anything like this before. Here it is!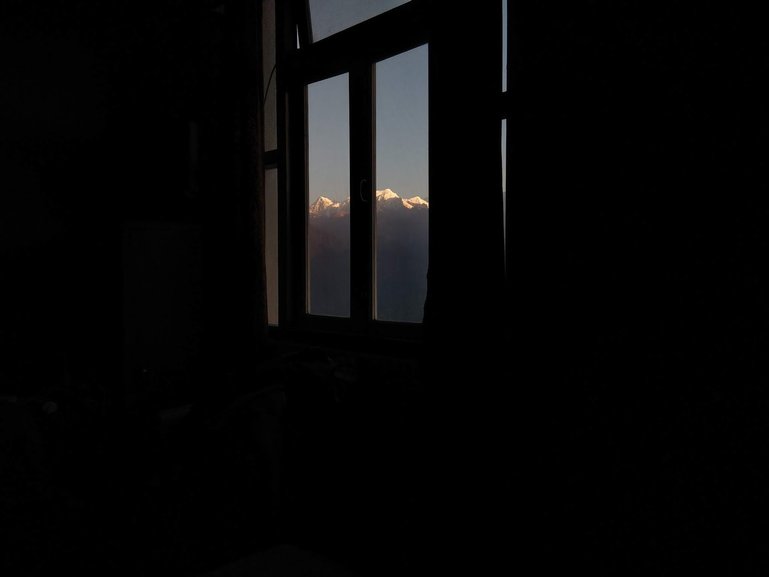 Then we went to our whole day sightseeing as per itinerary!
Rimbi Waterfalls
This majestic waterfall is worth watching. You can get close to the waterfall and enjoy clicking amazing pictures of it or selfies with it.
Rimbi-Orange River Garden
Then we went to our next location, the popular Orange garden along with the Rimbi River. We spent a lot of time over there. This place helps to rejuvenate yourself with the fragrance of various mountain flowers and little orangey smell of the garden. Of course, if you visit this place in season then you'll get to see the oranges hanging in trees. You can have an exhaling view of Rimbi River. You need to buy a ticket to enter the garden (Rs.10 per person).
Khecheopalri Lake
We headed out to hit our next place, which was Khecheopalri or Kha-Chot-Palri as locally known. This holy lake is known as Buddhist as well as Hindu pilgrim. The lake is surrounded by huge forest and uncountable fishes in it. This lake is an ideal place of adventure lovers, as this place has a viewpoint, which is called Khecheopalri View Point and people have to trek to reach that point. The viewpoint is around 700-800 meters up trekking distance from the lake, and your foot is the only option you will left! 😉 After all the hovering, we finally reached our targeted viewpoint, I was stunned with its majestic view from the top. You can see the whole lake from the top. And please do try the Egg Maggi and Chai (Tea) from the stall on the viewpoint, it was awesome!
Kanchenjunga Falls
Another waterfall was waiting to welcome us with its mesmerizing scene. We were drifted away by its beauty. It was so cold there and we have gone all wet by its stream water, and it was so freezing that I wasn't able to hold my camera on my own. 😰
Many people fooled themselves by the roadside waterfall, thinking it to be Kanchenjunga waterfall. But the actual waterfall is in the upstairs and you need to purchase a ticket (Rs.20 per person) to visit that.
Pemayangtse Monastery
Our last visit of the day was Pemayangtse Monastery. This old Buddhist monastery was popular for its calm ambiance. When I reached there, I noticed some of young children's/lamas were making something with one kind of flower petals for their biggest Buddhist festival, it was the festival time there. I'm not so religious person, but I would suggest you to visit the monastery.
Day3- Pelling to Ravangla via YUKSOM!
In our 3rd day, we all were going to be amazed by the beautiful scenario of YUKSOM. Checked out from our hotel in the early morning and we were on our way to RAVANGLA via. Yuksom.
YUKSOM was the first capital of Sikkim and I wonder why not still? God! This place is just amazing and so peaceful that one can spend a full day there doing nothing. Yuksom is the gateway to meet Kanchenjunga. Some trekkers select Yuksom as their starting point to Kanchenjunga.
Karthog Lake
The lake, named 'Karthog' is also a holy lake, full of fishes in it. The place was so calm and peaceful, the light cold breeze moving around, comfy atmosphere with the sound of those fishes playing in the water. We carried some food for the fishes, and trust me you will enjoy feeding them for like hours.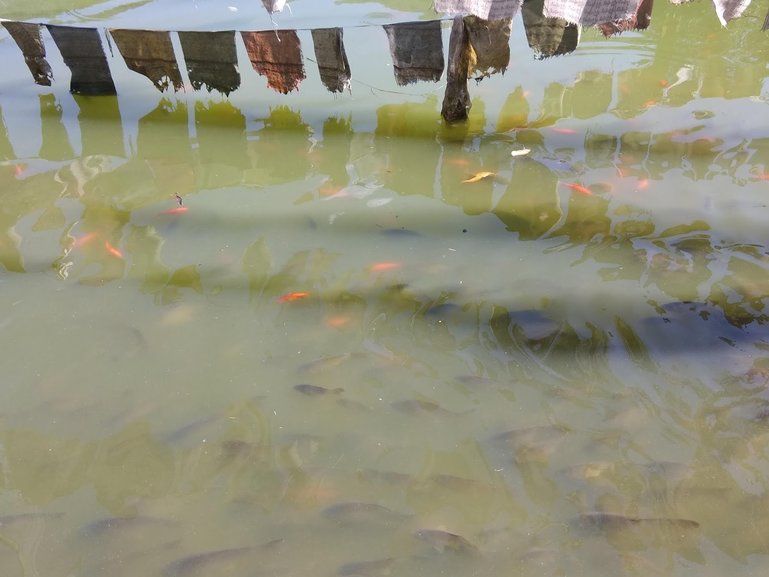 Karthog Lake
Dubdi Monastery
Dubdi Monastery, also known as 'Yuksom Monastery', is about 3 km away from Yuksom. We had our car with us, our driver drove us approx. 2.7 km and the road was very craggy and dangerous also. Then we walked in the steep road roughly 350-380 meters on our own to reach the monastery. The roads are for trekking purpose only.
We reached our resort in Ravangla by the evening. We stayed at The Himalayan Resort, and definitely suggest you to stay here.
Day4- Ravangla Sightseeing
---
Ravangla or Ravongla, the small town of South Sikkim recently grabbing the attention of tourists. This small place is full of stunning beauties. We were on our target to explore all of them!
Buddha Park
'Buddha Park of Ravangla' is very well known among people, also known as 'Tathagata Tsal'. The giant Buddha statue has a remarkable beauty to catch the tourist's eyes. The 130 ft Buddha statue is the centerpiece of the park with a Gompa itself.
Borong Handmade Paper Factory:
We got a chance to see some cool handmade kinds of stuff in the handmade paper factory of Borong, Ravangla, though it was out of our itinerary. Well, traveling is all about unplanned exploration!😎
Borong Monastery
This monastery is upwards 5 Min's distance from the paper factory. This is also a nice place to visit and click amazing pictures. Lots of eye-catchy blossoms tree on both side of the road towards Borong Monastery. You can have a large scenario of hills from there.
Titanic Viewpoint, Ralong Namlung
This is one of the best places I've ever explored. I can't explain more, rather give you some glimpse of this spot. Here you go 😌:
Ralang Monastery
The last spot of the day was Ralang or Ralong Monastery. The monastery when I visited, was under construction and I got to see the old version of Ralang Monastery.
We came back to our resort by the early evening. So we planned up to have some fun. Close friends, bonfire night, foods, songs, and fun, what else you need to spend the last night on a hilltop resort!
Day5- Ravangla to Gangtok via NAMCHI!
---
It was time to proceed for our next location, GANGTOK via NAMCHI. Namchi is also a magnificent spot to travel over.
Temi Tea Garden
The Temi Tea Garden is situated in Temi. This large tea garden is gently laid over a slanting hill along with a breathtaking view of mountains. You will need to buy tickets (Rs.20/person) to enter the garden.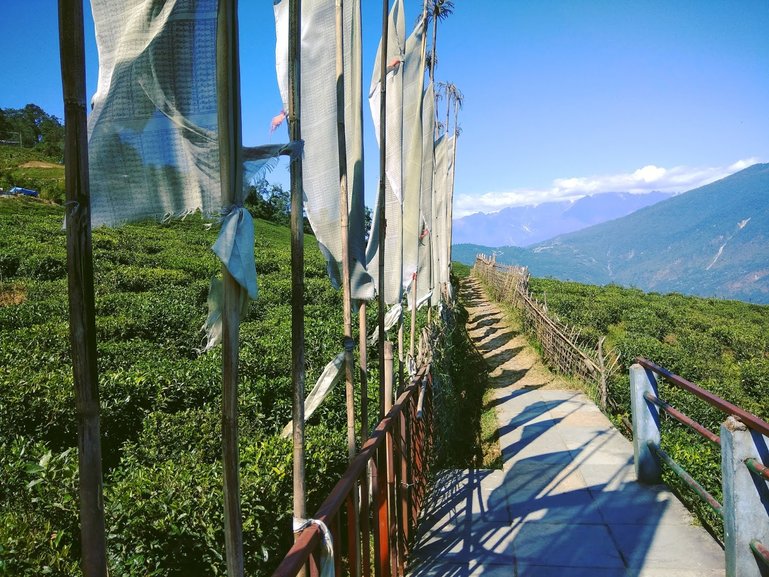 Samdruptse (Guru Padmasambhava)
This monastery is popular because of its largest statue of Guru Padmasambhava, another name is Guru Rinpoche. This 118 ft high statue seems to be the highest statue of Buddhist Padmasambhava in the world. The reason behind the name Samdruptse is because it is situated in the Samdruptse hill.
Char Dham (Siddhesvara Dhaam)
Char Dham, another name Siddhesvara Dhaam is located at Solophok hill, Namchi. This pilgrimage spot has lots of temple within a vast area along with a Lord Shiva statue, approx. 87 ft height and on sitting posture. The aura and fresh air can give you a different level of mind relaxation here.
We all had to leave after having lunch there to reach Gangtok, which is approx. 2 hours 30 minutes. We reached our hotel by 7pm, checked in to our rooms and then went to the most popular market of Gangtok, MG Marg, to have our dinner.
Day6- Gangtok Sightseeing
---
GANGTOK, the capital of Sikkim is situated at 5,410 ft high altitude. This city is now highly urbanized and became an all-time favorite for tourists.
Tsomgo Lake
Tsomgo Lake or another name Changu Lake is highly popular because of its color of the water. This lake becomes the main attraction of tourists during winter because in winter season this lake remains frozen.
Nathu La Pass
The prime merchandise border post between India and China, this mountain pass is 14,140 ft above. On your journey to Nathu La, you will be overwhelmed with its hillside scenario. A must visit place for mountain lovers!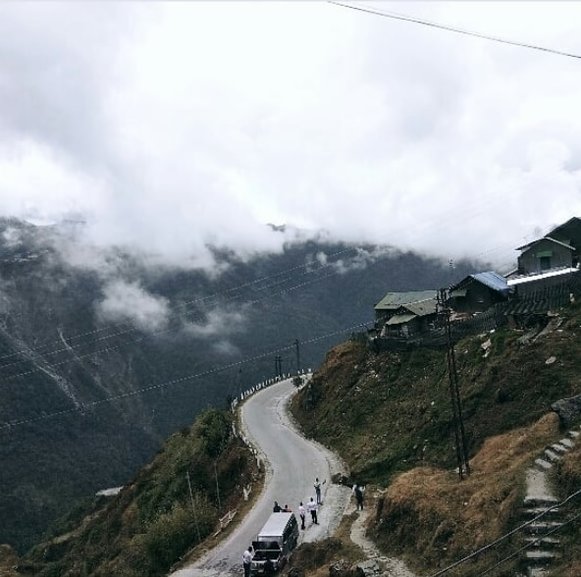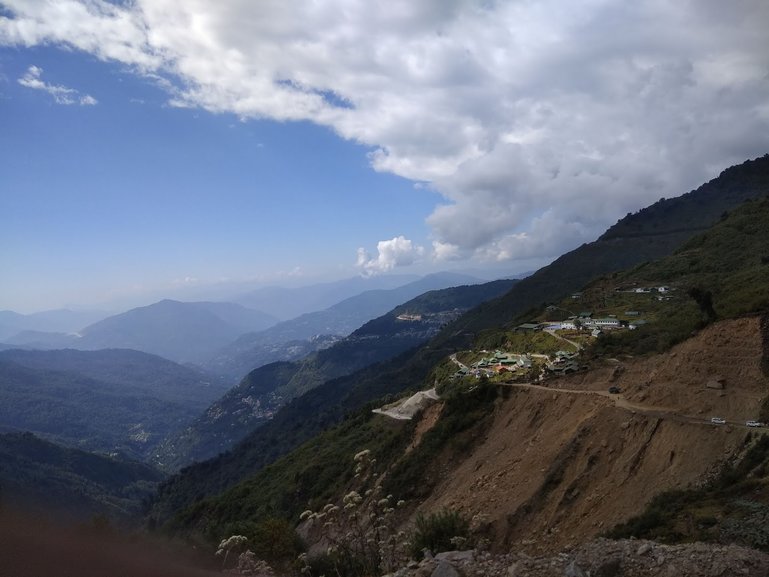 MG Marg
Shopaholics, now this is the place of you! At Mahatma Gandhi Marg, you can shop some amazing trendy and stylish winter wears for you and your loved ones. You can also buy some cool, funky and traditional Tibetan showpieces. At the end of the journey who does not want to shop! Also, this Marg has lots of restaurants there to try mouthwatering Tibetan foods.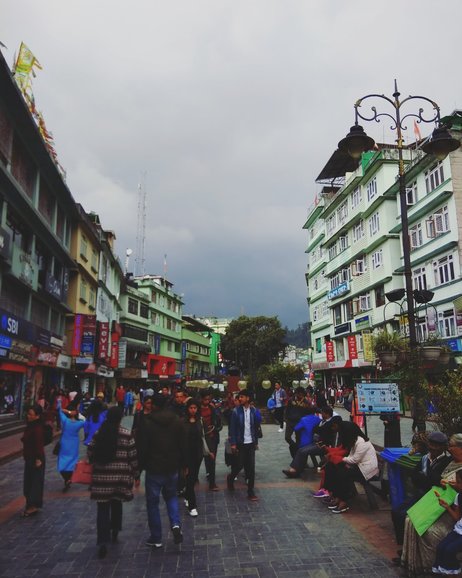 Next day we all went back to NJP to reach where we all are from. So, yeah! Here our journey ends!