Some countries have an official government website gathering the most recent safety and security advice for their citizens travelling abroad (but hey, everyone can look). They also contain other useful information, such as the visa policies, the local laws, etc).
These websites are great resources for travelers! They contain actual, up-to-date and official information:
* United Kingdom "Foreign travel advice"
* United States of America "Travel advisory"
* France "Conseils aux voyageurs" (in French)
* Austalia "Smartraveller"
* Canada "Travel Advice and Advisories" (also available in French)
* Spain "Recomandaciones de Viaje" (in Spanish)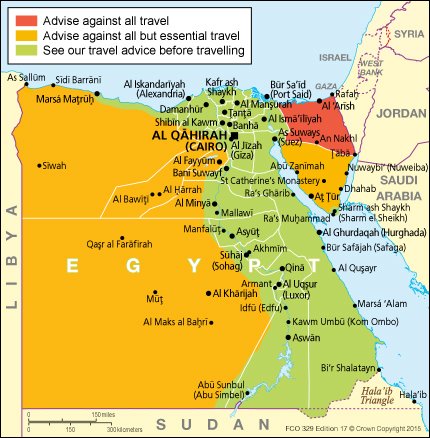 Egypt safety situation viewed by the UK government
It is very interesting to note that some countries can evaluate very differently the safety of a specific zone. This is why it is important to vary your sources.
The situation can also be different depending on your nationality and the relations between your country and the country you want to visit.
You may also want to take a look at the website of your embassy in the country you're going to, here are a few examples:
* New Zealand Embassy in Cairo, Egypt
* South African embassy in Rome, Italy