Recently my husband and I spent a fabulous winter weekend in Portsmouth, New Hampshire. Portsmouth lies a little over an hour from our house. However, the real distance from suburban Massachusetts to this old New England town was obvious from the minute we crossed into the city.
Portsmouth, founded in colonial times, features restored 17th and 18th century houses, many of which are open to visitors. It also still functions today as a working seaport. Over the years, Portsmouth's main industry has alternated between boat building and repair (during times of war) and tourism (in times of peace). In the weeks leading up to Christmas (which was the case during our visit), Portsmouth is decked out in holiday finery and hosts glittering evening tours of historic homes.
What to Do in Portsmouth New Hampshire
---
USS Albacore
We started our weekend in Portsmouth at the USS Albacore museum. We had seen the Albacore several times before, as it sits by the side of the main road entering Portsmouth from the south. However, we had never actually stopped to take a look. We figured it was time. The USS Albacore was built in Portsmouth in 1952 as a research submarine. After her decommissioning in the 1970s, she returned to Portsmouth and moved to where she currently sits. The USS Albacore museum offers the rare opportunity to walk through a fully preserved, formerly working submarine. For 8$ a person, we were able to stroll through the Albacore at our own pace. The sub features strategically placed recordings explaining key details of the ship's history and functioning. At the end of our tour, we returned to the visitors center, staffed by former navy men who answered any questions that the recordings did not address.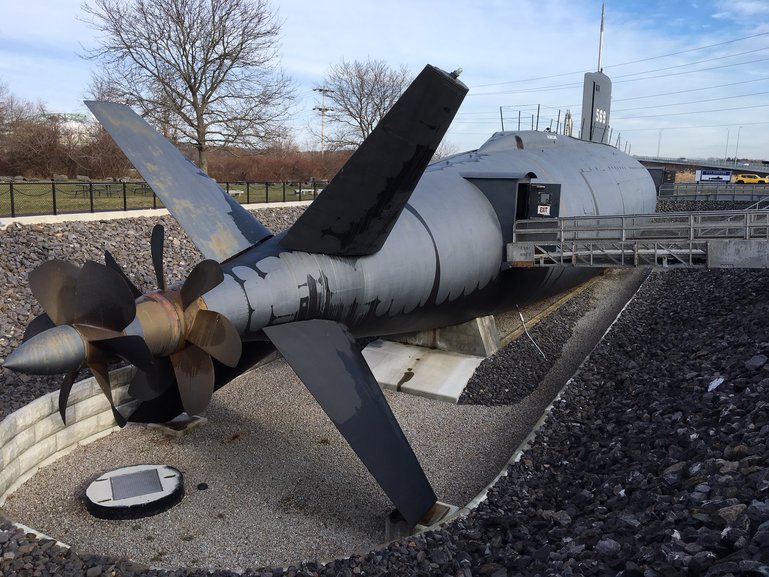 USS Albacore
Discover Portsmouth Center
After our visit to the Albacore, we parked in town and went to the Discover Portsmouth Center. The center is a great starting point for your visit to Portsmouth. They offer a short film about the history of the city, a variety of rotating exhibits, programs, and events, walking tours, plenty of people to answer your questions, and a museum shop. They also have brochures which introduce the wide variety of historic houses you can tour while in town. When we made our visit, the center housed a gingerbread house contest with some truly impressive entries. We also learned a lot about Portsmouth watching the 12 minute historical video. The video included the fact that, 250 years later, residents are still annoyed that they don't get enough credit for their role in the Revolutionary War.
Downtown Portsmouth is eminently walkable and features historic buildings set on quaint cobblestone streets. In December, the central hub, Market Square, could easily feature in a Hallmark Christmas movie. You could pass an entire day just walking through the city window shopping. One of my favorite things about Portsmouth is that it has not been completely taken over by chain stores. Sure, you'll find Starbucks, but you will also find hundreds of locally owned and operated cafes, wine stores, bookshops, and more. One of our favorites was Atrezzi, a gourmet food and wine store in the center of town where you can eat a meal's worth of calories (or more!) just wandering through and munching on their many samples.
Pro Tip: If you are more of an outlet mall kind of shopper, Kittery Maine is right across the bridge and offers an entire town full of discount shopping.
Portsmouth Music Hall
The Portsmouth Music Hall is a historic (built in 1878) 900 seat theater which hosts a wonderfully eclectic set of performances. It's the oldest operating theater in New Hampshire and the 14th oldest in the entire country. The majestic interior has clearly been lovingly restored to reflect its former glory. The Music Hall offers everything from plays (Elf was running while we were there), to musical acts, movies, speakers (author Steven Pinker visits in January), and even a book club! If you are planning a weekend in Portsmouth, I would definitely see whether you can catch an event.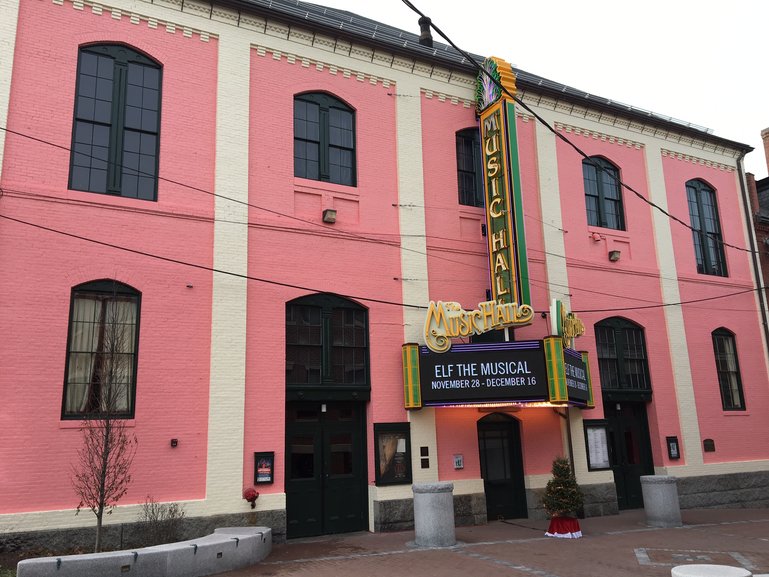 Portsmouth Music Hall
Memorial Drawbridge
As a working port, Portsmouth offers some great incidental experiences. As we walked through the city, we came across the Memorial Bridge, which is an old-style drawbridge. Just as we arrived, a huge tanker passed under the bridge and out to sea. We spent an enjoyable 10 minutes watching the tanker navigate the bridge before continuing with our day.
Where to Eat
---
There are so many wonderful restaurants and cafes in Portsmouth that it is difficult to even choose our favorite. You can barely turn around in the city without hitting a bakery, cafe, or fabulous restaurant.
La Maison Navarre
To steal a line from their website, La Maison Navarre is like being transported to the middle of Paris. It is a wonderful little bakery (and wine shop!) near Market Square where you can grab a sandwich, an incredibly french pastry, or head to the back for a wine tasting.They offer a heavenly (and reasonably priced) pastry selection and a French staff. We highly recommend this stop for a mid-afternoon pick-me-up.
The Bridge Street Bistrot and Wine Bar
The Bridge Street Bistrot has long been one of our go-to restaurants in Portsmouth. The Bistrot offers classic French cooking and boasts a Zagat write-up as "one of the reasons to drive to Portsmouth" from Boston. We have enjoyed their wonderful prix fixe menus which you can pair with fabulous wines. They offer a la carte dining as well. The downstairs wine bar is small and cozy, the perfect spot for a romantic dinner for two. Downstairs also contains a central bar for those who simply would like to enjoy the wine. Upstairs houses a restaurant for larger parties or a more expansive space.
The Black Trumpet
We ate at the Black Trumpet on our very first trip to Portsmouth. It's also a bistro and wine bar with a wonderfully creative menu items and a cozy intimate setting. We were struck by both the quality of ingredients and the originality of the selections.
Street
A bit outside the center of the city sits a funky little place called Street. We've eaten there twice, once for Sunday brunch and once for lunch. We love the relaxed vibe and offbeat decor of Street.The menu is a mix of exotic options like cemita and curry fries and standards like hamburger and fried chicken. Prices are reasonable and portions are generous.
Other places we have enjoyed dining in Portsmouth include Colby's Breakfast and Lunch, Popovers on the Square, Row 34, and the Thirsty Moose (which is open until 1am if you do play a little poker in NH and need a late night dining option).
Where to Stay
---
The Exeter Inn
When we visit Portsmouth we often stay at The Exeter Inn in nearby Exeter, New Hampshire. For this trip, we were able to reserve a fireplace suite at a remarkable rate. The Exeter Inn, housed in a historic building, has the feel of European lodging. Rooms are small, but neat and well appointed. There is free coffee and tea in the lobby in the morning and fresh (amazing!) cookies in the afternoon. The Inn houses an excellent restaurant and welcoming bar as well. The Exeter Inn is close to Water Street, which offers a variety of shops and restaurants and a lovely river walk.
The Hampton Suites
If you would rather stay in the heart of Portsmouth, the Hampton Suites is a convenient option. It is part of a chain, but we have found it to be reliably comfortable, quiet, and spacious. The Hampton Suites sits across the street from the Bridge Street Bistrot and a couple of blocks from Market Square. If you stay here, you will be able to leave your car at the hotel and pretty much walk everywhere during your visit.
Whether you're visiting for the history, the food, or the ambiance, a winter weekend in Portsmouth will not disappoint.