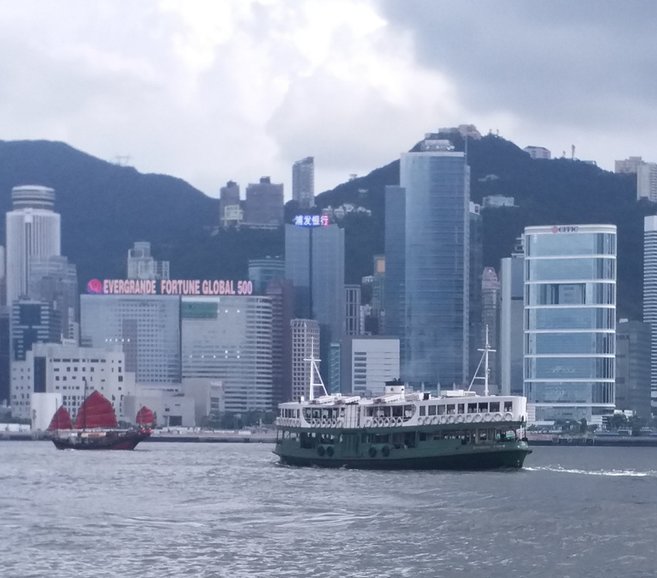 Victoria Harbour
Book Stores
---
There are couple of bookstores for you. The first one is Bloomsbury and another is Kelly & Walsh.
Cinema
---
The major cinemas in Hong Kong are Broadway Circuit, MCL Cinemas, CGV Cinemas, The Sky and Golden Harvest.
Electronic Gadget Places
---
Sin Tat Plaza (Mong Kok), Mong Kok Computer Centre (Mong Kok), Wan Chai Computer Centre (Wan Chai), Golden Computer Arcade (Sham Shui Po), Golden Computer Centre (Sham Shui Po), New Capital Computer Plaza (Sham Shui Po) and Wonder Building (Sham Shui Po).
Haunted Places
---
I do not suggest going to visit these places because it is quite dangerous and you may breach local laws by trespassing. The haunted places are rated as refuge of ghosts among locals by rumours and it is not my opinion. Just want to put up here for those who are interested in knowing local rumours about paranomal activities: Nam Koo Terrace (Wan Chai), Ho Chung 13 Asia TV Studio (Ho Chung), Sai Ying Pun Community Complex, Tat Tak Communal Hall (Ping Shan), Tat Tak School (Pig Shan), Mount Davis Fort, a certain place in Cheung Chau, Bride's Pool, So Lo Pun Village and French Braid Road in Chinese University.
Hiking
---
In case you get accidents when hiking, take notes on the numbers provided on the hiking signal posts and text to the local government. They will know your exact location and locate you when you are in serious trouble. This service is called Hiking Tracking Service provided by Communications Association of Hong Kong.
There are other information provided by Leisure and Cultural Services Department of the local government in Hong Kong available for you as well.
Holidays in Hong Kong
---
January
i. New Year's Day (1/1/2019)
Febuary
ii. Chinese New Year (5/2/2019)
iii. Day Two of Chinese New Year (6/2/2019)
iv. Day Three of Chinese New Year (7/2/2019)
April
v. Ancestor Rememberance Day for Chinese / Ching Ming Festival (5/4/2019)
vii. Good Friday (19/4/2019)
viii. Day Two of Good Friday (20/4/2019)
ix. Easter Monday (22/4/2019)
May
x. Labour Day (1/5/2019)
xi. Buddha's Birthday (12/5/2019)
xii. The Second Day of Buddha's Birthday (13/5/2019)
June
xiii. Tuen Ng Festival (7/6/2019)
July
xiv. HKSAR Establishment Day (1/7/2019)
October
xv. National Day (1/10/2019)
xvi. Chung Yeung Festival (7/10/2019)
December
xvii. Christmas Day (25/12/2019)
xviii. Day Two of Christmas Day (26/12/2019)
This list just give you a general idea of the public holidays each month in Hong Kong. The date public holidays vary each year. Jump on board Public Holidays Global for updated version in current year.
Language
---
"Learn Cantonese Language Free Offline - by KidsTube" is a pretty handy too and mostly reliable. When traveling in Hong Kong, don't bother too much of learning a couple of Cantonese because the mobile app pronounce it to locals for you!
---
D Park (Tsuen Wan), Hong Kong Times Square (Causeway Bay), Langham Place (Mong Kok), Moko (Mong Kok East), Festival Walk (Kowloon Tong), Lee Tung Avenue (Wan Chai), Western Market - Silk Cloth Center (Sheung Wan), Sneakers Street (75 Fa Yuen Street, Mong Kok), Ladies Market (Tung Choi Street, Mong Kok), Temple street at night (Yau Ma Tei) Dried Seafood and Tonic Food Streets (Wing Lok Street and Dex Voeux Road Central). If you wanna experience markets in a complete local style, check out the website which may be helpful for you!
Map
---
Geoinfo Map is a useful tool to give you a general picture of the destinations you are heading. Also, it gives you information which is not a necessity for tourists such as location of lamp posts, fire hydrants and lots.
Visa
---
There are five types of tourism visas you can get for your travel to Hong Kong:
(2) Travel Pass
(5a) Pre-arrival Registration for Taiwan Residents
(5b) Pre-arrival Registration for Indian Residents
(Source: Immigration Department of Hong Kong)
Sometimes you may need to seek assistance from your own Embassy or voting at your embassy when the election day of your country comes up. This link can help you further your research for planning your travel itinerary.
.
(Source: Protocol Division Government Secretariat)
Weather
---
There are two ways to check with temperature in Hong Kong:
(a) Hong Kong Observatory (9 days weather forecast)
(b) Mobile App of Yahoo! Hong Kong (more detailed information)
For tidal information: