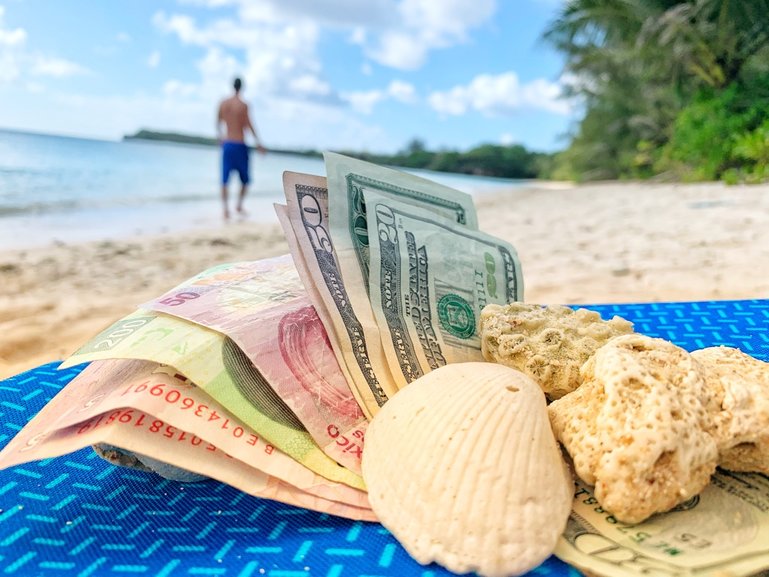 There are plenty of people out there living their best travel lives full-time, however the majority of people still have regular jobs and/or need help learning how to save for trips. One of the biggest question we get asked is, "How did you save up for that trip!?" Well ask no more, this guide will teach you how to save some cash flow and FAST.
1. Separation is Key
---
When you first get started, you need to work out what you can comfortably live off of and what you can live without. Start by making a list and calculating how much that list will cost you. When you cut out things like unnecessary shopping, eating out everyday and going out every weekend, you will see some serious results!
There is no need to be a hermit and never do anything at all, but save eating out for special occasions or one day a week. Meal prep your meals. Have home gatherings and drink cheaply and safely at home. Wear the clothes in your closet!
It really comes down to need vs want. Every time I want to splurge on some shoes I say to myself "travel or shoes that I will most likely never wear?" This one goes for Brady too, he has a sneaker (Jordan's) problem.
Once you have your list ready to go with the total weekly/monthly expenses SEPARATE your salary. Open three bank accounts or at least two. One for income/bills, one for NO TOUCHING savings, and the third for temporary savings that you can dip into. Life happens so that is your cushion savings.
Brady gets paid every 1st and 15th of the month and I get paid every other week. We move the majority of our money into savings and use the rest to pay bills. We also use our credit cards to pay for everything we can and always pay it off every month. This builds our credit, increases our credit card maximum and also racks up travel points or rewards! We also have completely separate accounts and we don't have a joint account. This works wonders for us, but to each their own.
2. Save Your Coins
---
Now I don't do this very well at all since I hardly ever carry cash on me, but Brady has mastered this art form. He has a nifty Sailor Jerry's limited edition tattoo container which he is always adding spare change into. It can also be used for when you give up something or change a habit. I had a fancy latte coffee vise for a very long time. Now I just stick to black coffee and HOLY MOLY it's so much cheaper! I understand not everyone likes the taste, but the sugar and creamers are free! So, instead of spending at least $5 on a coffee I know spend $2. So the extra $3 bucks can go into the Sailor Jerry's container. Last time Brady cashed out we had $400!
3. Sell Your Crap... I Mean Stuff
---
We all tell ourselves the same thing.... "But I paid so much more for this than people want to buy it for!!" I know, it breaks my heart too. But my motto is, "if you don't use it, lose it!"
The internet makes this so easy for us now! You can sell on facebook, shopify, ebay, decluttr and so many more!
Once a year, we do a home cleanse. "What did I not use at all this year? What did I not wear?" We sell it or donate it. Since we move around a lot, we also take that time to do a DEEP home cleanse.
4. Simplify Your Life
---
I haven't used cable since 2009!! Brady didn't follow suit until 2015 when we moved in together and I showed him my ways. We live off of Netflix, Hulu, a cable antenna, Apple TV and an Amazon Fire stick. We pay $10 a month for entertainment. Ballin.
We also love a good Groupon...whoop whoop. I don't know the last time we paid full price for a pedicure. Yes, I said we....we BOTH treat our feet. We also use Groupon for haircuts, massages, restaurants and activities. There is so much more you can use Groupon for as well, those are just the ones we use it for.
5. Search, Search, and Search
---
Setting aside some time to do some online research is worth it. This was not something either one of us was good at. We are very fly by the seat of our pants or however that saying goes, so this took a lot of practice.
We are always looking up free ways to have fun in our current city or free activities to do. You will be shocked at the endless possibilities! I know we live in a tropical paradise so going to the beach is most definitely a fun and free way to spend your time, but trust me, we have to get very creative during rain season.
Research your cards. There are debit cards that do not charge you from their end or charge for any ATM withdrawal and there are credit cards that you can accrue points and/or rewards which you can use towards flights and hotels.
Research for lodging and activities for your travels can really paint a picture on how expensive a country is. If you travel alone, consider hostels. It's a great way to meet new people and save money. Airbnb is also a cheaper alternative for solo travelers, couples and groups. Look up hotel packages or all-inclusive hotels with other perks that you may want, like traveling with pets or having access to a gym.
Depending on what you are looking for, try a last minute deal or go during off season, avoid holidays and school breaks. Apologies in advance for all my teacher friends... but hey you can get 2 months off of work! Travel deals often have things like kids go free, free night stay, or even free upgrades.
If you are flexible with your flights, even better!! Use the 'fly anywhere' option. You can sign up for airline newsletters for deals or if you like traveling a specific airline, use their credit card to get points on flights. Use carry on bags to avoid surcharges. They are cracking down on bag size and type, so do your research!
If you are planning on traveling for a while and are accident prone, like me, do yourself a favor and research travel insurance. Pay attention to what activities you will be doing when searching for insurance to insure it will be covered.
Bonus:
---
6. The Last Possible Way to Save Money
---
This one is that dreadful unthinkable answer to how to save money that nobody likes. I know, I know, wipe away the tears though because you are grown! Stop or minimize your drinking.....
WHHAAA? It saves you money and you will feel like a freakin boss at the gym.
We are preaching to ourselves here too, we still drink but we control it if we need to save up money for some traveling. We also end up not drinking as much when we travel because there is so much to see and do and a killer hangover will ruin a trip faster than your card being blocked.
Drinking not your vice? Well good for you, but cut down on whatever that vice may be.
So to recap - use your searching abilities for more than just Tinder, if you don't use it, lose it, keep it simple, and move that cash flow so you don't see it (link to another bank account or savings).