Welcome to Ten Beautiful Beaches of the World! We aren't claiming that the following beaches are the best in the world. They are simply ten beaches that have deeply impressed us and lingered in our memories long after leaving them. Indeed, beaches are incredibly varied and each of them have their own characteristics. We particularly love wild beaches. Those strewn with driftwood where the waves crash onto the shore and you can walk for miles without seeing another soul. Not all of these beaches are like that, but they are all unique in their own way. We have tried to mix it up. We have included beaches of all types – from lively Waikiki Beach in Hawaii to the tranquillity of Secret Beach in Australia. In no particular order, here are ten beautiful beaches of the world:
1) Balandra Bay, Baja, Mexico
---
Balandra is considered to be the most beautiful beach in Mexico and it is easy to understand why. The crescent shaped bay is located about twenty minutes by car (and a little longer by bus) from the city of La Paz in Baja. The shallow turquoise water is crystal clear and overlooked by red-hued hills abundant with cacti. From the summit of a hill dividing two beaches, there are stunning views of the bay and the rock formation known as El Hongo (The Mushroom). On the main beach, there are free palapas and additionally paddle boards are available to rent. The area is protected, and a limited amount of people are allowed on the beach at any one time. It's best to arrive early in the day, especially at weekends.
Balandra Bay, Baja, Mexico
2) Arugam Bay, Sri Lanka
---
We spent a week relaxing at Arugam Bay after travelling around Sri Lanka for a month. We stayed in a basic beach hut right on the beach. It was an ideal place to chill out in a hammock after several long bus rides around the island. Popular with backpackers, surfers and yogis, the long stretch of sandy beach is backed by palm trees. Swimming is possible, but the surf can be strong and consequently, Arugam Bay has become one of Asia's hottest surf destinations. A variety of colourful bars and restaurants can be found scattered amongst the palm trees, but overall Arugam Bay remains comparatively underdeveloped with a pleasing absence of high-rise buildings.
3) Tikioki Beach, Rarotonga, Cook Islands
---
Situated on the south side of Rarotonga, Tikioki is a beautiful beach which offers easy access to excellent snorkelling. Even if you don't snorkel yourself, you can stand in the clear water and spot colourful fish darting around your feet. Blue star fish, turtles, stingrays and urchins are abundant amongst the coral. The area is, in fact, a marine reserve and consequently protected. If you build up an appetite after all that snorkelling, the nearby Fruits of Rarotonga sell smoothies along with snacks such as toasted sandwiches and muffins. It's an idyllic spot whether you are in the water or sitting on the white sand beach looking out over the turquoise waters of the Pacific Ocean.
4) Holkham Beach, Norfolk, England
---
Holkham Bay is situated on the windswept coastline of North Norfolk in England. Backed by dunes and pine forests, it is a stunning beach of golden sand which appears to go on forever. A track alongside the beach forms part of the Norfolk Coastal Path. Nearby Wells-next-the-Sea is a bustling harbour town brimming with restaurants, pubs and galleries. The county is known for its flat landscapes and big sky and there is no better place to appreciate its vastness than at Holkham Beach. The sprawling four-mile-long beach is large enough for everyone to find a spot of their own. Swimming is possible, but care should be taken as the current can be strong.
5) Hokitika Beach, South Island, New Zealand
---
If you like your beaches wild and untamed, Hokitika on New Zealand's South Island could be your perfect destination. It's a great place for watching the waves crashing in as you stroll along the black sand beach. You can hunt for shells and pounamu, the green stone frequently found on the island's beaches (although it's against the law to take it with you). Driftwood is strewn across the beach and opposite the township, there's a 'Hokitika' sign made from wood that has been salvaged from the beach. In fact, there is an annual festival when an array of impressive driftwood sculptures are displayed on the beach. Rugged and wild, Hokitiki Beach has a special kind of beauty.
6) Railay Beach, Thailand
---
Situated on the peninsula between Krabi and Ao Nang, and only accessible by longtail boat, Railay Beach (otherwise Rai Leh) is one of Thailand's most scenic beaches. Surrounded by lush jungle and towering limestone cliffs, the Andaman Sea is perfect for swimming, snorkelling and kayaking. Additionally, the cliffs are a magnet for rock climbers from all over the world. Behind the white sand beach, amongst the jungle vegetation, there are an array of restaurants and cafes.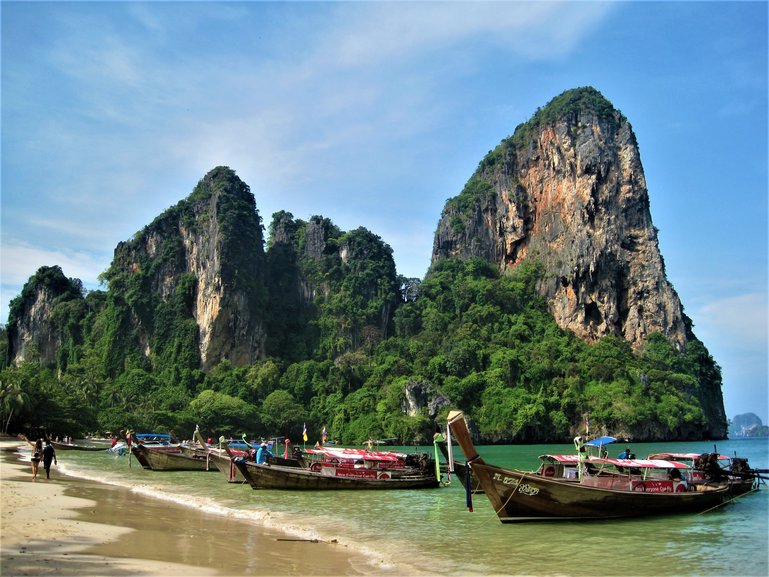 Railay Beach, Thailand
7) Secret Beach, Mallacoota, Australia
---
This secluded beach is off the coast road between Melbourne and Sydney. Tricky to find, it is nevertheless worth the effort. In fact, we came across it completely by accident on a coastal road trip. The rock formations are spectacular and look particularly sublime in the early morning or evening sunlight when they are illuminated in an orange glow. A peaceful spot, thanks to its location, we had the the entire beach to ourselves. You can get to Secret Beach on a coastline walk from Betka or via a staircase on Betka Road.
8) Waikiki Beach, Oahu, Hawaii, USA
---
There are an plenty of stunning beaches in Hawaii, but Waikiki is one of the most iconic beaches in the world. Indeed, the beach buzzes with action from dawn till dusk and there are no shortage of activities to partake in. Whether you are sitting at a bar drinking cocktails or surfing the famous waves, Waikiki is unique. As outrigger canoes power their way towards the beach, you couldn't be anywhere else in the world. The Pacific Ocean is such a striking shade of blue you can't help but be mesmerised by it. Additionally, the scene is enhanced by the striking sight of the volcanic Diamond Head, which overlooks the Beach. As the sun sinks over the ocean, a hula show takes place and the crowd gathers to watch the nightly torch lighting and conch ceremony together with traditional song and dance.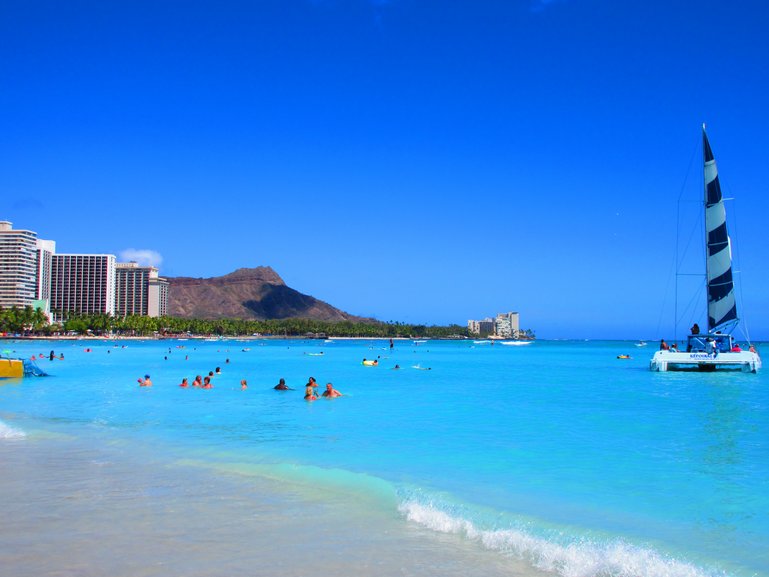 Waikiki Beach, Oahu, Hawaii, USA
9) Manuel Antonio Beach, Costa Rica
---
For those who love wildlife, the beach at Manuel Antonio National Park in Costa Rica is as good as it gets. Not only is the beach lovely, but there are mischievous white faced capuchin monkeys along with iguanas and raccoons galore. You have to pay an entrance fee and walk through the park, but it's an area rich in biodiversity and is well worth a visit in its own right. The pretty beach has soft sand and is great for swimming. In fact, it's a perfect place to chill after exploring the park. Just watch out for those cheeky monkeys and raccoons if you are having a picnic. They don't think twice about stealing tasty tidbits.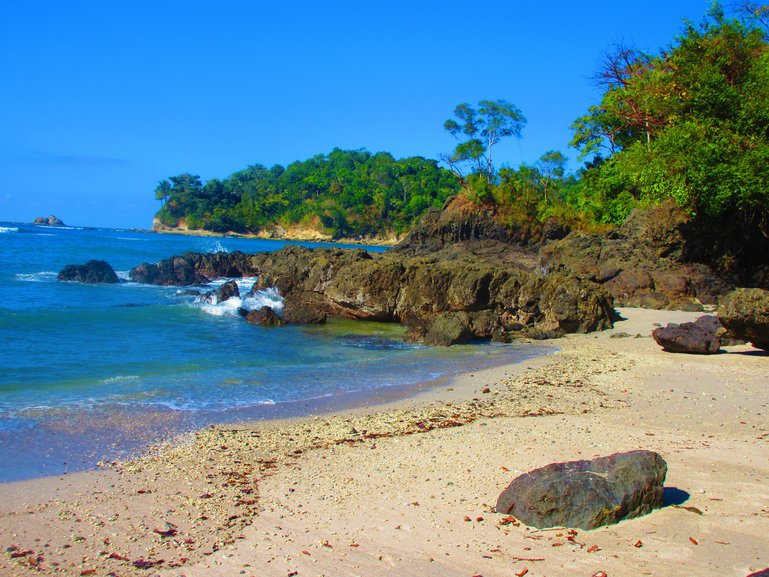 Manuel Antonio, Costa Rica
10) Nipah Beach, Tioman Island, Malaysia
---
Tioman Island, located off Malaysia's east coast, is a perfect paradise with white sand beaches and jungles galore. Remote Nipah Beach is an isolated bay situated on Tioman Island's west coast between the villages of Genting and Mukut. The beach is a peaceful stretch of pristine white sand fringed by verdant rainforest and is an ideal spot to head for if you are craving peace and tranquillity. What's more, you can snorkel amongst colourful fish and coral in the warm translucent water.