Black volcanic Kamari beach on Santorini island
---
The third place in our Top List belongs to black volcanic Kamari beach on Santorini island. Santorini is well-known for Oia white houses, windmills of Imerovigli and blue roofs of Thira cozy churches. However not all tourists know that Santorini island is also famous for Kamari black beach. Santorini is a volcanic island therefore, the sand is also volcanic. It is smooth with black fine pebble. Indeed sand is quite nice on the touch. In spite of the attract-sunlight effect of black colour, this volcanic sand is not very hot and you will not burn your feet.
Pink Elafonisi beach on Crete Island
---
On the second place is amazing pink beach which is located in the village of Kastelli-Kissamos in the far west coast of Crete island. The water is clear and the sand has a pink tone.
This wonderful shade of sand can be explained by tiny red shell fragments mixed with white sand. In one part of the beach you can find large deposits of pink sand, and in the other one – black volcanic sand pebbles. The beach is located in a wildlife preserved area.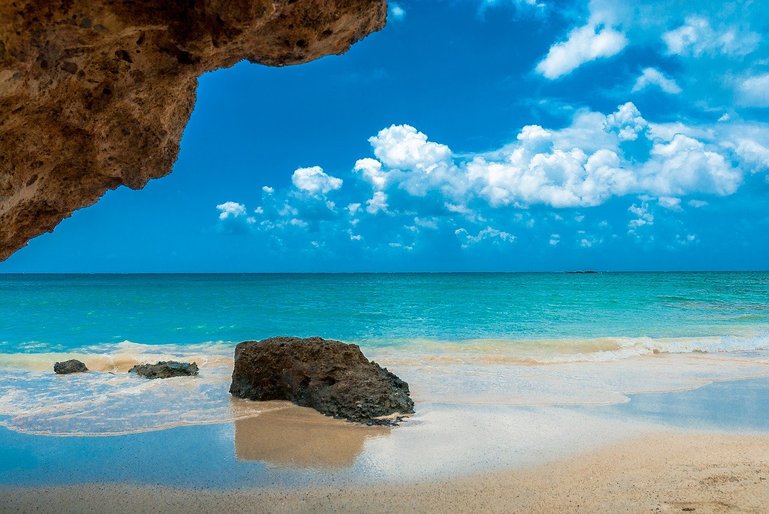 Elafonisi Beach
White sands of Maldives
---
The first place goes to white beaches of Maldives. The outstanding feature of Maldives is incredibly white sand and incredible blue clear water. Such water colour you will not find anywhere else in the World. That is why millions of tourists arrive to Maldives every year.
The snow-white sand has one more outstanding feature – its consistency. The sand was formed due to crumbling of dead corals into tiny powder, and now it is cool and soft like powdered sugar. Such delicate touch of the sand you will find nowhere else in the World, that is why Maldives beaches are often called paradise on the Earth.