Sri Lanka is one of the leading romantic destinations in the whole world. The land of serendipity brings spiritual tranquility and a chance to rediscover oneself. The beauty of this tiny island is simply breath-taking. Known for its enchanting ancient ruins, endless soft-sanded beaches, imposing mountains, colourful festivals, tempting water sports, dense wild-life, diverse ethnical groups and off the top hospitality from the local residents, Sri Lanka is bound to make you come back again. If you're thinking of travelling to an exotic island in the south of Indian ocean let this be your ultimate luxury travel guide to Sri Lanka.
Visit Sri Lanka for a lifetime experience
Visa for Sri Lanka
---
Unlike many other Asian countries, Sri Lanka doesn't offer a visa on arrival. However, you can apply for an electronic visa or E-visa. An E-Visa is a double entry visa for 30 days, which is usually enough for most of the travelers. The fee for an E-visa is $35 for all the countries but is only $20 for SAARC countries.
Sri Lankan Culture
---
When you visit any place around the world there is definitely a sense of a culture shock, and it is simply because you are not used to the way people live in different cultures. Sri Lanka has a rich vibrant and endearing culture that is easy to become accustomed to. This country has a vast mix of traditional as well as more modernized cultural elements, which makes it a great place for visitors. Sri Lanka is a perfect place for travel with kids. It is a safe country and your little ones will love it just as much as you will.
Have small cash
---
Tuk-tuks, buses and shops will usually not have change for big bills. Thankfully ATM machines give change when they dispense money. Some international cards are not very successful so bring more than one. I suggest you carry a few US Dollars or Euros to be safe if such a situation arises. You can always head to a bank to exchange currency in case your card doesn't work. Another important point to note is that most of the banks in Sri Lanka shut at 3 pm, which is quite early as compared to international standards.
Is the Tap water safe to drink?
---
In Sri Lanka, the locals mostly drink tap water but it is always advisable to stick with bottled water. Although it is safe for them, but it may not be for you because it may contain micro-organisms that your body is not used to. Don't take a health risk while traveling and please stick to bottled water.
Food And Restaurants
---
The food in Sri Lanka is totally delicious. Sri Lankan food is similar to Indian food but with very a mild difference. If you order "rice and curry" here, there will usually be a big pile of rice but also up to 10 varying curries of mainly vegetables and fish/seafood so it is a very healthy diet. In smaller towns, a meal can cost around 100 LKR (less than $1), but can go as high as 500 LKR in bigger towns.
Where to go in Sri Lanka?
---
Most of the people think that Sri Lanka is mostly about the beaches, but no they couldn't be more wrong. In fact, my favorite places here were very far from the beaches. A beautiful climate and the fact it is an island that still feels like a bit of a secret there's never been a better time to visit Sri Lanka.
- Explore the lush green tea districts
Whether you're going to Sri Lanka for a holiday with your family or travelling with your better half, visiting Sri Lanka's lush green tea districts is an absolute necessity. Sri Lanka has seven tea districts and each one is known to produce tea with a rich, distinct character and aroma that tea connoisseurs consider one of best in the world. Tea plantations in Kandy don't exceed more than 1300 meters and produce intensely flavorsome, full-bodied tea with bright copper tones.
- Nature and wildlife
Sri Lanka is a luscious island with so much wildlife to see. Take a boat tour where you can see blue whales and dolphins or don your scuba equipment and join a trip where you can dive with the impressive marine life. There are over 5,8000 wild elephants in Sri Lanka as well as the biggest concentration of leopards in the world. Head to one of the national parks or sanctuaries where you can also see animals such as bears, buffalos and zebras.
- Experience the royal Sri Lankan heritage
Make your trip memorable by visiting Sri Lanka's most famous historical sites and ancient temples that will leave you mesmerized with their picturesque beauty. From December to March, the best places to visit are Sigirya Rock, Yala National Park, the Anuradhapura temple and the Dambulla cave temple.
Sigiriya, an ancient rock fortress, northern Matale District
- Beautiful beaches
Sri Lanka is host to so many beautiful beaches that are a far cry from tacky sand-stretched miles packed with stalls selling cheap souvenirs. Jungle beach in Unawatuna is a real hidden gem, tucked through (you guessed it) a jungle and Mirissa beach offers a really serene atmosphere for relaxing, swimming or learning about Sri Lankan lace making. The island has so many gems to explore and find, it's a great place for discovery.
We hope you find this short travel guide useful in planning your holiday in Sri Lanka. Whether you're out on a family trip or your honeymoon, be sure to check out these places to make your stay in Sri Lanka memorable.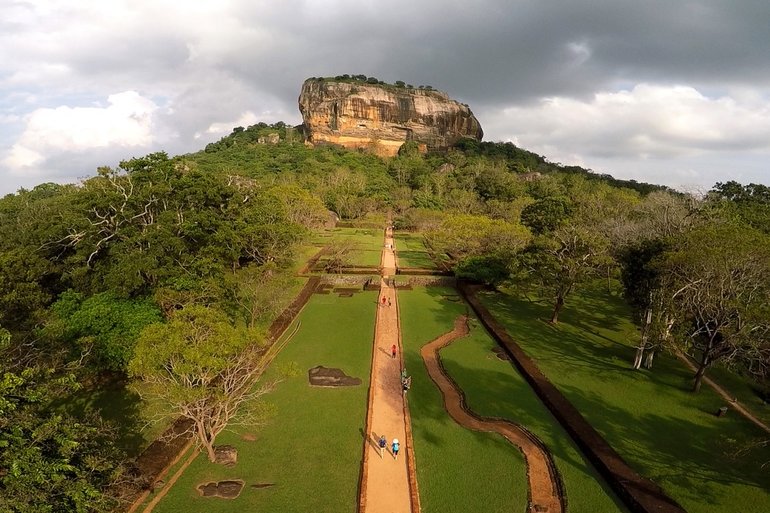 Sigiriya, an ancient rock fortress, northern Matale District