Going to the bathroom is something that no one wants to talk about, much less share publicly.
But truthfully, bathrooms can be a huge challenge when traveling and there are a few things you should know that will make going on the go much more manageable.
The Good
---
In the US, finding a relatively decent public bathroom is easy to do. Along highways, we have frequent rest areas and truck stops. In most cities where people are touring, you will find shopping malls and fast food establishments everywhere.
There is typically very little you need to know – a good number are free, and in a majority of cases you will find toilet paper, running water and soap.
Be Prepared
---
In traveling in many other parts of the world, public restrooms may be harder to find or need a little preparation.
Here are a few tips to make using restrooms while traveling a little easier.
1. Many restrooms charge a fee, in some cases, it is an automated machine, and in others, it might be to an attendant, In either case, you want to carry some loose change in local currency when touring.
We've found that our local currency exchange is now offering small "bathroom packs" of loose change to have when you travel.
2. TP – toilet paper is not always provided. We have learned the hard way. You need to look on the wall before and right after entering the bathroom, and it will not always be inside the stall. This we experience in China and Thailand.
We highly recommend carrying either small packs of tissues or travel toilet paper rolls in your backpack. In many parts of the world toilet paper cannot go through older, narrow pipes and is not flushed but instead placed in baskets found next to the commode.
3. Wet Wipes – these are always a must-have item to carry as they are not only beneficial during bathroom breaks but an excellent way to freshen up on those hot travel days.
Keep in mind that in most places, even with traditional flush toilets, wipes should not be flushed.
Hand Sanitizer – water and soap are not always readily available even in the nicer restrooms, so a travel-sized hand sanitizer is a good way to keep yourself healthy.
4. Seat Covers – this one is especially helpful for the ladies. Not all toilets have seats, and not all seats are clean. Hovering can be quite a challenge, so carrying a small pack of personal seat covers can often save the day.
In many portions of Europe, you may find very modern WC units where a built-in, single-use seat cover lines the set and moves after each use. It helps keep things more sanitary but can be a bit frightening the first time.
Public Accommodations
---
Restrooms in Europe, Asia and other parts of the world are available. Again, shopping malls and fast food places may be easiest to find, but public restrooms in museums, tourist attractions, and restaurants may be more on your radar.
You will also find clearly marked public restrooms in many downtown municipal districts and railway stations.
You Might Not Know SQUAT
---
In Asia and parts of Africa, you will find squat toilets. They can cause a lot of dread for western travelers because they are so different than anything we experience. We highly suggest checking out an online tutorial that shows you step by step.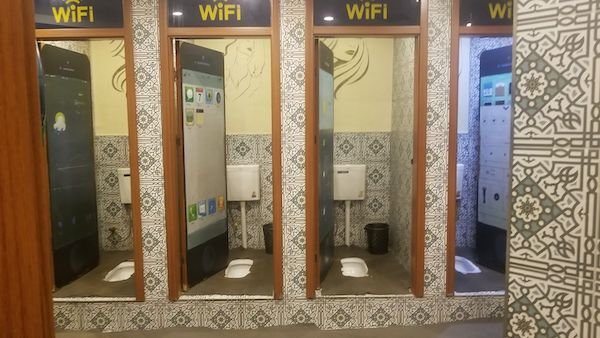 Here are a few things to know regarding travel in areas with squat toilets.
· Relax, your hotels probably have western toilets. Again, many fast food places and malls may have western toilets.
· Look for handicapped-accessible restrooms. A majority of those we found had western-style toilets.
· Before you squat – if you have sunglasses tucked into the front of your shirt, move them. Chances are you will lean over and lose them right in the squatty potty.
· When you squat, pull your pants down below your knees. If you don't, you are sure to lose the loose chance and anything else in your pockets when you squat.
Know Before You Go
---
Here are a few very random bathroom tips.
· Carry mints. We found on our Kenyan safari that our mouths were dry, but drinking a lot of water in the middle of the Mara was not smart. Bathrooms are few and far between on game drives. Individually wrapped mint Lifesavers were lifesavers.
· Go Often! When you are sightseeing, especially as part of a tour group, you might not stop as often you need. You'll also find that when you do break EVERYONE heads there at the same time. So, if you have the opportunity to use a restroom, take it whether you think you need to or not. You might not get another break for quite some time.
· Poopouri – this stuff is a Godsend! We have found that in tight quarters on cruise ships, bathrooms on busses (if you are that lucky) and in any shared bathroom space this travel-sized spray makes life a little more comfortable. You're welcome!
Much like anything else in travel planning, knowing before you go is a must.