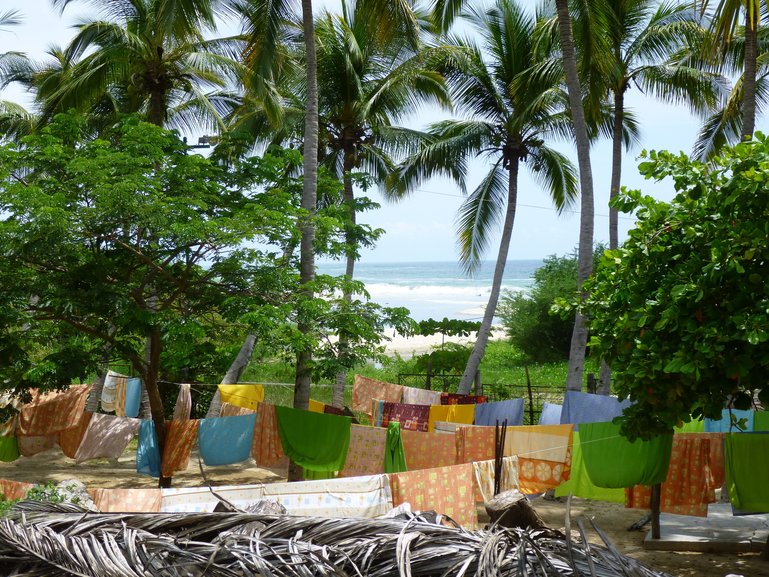 When traveling internationally to budget destinations, you may end up buying cheap clothes, towels, scarves, bags and other cloth accessories sold locally. And why not: there are so many beautiful inexpensive fabrics out there! And it's great to support local artisans, vendors and brands.
However, when time comes for those things to get washed, FOR THE LOVE OF YOUR ALREADY LIMITED WARDROBE, don't throw these items in with your regular laundry! They are very likely to bleed heavy colors on a first wash, tainting the rest of the load! If it's garments with decorative iron-ons or painted-on accents, there is a high probability that these decorations will separate, turn into goo and evenly splotch all over all your other stuff.
Factor in the possibility that, in many budget destinations, self-service laundry is not an option and you are already entrusting your "unmentionables" and "unmixables" in the hands of another person who will, in most cases, toss them into a washing machine on the cheapest setting, bathed in the cheapest, strongest-smelling detergent. Unless affiliated with a hotel, most laundry facilities in tourist areas aren't exactly concerned with retaining return customers. Their new customer turn-over is endless and they just need a visitor's business once, so they don't lose sleep at night over destroying someone's entire travel wardrobe.
This is why, when it comes to laundry facilities, it actually helps to read online reviews and ask locally for recommendations -- just to rule out the worst contenders. And then, it helps to clearly and very politely but assertively outline the washing settings you have in mind to the attendant (and provide your own detergent, if you are someone with sensitive skin or nose). There is no guarantee that your precise instructions will be followed, of course, but I believe it still ups the chances of getting one's things back "in one piece".
But even if you find a self-service laundromat, don't succumb to the temptation to add the cheap stuff you bought locally to the laundry load. These items need to be hand-washed separately from the rest – at least for the first washing – to drain out all that heavy pigment and to see how the garment reacts to water in general. If the garment seems extra fragile or in some other way "iffy", stay on the safe side and leave it out of the washing machine for good. It's a bit of a pain, but not as much as receiving all your laundry back dyed into a different (unattractively faded) color or slimed in something glittery. And, of course, you cheap stuff will retain its luster longer if hand-washed.
These scenarios are not hypothetical: they have happened to me more times than I'd like to admit across different parts of the world. And it's happened to countless travelers I've commiserated with on this topic.
The upside is that when these cheap items outlive their usefulness or fall apart, you don't feel a huge loss: you leave them behind and move on with your marvelous travel adventure. Enjoy the attractive temporary clothes, accessories and bedding to the fullest while they last. Just don't let them take your quality garments down with the ship!