Cairngorms is the largest National Park in the UK. Exhibiting miles of natural beauty; from the deep forest, cascading waterfalls, and sky high mountains there is something for everyone. One thing that you might not expect from this Scotland landmark would be the unique reindeer herd that have called this place home.
In the Glenmore region of the park you will find the Cairngorm Reindeer Center. While a reindeer herd in Scotland may seem a little out of place, you would be correct. These creatures once populated the Cairngorms region over 800 years ago, and were reintroduced in 1952 by Mike Etsi. They made it their goal to reintroduce the reindeer back into this area where they once roamed. His team brought 7 reindeer over from Sweden to start the Cairngorm herd. The herd flourished here, and now number over 150 reindeer! Now the Center runs to preserve and protect this herd and offers different tours so you can get an up close look at this friendly animals.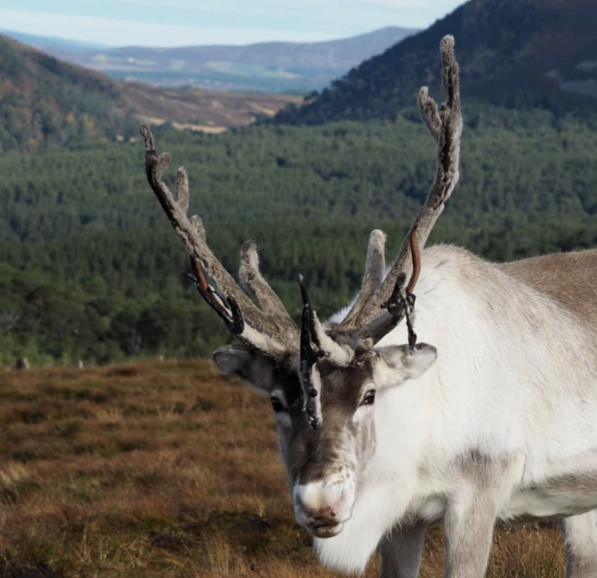 Make some new friends
The Paddock
---
Between Easter and New Years a small group of reindeers are brought down and cared for at the paddock right by the Reindeer Center Office. The staff alternate these reindeer often and pick ones that might benefit from an easier lifestyle away from the mountain. The paddock is right by the main office and is an easy walk for all ages (and is even handicap accessible). Here you can get up close and personal with these fluffy creatures and make a new friend. The paddocks are open from 10 am – 5pm and are a little over 3 pounds per ticket.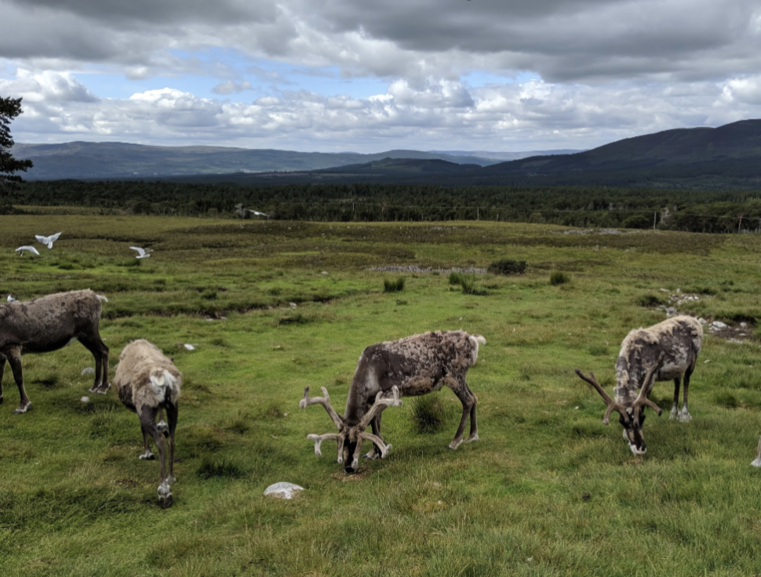 Meet the herd
The Hill
---
If you want a look into how these reindeer herd live in Cairngorms, I would suggest the hill trip. Every morning at 11am a guide will lead you on a 20-30 min hike up the hill to feed the reindeer. Once you get to the top you will be amongst the herd and given ample opportunity to feed and pet these happy animals. These reindeer are not shy and will come right up to you if they think there is a chance of food. The amazing landscape adds to the experience, so come ready to take pictures! If you choose this option be prepared, they do the tour rain of shine, so bring a good jacket and shoes on this expedition. Tickets are 16 pounds and are first come, first serve, so get there early.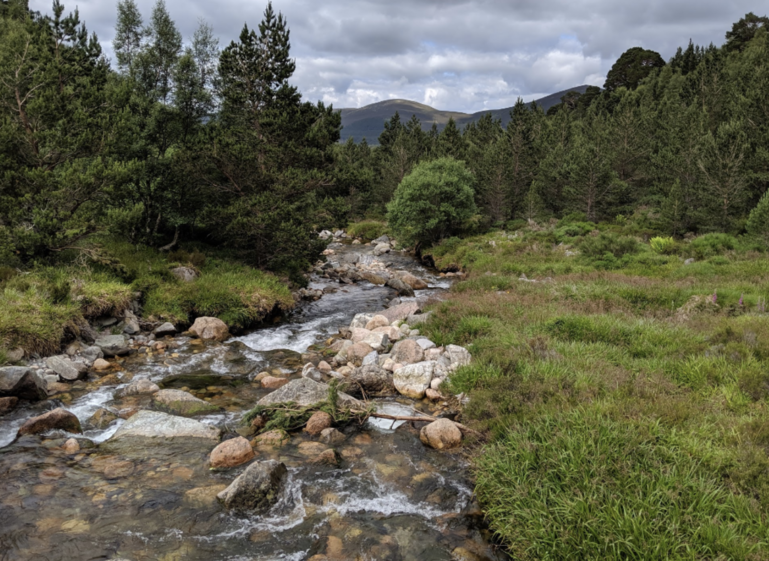 Some beautiful sights heading up to the hill
Can't make it out to Scotland this year, but still want to support the reindeer herd. You can adopt a reindeer of your choosing, you get a personalized gift pack and your new reindeer friend will have more funds for their food and veterinary care. You can also visit their online store and chose from an array of memorabilia to support the herd and help them continue to prosper in this region.