As you probably already know, if you have read our previous articles, Ale and I are lovers of long-term stops, so when it was time to book tickets to start our adventure in South East Asia, we decided to make one 12-hour stopover in Singapore, just to start the journey in a great style!
We left Sydney on April 29th at 2pm and in just under 8 hours we were in the city of records, in the city of the future, where everything looks perfect.
Arrived at 7 pm, we decided to do not take any hotel or hostel and see all we could visit despite it was evening, and then return to the airport to wait the flight to Ho Chi Minh City.
We immediately understood that we would have agreed to take the train rather than the taxi, for the simple fact that we arrived at rush hour, and taking the taxi would have meant losing at least an hour and half journey from the airport to Marina Bay, where we were headed.
Taking the train from Changi Airport is very simple! Once immigration has been completed, you will see large blue signs that will show you the way to the train station (MTR Station) which is nothing less than inside the airport. Get the cash you need for your stay and buy the rechargeable ticket directly from the electronic machines; if you have any questions or don't know what to do, there are always ladies near these machines, ready to help you and explain what you need to do. For the cost of just $ 2 total per head, and having had to change at Tanah Merah MRT Station to Tuas Link MRT Station, we arrived at the center of the metropolis in about 30 minutes. Having said that it may seem complicated, it is true, but it is more hard to say than doing it. On the other hand if you have any kind of problem in a multi-ethnic and tourist city like Singapore, just ask for help, that people are ready to give you a hand!
Although it was relatively early when we arrived, once in the center our priority was to eat, a little for hunger and a little bit for gluttony. Actually we couldn't wait to start our culinary journey in South East Asia, between noodles and fried rice, between dumping and spring rolls .. So, once on the street, looking for a place to eat, a girl stops and asks us if we needed help, so we ask her where to go to eat something typical, and she shows us a place just a couple of minutes walk from where we were. Here, crossing the street, the eyes begin to lighten up! On the corner, behind a chic restaurant, we saw food markets ...
"Ale, do you see what I see too?"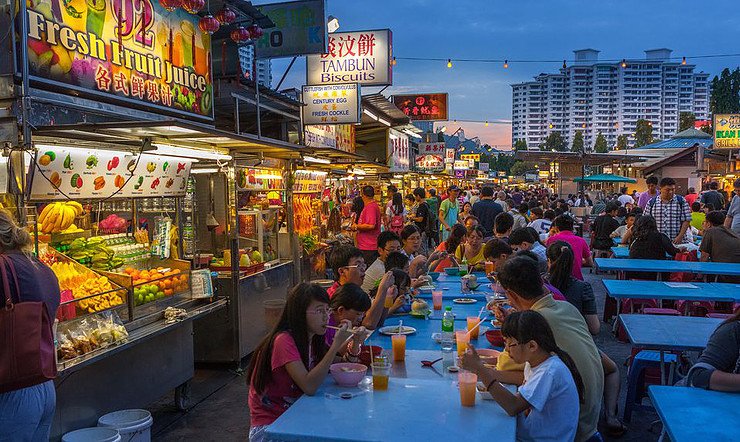 Those are food stalls... Street food! "It was the perfect place for us! A 30 stalls selling soups, noodles, fried rice, dumplings and stuffed buns .. a show in our eyes, poor hungry beings , conquered by those scents and the festive atmosphere We choose 3 different stalls, one from which we took two different types of noodles, one in which we took the meat-filled buns, and the third in which we took 2 beers, to toast to us, to food, to the spectacular view and to our new adventure.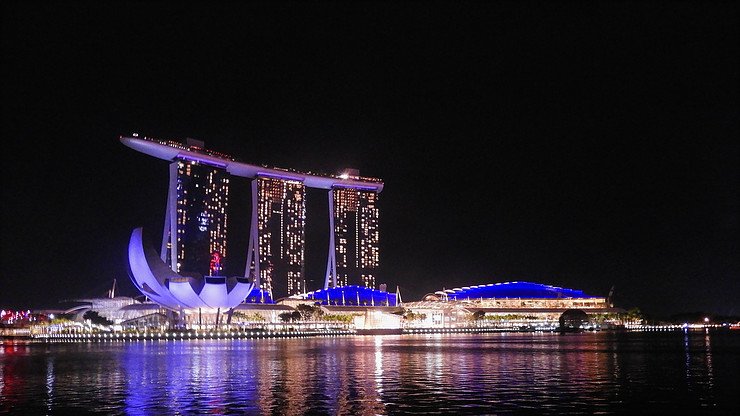 After dinner, we could not fail to take a couple of photos at the Marina Bay Sand, home of the homonymous hotel and several shops, consisting of 3 60-storey skyscrapers each that are joined at the top by a huge terrace in the shape of ship, which is Sky Park, which hosts several restaurants, pubs and nightclubs and nothing less than one of the swimming pool touched among the most breathtaking in the world, overlooking the metropolis.
Having finished taking pictures and being relaxed, we were ready for the second destination, the Garden by the Bay, one of the most popular parks in the world, which attracts around 20,000 tourists a year thanks to its originality. Surely you have seen a thousand photos and you will have heard of this futuristic park where you can find 163,000 plants from different geographical locations and 200 species of flowers, but the main attraction are obviously the Super Trees artificial trees ranging from 25 to 50 meters high, which are not only real vertical gardens, but at night they give off all their beauty thanks to the lighting and the play of light that make the park a truly mystical and unforgettable place.
But it does not end here, in fact during the day, for those who are fond of heights, you can walk among these majestic trees through the aerial Skyway walkway, and visit the two Glass Forest: Cloud Forest and the Flower Dome. Unfortunately we, having arrived in the evening, did not have the opportunity to see them or to walk on the Skyway, but we have nevertheless made this experience unforgettable lying on benches and abandoning ourselves to the colors and scents that these gardens had to offer.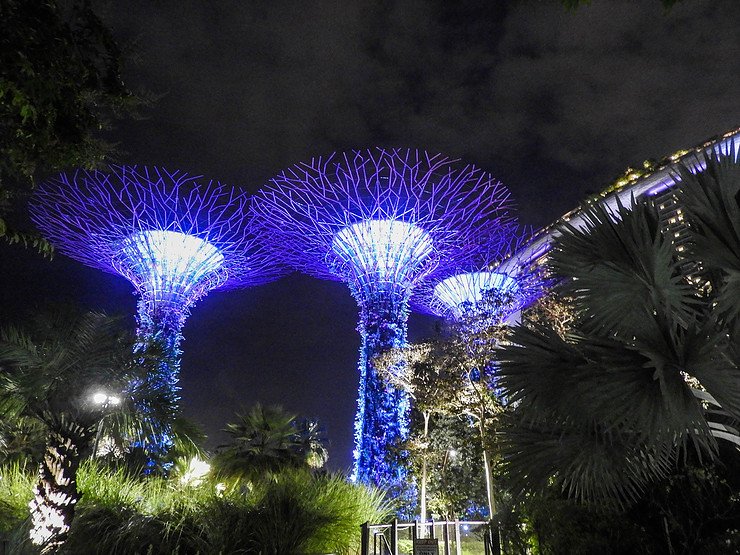 After relaxing for about 2 hours in this magical place, it was time to go back to the airport, and as it was already 3 am, we had to opt for a taxi. Returning to the Marina Bay, we crossed the Helix Bridge, the spiral bridge that recalls the shape of DNA, which represents the continuity of life, progress and rebirth, in perfect harmony with the spirit of this metropolis, which aims more and more to economic and cultural progress and which is increasingly asserting itself among the most important cities in the world.
Our trip was short but intense and full of emotions. We were ready to start our new adventure, in an Asia that would have proved different to our eyes, but no less attractive and less exciting.