If you're pining for a UK getaway, then look no further than Cornwall. West Cornwall, in particular, is one of the most beautiful corners of the UK, boasting picturesque fishing villages, rugged coastline and wide, sandy beaches. One of the best times to visit Cornwall is towards the end of the summer when the crowds have dispersed and children have gone back to school; the weather is still warm, accommodation is cheaper and the roads are quieter. Here are some of my highlights:
St Ives
---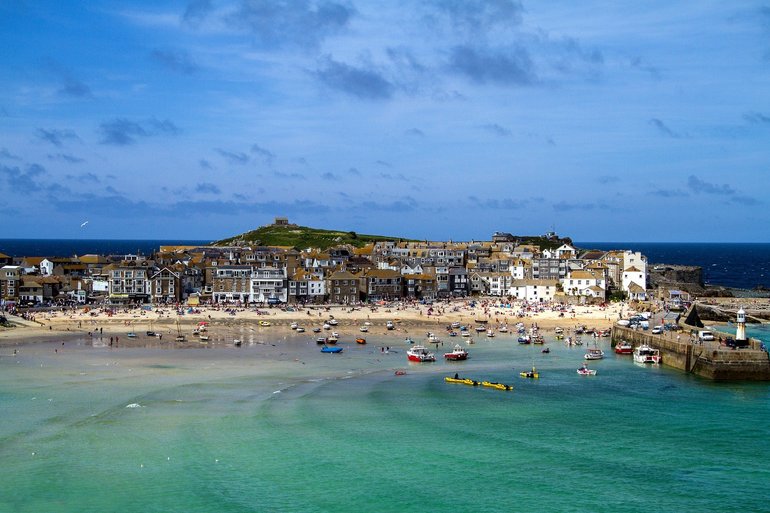 St Ives
The pretty fishing village of St Ives makes an ideal base for exploring West Cornwall. The town is surrounded by breathtaking beaches and has easy transport links to some of the other destinations listed below. There are plenty of options for accommodation, including self-catering cottages and apartments, boutique hotels and camping.
The town sits around a sandy harbour filled with fishing boats, seagulls and even seals. Beach cafes, cosy pubs and seafood restaurants are the order of the day here – a special shout out to The Rum and Crab Shack (incredible food, fabulous cocktails) and the Beachcomber Cafe for the perfect Cornish Cream Tea. St Ives is also a mecca for art lovers, with numerous exhibitions and galleries, including Tate St Ives and the Barbara Hepworth Museum.
Best explored on foot, you can easily spend a couple of days here exploring the winding cobbled streets, dipping in and out of shops and sampling some of the county's famous Cornish pasties. For a more authentic pasty experience, head away from the seafront and pop into one of the independent bakeries that line the backstreets, such as the St Ives Bakery.
A trip to 'The Island', a grassy peninsula that provides spectacular views of St Ives Bay and Godrevy lighthouse, is also well worth a visit.
Carbis Bay
---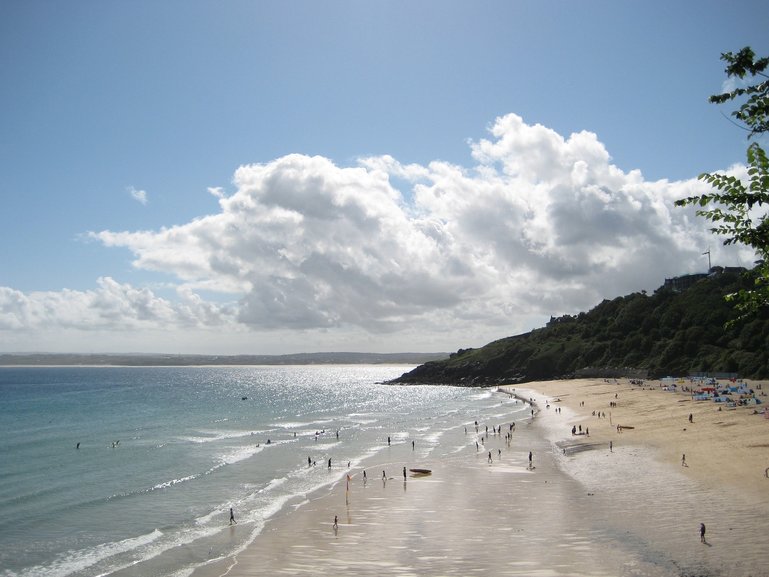 Carbis bay
Head east from St Ives by the
St Ives Bay Line
(takes about five minutes) or by foot along the South West Coast path (a scenic two-mile stroll) and you will reach Carbis Bay. Here you will find long stretches of golden sand, turquoise waters and palm trees – on a sunny day you could be forgiven for thinking you were somewhere much more exotic.
There are plenty of facilities here, including a beach bar, toilets and a cafe, and the water is safe enough for swimming. The area is much quieter than St Ives, although you will still find plenty of self-catering accommodation and several hotels, including the 5-star Carbis Bay Hotel.
Along the main road up the (rather steep) hill, you will find a handful of shops, a hairdresser and a chemist. There are also various places to grab a bite to eat, including Becks Fish and Chips, Cafe 54 and The Cornish Arms pub which are all reasonably priced given their proximity to St Ives.
Mousehole
---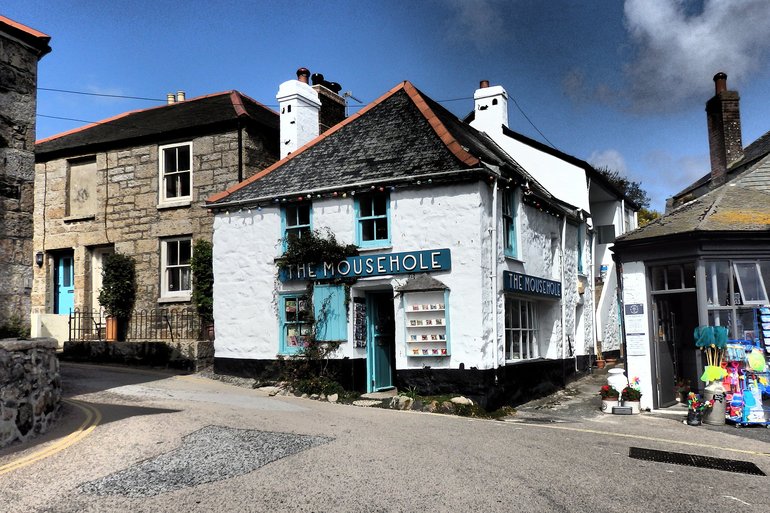 Mousehole
Mousehole is a pretty fishing village ideal for a quiet family holiday. Situated a few miles southwest of Penzance, it encompasses a harbour surrounded by traditional cottages, eateries and cobbled streets. Think old-fashioned Cornwall, with stunning views and bracing coastal walks. It also has a small, sandy beach tucked away in one corner of the harbour that is perfect for young children.
You can easily spend a whole day here, wandering around the art galleries and gift shops, taking in the views and sampling some of the delicious Cornish ice cream (well, it would be rude not to!). Speaking of eating, The Ship Inn pub offers spectacular views of the harbour and Hole Foods Deli serves a mouthwatering selection of breakfast, lunch and dinner options.
Naturally, seafood is abundant here, with many of the restaurants serving fresh, locally caught produce. As a word of caution, Mousehole gets very busy during the height of summer and its tiny lanes make it difficult to drive through. Again, it's probably best to visit outside of peak season or book a holiday cottage that comes with allocated parking. There are three car parks, but these can fill up fairly quickly.
Lelant
---
If you're staying in St Ives or Carbis Bay, follow the South West coast path or take the train to the nearby town of Lelant (both offer equally stunning views). Here you can walk alongside the estuary, meander through the dunes and step out onto the spectacular Porthkidney sands. Owing to its long stretches of golden sand, Lelant is fantastic for kite surfing and bodyboarding.
Swimming in the estuary is banned because of the strong currents so it's best to stick to the designated swimming area that is patrolled by lifeguards (May to September only). Lelant is all about the views and getting away from the hustle and bustle. Keep in mind that there are no toilets or other facilities here (which is why it is so quiet) but you will find a shop and a pub located in the main village.