All the travel guide books tell us one of the points of travel is to experience other cult rues, and eating local traditional food is one of the best of these experiences. Regrettably, globalization has made experiencing traditional cuisines more difficult in Europe than it used to be. On our first trip to Paris (1973), we would have killed for a real McDonald's. On our last trip (2009), we would have killed anybody suggesting a McDonalds. In the interim, it has become difficult to eat French food in Paris. The place is overrun with disastrous globalism-- McDonald's, Pizza Hut, KFC, sushi places. On our first trip to Paris, there was a bistro on every corner. On our last trip, we had to ride metro for 15 minutes from our hotel to find a bistro.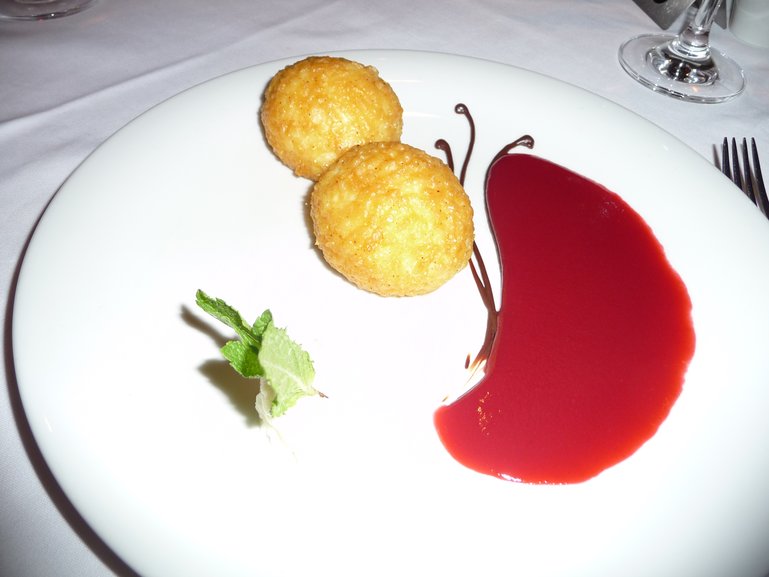 European Food
The whole point of travel is to experience other places and cultures, so don't try to Americanize your meals, go native, which, as time passes, gets a little harder to do as dinning out becomes globalized. Pizza is the one exception to avoiding globalized food because EU pizza, especially in Italy, is different than American pizza..
To some extent, you are already familiar with some classic EU dishes-- Hungarian Goulash, Coq ad Vin, French Fries (frittes), Swiss cheese, pasta, so what I'm going to list are the local dishes that strike me as certifying eating local or native food.
What to Eat
---
UK: roast meats-- ham, pork, lamb, beef. Boiled fresh peas and green beans. Finnan Haddy, Dover Sole. Tea.
Switzerland: a culinary desert of bland, bland, bland. Only raclette stands out. Find a French or Italian restaurant.
Germany: wursts (sausages); Bavarian sweet mustard (the only condiment for wursts); Ham or pork hock with sauerkraut and split peas; veal.
A special event. we took a Viking River cruise on the Elbe during asparagus season. Every morning, several crates of fresh dug white asparagus were brought on board and we ate asparagus in every day in every possible way. It was a treat.
Austria: anything with schnitzel in its name; cake; backhendl; boiled beef, wursts; veal; pastries.
Turkey: kofta; meze; eggplant; kebap (Shish Kabob)
Italy: pastas; vegetable soups; pizza. At least in the big cites, very difficult to get decent cheap food. Even pizza is a shot in the dark, sometimes great, sometimes awful.
France: the baguette; croque monsieur (lunch); frites (French Fries); tarts; choucrute garnie; cassoulet; chicken in tarragon cream sauce. veal; pork; chicken; green beans; lettuce salad; cheese; pastries; Courte Paille (a fast food chain featuring chicken and beef cooked over an open wood fire).
Spain: Except for ham and tapas, a pretty disappointing dining scene.
Czech/Slovak Republics: Prague ham; hotel breakfast buffet; garlic soup; skewered meats; dark beer
Hungary: goulash; anything with paprika in it
What Not to Eat
---
Coffee; EU roasts are very different from USA coffee. Good chance you won't like. Restaurants almost always serve coffee after the meal, never with it.
Unmentionables: Europeans at lot of animal parts that many Americans find off putting or disgusting-- liver, gizzards, lounge, sweetbreads, tripe, brain, intestines.
Continental breakfast-- a tiny roll and bad coffee.
Tips
---
France serves food in restaurants, bistros, brasseries, and cafes. What separates the categories is cloudy, but here goes. Restaurants range from informal to maximum formality across wide range of prices. All the others are more modest and usually less expensive. Cafes stress drinks with limited food. Bistros should designate Alsatian food. Brasseries seems to whatever. Its just a hunch, but brasseries seem to be the least touristed.
Lunch is less expensive than dinner, but I suspect that dinner servings are larger.
If you are driving, everybody on the road eats lunch between 12:00 and 1:47. That's the best time to be on the road. Eat lunch at 11:00 or 2:00. Same goes for the cites if you want to avoid crowds in restaurants.
If our hotel has a full breakfast buffet, we pig out and then skip lunch, fortifying ourselves with a stop or two at a pastry shop.
Every now and then we get an urge to take a break from foreign food. The easiest way to do this is a Chinese restaurant. In France, chicken at Courte Paille is a winner. Our favorite was a real American hamburger at the Luxemburg Holiday Inn, which is now closed.