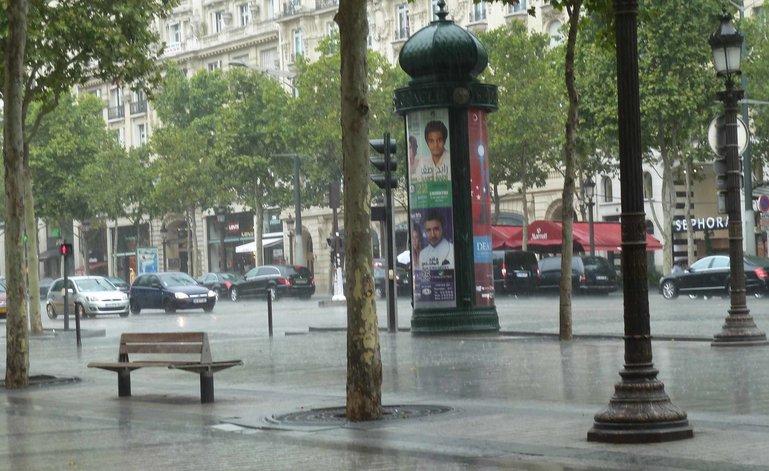 This feels like a good subject to ponder as I finish writing my new book about Paris although I have a feeling I will be writing more about Paris in the future – the story is not fully told nor has it ended. At the end of 'Midnight in Paris' Gil and his new love Gabrielle head off to a new beginning and they walk across the Seine on Pont Alexandre III unconcerned by the falling rain, in fact to them 'Paris is more beautiful in the rain'. Whether Hemingway ever shared the same romantic vision of Paris we do not know though somehow I doubt that he did.
So, the question remains – Is Paris more beautiful in the rain? I can say that I am a considerable authority on the matter as I have been caught in many a heavy downpour in the city. Paris is quite an open city and it is really a matter of chance as to whether you may find any shelter and that may also cloud your judgement on the matter. The rain does certainly offer a different perspective in Paris and it changes in character more than anywhere else I have been when the streets and probably you are very wet.
The first time we were caught in the rain was on the Champs-Élysées and the downpour came on very suddenly. We were crossing over, a difficult manoeuvre at the best of times, from Ladurée to the opposite side when the heavens opened. By the time we had crossed and hid beneath a tree we were extremely wet. Strangely though it did not seem to matter to me and with my photographers eye I felt compelled to reach for my camera and capture the moment. Niamh was not quite so enthusiastic and she ran across the pavement and into H & M, not quite so romantic as she can go in an H & M store anywhere but I stayed to watch the rain on the street. I captured a moment and it was one of my favourite shots of Paris so it was so far so good as regards my feeling about the rain in Paris – it looked atmospheric to me that day. I caught up with Niamh who was standing in a small puddle of water in H & M and she was unimpressed.
Niamh was equally unimpressed the second time we got a Paris soaking. On arrival at the Gard du Nord the weather was grey but mild and fine. I suggested that as we were early we could walk to our hotel located just off the Rue Rivoli. We were near to the Hotel de Ville when the cloud burst came and my reputation for forecasting the weather was shattered. As we came into the square a loud commotion started up. All we could see was a throng of people in the square holding placards, shouting and blowing ear splitting horns. Police were manoeuvring them quite roughly towards one corner of the space and right past where we had entered the square. We wisely stepped back but there was no cover from the rain and also no way of retreating or going forward. After what seemed an age we managed to sneak behind the last line of Police and away down the side of the square and threaded our way to our hotel and a hot shower. Not a terribly romantic moment.
Soaking number three was one I described earlier in the book when we emerged from Invalides Metro station to a very open air view of Les Invalides after a journey from Montmartre – not one of my better plans. As I recounted we ended up in Les Recruitment Café in a state of total dishevelment and I can say without hesitation that it was the wettest I have been fully clothed. The same applied to all the party I had led there. I did not ask them whether Paris was more beautiful in the rain.
The fourth time was more of a fine drizzle – if you are English you will be aware of the expression ' you know - the fine stuff that wets you through'. To be honest it had been a bit of a miserable trip weather wise but we could not allow the elements to spoil our fun. The Tuileries are a must and even though the rain was gently falling we had to go to the gardens. Just by the Musée de l'Orangerie we paused and looked at an extraordinary sight of the clouds coming down so low that two thirds or so of the Eiffel Tower has 'disappeared' giving the impression that it was still under construction. The view over the Place de la Concorde to the tower was an unmissable photo opportunity and a unique view of a familiar sight. Even Niamh was close to conceding that Paris could be more beautiful in the rain but alas we were again exceptionally moistened and ran to the Orangerie to dry out and enjoy once again Monet's masterpieces.
Finally our last major encounter with the Paris rain was on a later trip with friends. The weather for the most part had been excellent but on our last morning before heading back to the Gard du Nord it was a dark, wet and filthy day. The leaden skies looked set for the day, proper summer cricket weather as we English would reflect. Perhaps Niamh and I were beginning to get this 'Paris in the rain' thing. The others stayed at the hotel playing cards but we intrepid explorers decided that we were going out, not to be cheated out of our last day in Paris. So that is what we did. We were wet by the time we got to the Metro La Motte Picquet Grenelle and we stayed wet for our entire trip. We were safe under cover on Rue Rivoli sheltered by the street arcade and enjoyed the shops and cafés, buying a touristy bag with Paris and Eiffel Towers stamped all over it that we still have in use today. This helped to keep our purchases fairly dry as they were suffering in the damp conditions. Wetter still, we headed through the Tuileries for one last time and then back on the Metro to the hotel. Our friends took one look at us and were incredulous that we were actually laughing and they despaired at our madness in going out in such a deluge. We though had finally got it, perhaps, just perhaps Paris is more beautiful in the rain.
Now it has to be said that I am not the best judge of this. I have lived most of my life in the North of England. I spent the first part of my life in the small town of Darwen, Lancashire. This is in a valley and was known for its cotton and paper mills that dominated the landscape. These are industries that need water, lots of water if you are following my drift. The town is overlooked from the moor above by a tower built to commemorate the diamond jubilee of Queen Victoria in 1897. There is a saying that 'If you can't see the tower it is raining and if you can see it then it is going to rain'. That is a fairly accurate view of the Darwen weather.
So is Paris more beautiful in the rain? Well, I think you can see that I am clearly not the man to make the final judgement, my senses are impaired. You will just have to experience it for yourself.