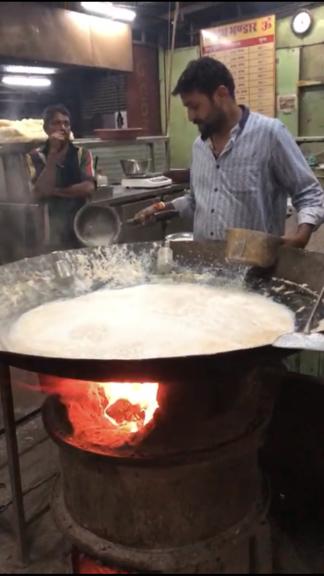 Get that dose of strength at 2 a.m..... the brewed milk can be found anywhere on the streets of Jodhpur.
It is thicker n sweeter and served with a layer full of cream. In the Indian language ; Hindi, it is commonly called kadaa hua doodh. It takes a lot of hard work to make this kind of milk. One's perseverance is definitively tested here, it is a way to earn as well in Rajasthan through selling this kind of milk. Many people have their shops set up only for this milk! Many people sell it on the streets as well.
It is said that the more you keep on stirring the milk at low flame, the more tastier it becomes. It is an all time favourite with the locals. Many tourists also give it a try, and I must tell you about the sleep that you would get after consuming it ; is beyond words... The ultimate relaxation that one gets!
So, whatever you do during the day, must visit any such place for the brewed milk and have a good night sleep to wake up fresh in the morning. So, Jodhpur offers its royal drink to you.