Turkey is an incredibly popular holiday destination for a lot of sun-worshippers, with most visitors booking resorts in renowned areas such as Istanbul, Marmaris, Antalya and Bodrum. On this occasion, though, we visited one of Turkey's ancient port cities, Side, and loved the variety of activities so much that we decided it was blog-worthy.
In this round-up, we list seven of our top suggestions for things to see and do in this historically-infused city. If you're short of time, check out the following reels we made of Side in the daytime and in the evening.
#1 Boat trips
---
What better way to soak up some rays than riding the waves of the Mediterranean? We were adamant that we wanted to book a boat trip during our stay and Side provided plenty of opportunities to do so. From private yachts and sunset cruises to foam party boats and group tours on pirate ships, you'll certainly find whatever it is you are looking for.
Personally, we weren't fussed about spending an awful amount and we didn't really fancy being at sea all day without ample shade (visiting in August, the heat is pretty intense) so we were grateful to find a boat tour for as little as 5 euros each. It took us around both sides of the harbour and lasted approximately 1 hour, which was ideal for us (many we saw advertised were in excess of 5 hours). Our ship was actually one of the pirate-themed ones which had endearing touches such as a model replica of Captain Jack Sparrow and Davy Jones (for all the hardcore Pirates of the Caribbean fans out there). We also visited early in the morning so we were lucky that our ship departed with under 10 passengers, including the crew! Having less people on board meant we could appreciate the different parts of the ship without other tourists hogging seats in the shady spots or getting in the way.
If the sea doesn't float your boat - excuse the poor pun - Side also offers a range of tours exploring the Green Canyon, a scenic lake with a backdrop of the Taurus Mountains. We didn't see this during our visit but have since heard positive reviews.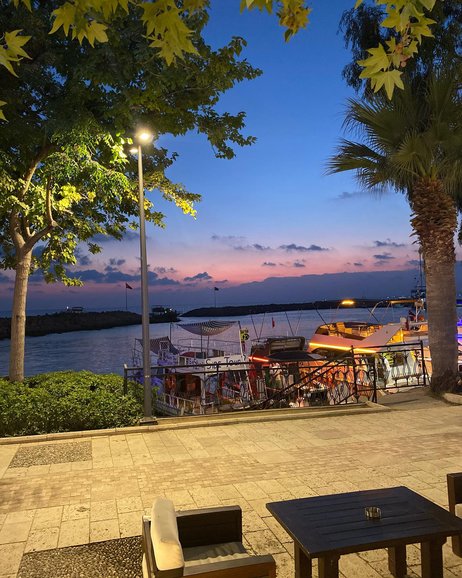 Side nightlife (Photo by SharedBucketList)
#2 Greco-Roman ruins
---
Not being the biggest history buffs, we actually had no idea that there were so many ruins dotted around the city. Also not being the biggest history buffs, we wouldn't usually find this that interesting anyway - BUT we have to admit that the size and stature of some of the remaining architecture in Side's 'old town' was eye-catching. In particular, the Temple of Apollo, situated just before the main port, was very grand and had much left intact. We wondered how it had been built so many years ago without the assistance of scaffolding, cranes and the like that are used today. It also has a lovely backdrop of the sun, sea and sky which makes for a great snap.
A few days later, when we were on our way to a dinner reservation, we paid this site another visit during the night-time; it was lit up in a very majestic fashion. Nonetheless, it was incredibly busy with tourists taking photographs. Note to self: avoid during busy times of day - we'd recommend early morning (around 8am) as there was barely a soul in sight when we first came across it!
If history does happen to be your thing, educational tours are available. There are other parts to explore too, including a Greek amphitheater and the Monumental Fountain (Nymphaeum) - generally, the ruins have been well-preserved.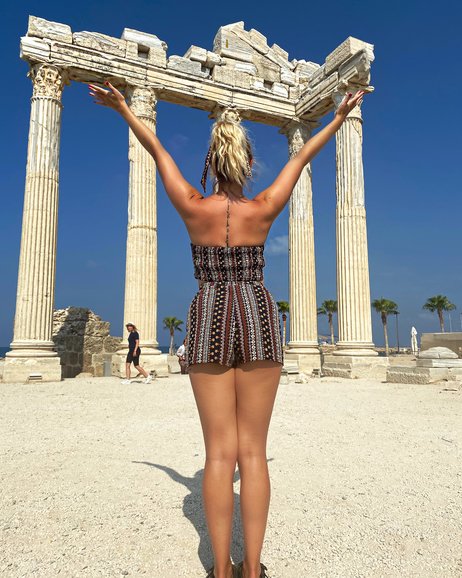 The Temple of Apollo (Photo by SharedBucketList)
#3 Romantic dinners
---
You will not struggle to come by restaurants in Side and there is plenty of choice when it comes to the types of food available. Although we didn't dine at all of them, we spotted some lovely looking Greek, Italian, seafood and, of course, Turkish restaurants.
If you're judging by aesthetics alone, choosing somewhere to dine might prove to be a tricky decision, as many of the restaurants along the harbour have been modernly refurbished with alluring features such as glass floors, mood-lighting and al fresco furniture. As is the case with most venues, prices do vary but are mostly reasonable.
There does seem to be a toss up between location and quality of food, however. When making our selection, we chose restaurants which seemed fairly popular and had the most scenic view of the sunset. Having said that, if you are a keen foodie, our advice would be to read the restaurant reviews first. For instance, despite having the most gorgeous backdrop when we ate at Liman Restaurant Lounge Club, the quality of the steak and service for the amount we paid (we shared a chateaubriand and had a couple of alcoholic beverages each which came to 120 euros) were both questionable. I'd hate for us to sound like food snobs here and I never used to understand why steak was such a deal-breaker for people but it was cooked inconsistently throughout, with some bits being well-done and others still raw. Vegetables were served with it and even these were a little on the chewy side. We did appreciate the free pick-up from our hotel, though. That was a nice touch considering how unbearably hot it was to walk all the way along the promenade in your gladrags!
Another restaurant we didn't dine in, unfortunately, but did order drinks from was Kamer Ocakbasi. This had all the makings of a fantastic dinner venue and all of the reviews we read afterwards seemed to affirm that; our only criticism is that it is situated all the way at the end of the promenade and is a mission to get to. This is possibly why so many miss out on it too: hungry tummies need feeding and fast. (Or, in our case, cocktails and quick!)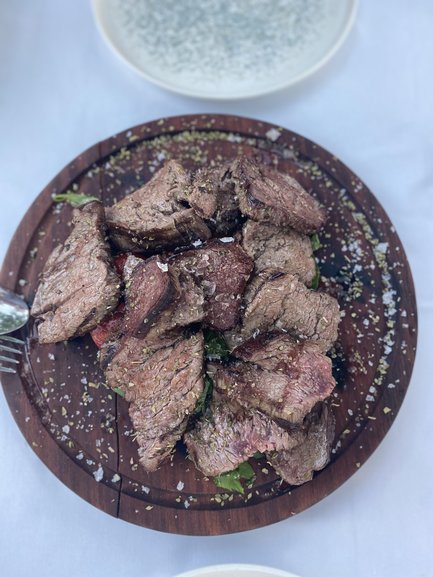 Plate of steak in one of Side's restaurants (Photo by SharedBucketList)
#4 Long, golden beaches
---
We've added this just after mentioning restaurants because, rather intriguingly, a lot of the bars/dining venues in Side offer a secluded area of the beach or a cove with their own chairs, tables or sun loungers. We expect these are more for use during the daytime but we were surprised how many provided a secluded area of the beach for their customers.
If you fancy finding your own area instead, there is beach access for members of the public right at the end of the esplanade.
#5 Shisha bars
---
Once you've dined and had a bit to drink - or potentially neither of those and just fancy it - there are so many bars on the seafront which sell shisha. Now, we don't want to promote this too much because we all know e-cigarettes, vaping, etc. aren't the most healthy activities you can partake in and research is still being carried out into long-term effects but it is what it is and, providing you're sensible, aware of the potential risks and adhering to the law, we say you do you. In Side, it is a common tourist activity so there's no doubt you'll be inundated with invitations to purchase some and try out multiple different flavours. Once again, we're totally not endorsing it but we may have spent a little bit of money on products available at TWINS Restaurant Bar and had a very chilled time. It actually makes a pretty decent bar if you're just drinking too. There's a fair number of tables, fans (much needed as you're outside in soaring temperatures) and a DJ set.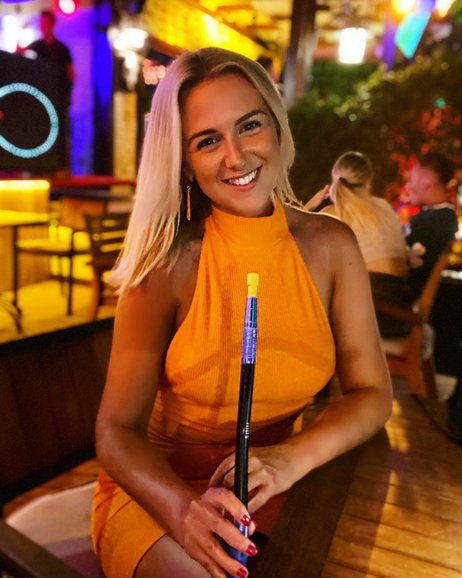 Photo of Chloe with shisha in Side (Photo by SharedBucketList)
---
If spending money on food, drinks or tobacco isn't up your street, there are many shops throughout Side which you can browse (day or night). Turkey is reputable for its 'designer' brands - clothing, handbags, jewellery, phone cases - you name it, it'll probably be there. Just have your wits about you. If it's your first time visiting, how do we put this politely... err, it's probably fake! (Of course, being a respectable travel blog, we aren't endorsing the purchase of illegal products either. Not one bit!)
#7 Activities for adrenaline-junkies: buggy safaris and water-rafting
---
Regrettably, these are some of the things we didn't have time to do or didn't realise were an option until after our trip. For anybody with a bit more thirst for adventure, there are loads of exciting packages you can book - some of them combine both quad-biking and water-rafting; others are based on a single activity for an extended period of time and may include drinks/lunch. Expect to pay upwards of 30 euros per person for a fun-filled day involving these sports.
So, there you have it: a condensed list of all the recommendations we have for things you can see and do in Side, Turkey. If, after reading this review, you have any questions related to anything we've mentioned, please do feel free to ask in the comments.
We'd also be very interested to hear from anyone who has visited Side themselves to compare our experiences and share even more tips with our readers so, if you've got anything to mention, drop us a comment below!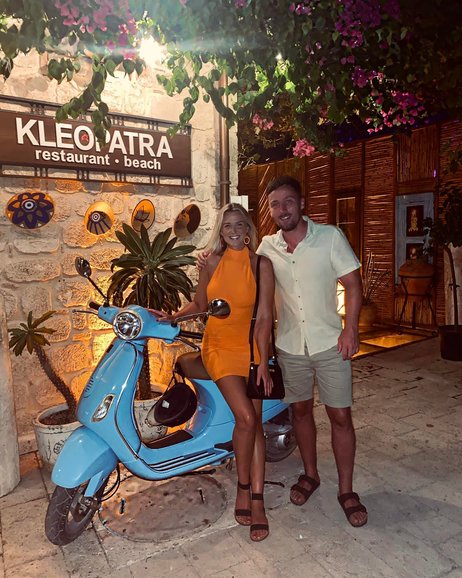 Photograph of Chloe and Connor outside Kelopatra restaurant and beach bar in Side (Photo by SharedBucketList)