Helldorado Days is a celebration that began in Tombstone, Arizona, in 1929 and is held every year in October on the 3rd weekend. This year Helldorado runs from Oct 16-18. This is an event that you don't want to miss!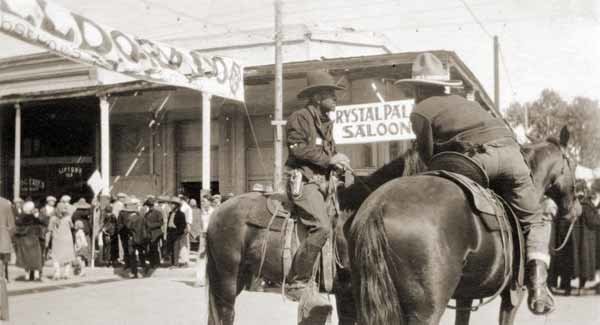 Tombstone's Helldorado - 1929
Helldorado Days, started in 1929 to celebrate the fiftieth anniversary of the founding of Tombstone. The Tombstone Epitaph newspaper stated that - by staging historic reenactments, bringing' back pioneers of the day, exhibiting artifacts of the day against the backdrop of Tombstone, "the show will be Tombstone." Helldorado Days takes place on the 3rd complete weekend of October and is currently sponsored by Helldorado, Inc. whose membership is composed of residents in Cochise County
Join us for the 91st Annual Helldorado Days here in the "Town Too Tough To Die", Tombstone, Arizona.
There will be plenty of fun with lots of gunfight shows, wild west re-enactments, free kids zone, food court, parade and SOO much more! Helldorado is the premiere event of the year celebrating Tombstone, Arizona, "The Town Too Tough To Die!"
Tombstone is a step back in time, to the days when western legends like Whyatt Earp, Doc Holliday, The Clantons, Johnny Ringo, Bat Masterson, Curly Bill, and Big Nose Kate walked along historic Allen Street. Eat and drink where they did! The entire town is a living, breathing, testament to the wild west as it really was!
Watch a gunfight or two or three, ride in a real stagecoach, explore a real silver mine, discover amazing facts in an awesome museum, see all the historic spots along Allen Street, check out Boothill Graveyard, experience the Birdcage Theatre, find that special gift or keepsake in one of the quaint shops, take an old time photo, have a great cigar, have some fabulous food or wet your whistle in a real wild west saloon, and have a chat with some of the friendliest locals on the planet!