1One of the greatest adventures you can embark upon is a trip through all of the countries in Central America. Between the eight countries, the distinct cultures, traditions, and environments create a whirlwind experience for even the most seasoned traveler. Before you start your trip, make sure to take a look at our stripped down guide to all the practical information you may need when traveling abroad.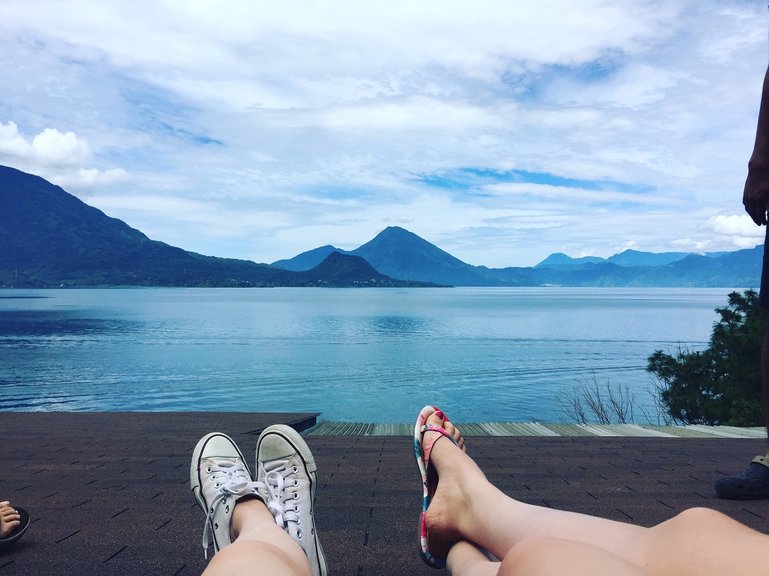 Lake Atitlán in Guatemala
The internet has made it easier for everyone to do the jobs that professionals have done for years. Nowadays you can find a YouTube video for just about anything you can think of. Do-it-yourself has become a worldwide trademark. However, when it comes to travel to Central America, should you really do it yourself?
Travel Agency – Benefits
Knowledge
---
Travel agents are very knowledgeable about all things concerning travel in Central America & Mexico. Besides having a University degree, they have a lot of experience with hospitality. Local guides are all of them certified by the Institute of Tourism. They are the experts of our field. Our team can also customize your itinerary to fit your individual desires. You will have information about the destinations and they will help you create an itinerary based around your needs, interests and budget. If you travel with them, there will be things you may not know to consider.
Budget
---
In order to confirm your trip they will ask you to pay a deposit of the total, you will be able to pay a payment plan with them. If you are unable to prepay for your tour in full at once, having a travel agency like ours will greatly benefit you.
Personal Service
---
Human connection that makes the planning and travel experience pleasant and meaningful. Professional travel agents tailor the itinerary to suit specific requests and put together packages and tours that suit your unique wants. Let's take care of all the planning to ensure your trip is as seamless, stress less, and hassle-free as possible. Do not worry about logistics, and instead enjoy the sights and travels to the fullest. It will be your holiday after all!
Time Saving
---
A world of travel information about Central America at our fingertips. This will save you countless hours of online searching and frustration. They will ask you specific questions which will help you with decision-making.
Customer advocacy
---
If you experience a problem while traveling, they will act on your behalf, and are there to rectify any travel-related issues you encounter. What if you feel overwhelmed because your flight was cancelled, delayed or something happens that you have no control over?. Call them and a representative will handle everything on your behalf. Staff will be available during your trip for you. There are ins and outs of traveling in Central America. So, they can help in ways you may not know.
Expert guidance
---
Travel agents and guides are trained destination and product experts and know how to sort through the myriad of travel information available. Knowledge and our network means we also have access to the best deals.
Local insight into the Mayan Culture
---
A local travel agency which attempts to make a low impact on the environment and Mayan culture, while contributing to generate future employment for locals. They create your holiday alongside the Mayan people who live and work in the places that you will be visiting. Due to this, guides really care about giving you an exceptional experience.
Safety and safe experiences
---
Tour guides understand this part very well: being far away from home it may seem scary not knowing how safe it is here. In general when you travel to another country you need to be careful especially when you are not familiar with the country or language. However, in most places in Central America there is relatively little crime and it generally occurs away from the areas that tourists explore. Just as in many other tourist cities of the world, tourists will occasionally be targeted, but there have been very few violent crimes against tourists here. For this reason we recommend that you travel with an expert because it will be much safer. The most important part of our job is ensuring that you have a safe and fun time. For more information visit our Travel Safety in Central America page.
Advice while traveling in Central America…
---
There is a risk when booking on your own. Our advice when booking a trip to Central America is to contact them and then compare it with what you have found online. You don't have to book with them but it never hurts to have a second opinion.
Choosing between a Travel agency vs. Do it yourself may just come down to your appetite for research and need for control. At Mayan Gateway our travel agents work closely with you when putting together your travel package. Participate with them in the planning and respond with questions and feedback. Customize the trip to your wishes, needs and interests.
Planning the best itinerary
---
Deciding where to go can be overwhelming and time consuming. Luckily, Mayan Gateway is here to provide information about various destinations and make you a personalized itinerary.