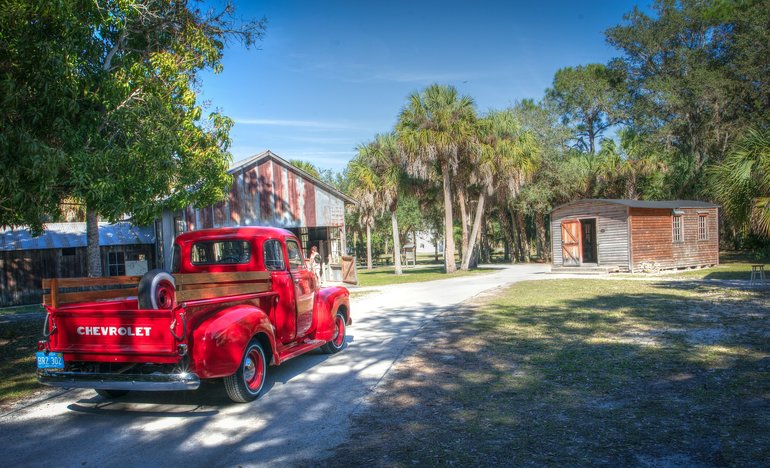 Koreshan State Historic Site
With recorded history dating back to 1513, Florida is filled with an astounding variety of historical sites from natives, settlers, conquerors and religious groups seeking to establish their own piece of heaven on earth.
The Koreshan State Historic Site / Koreshan Unity Settlement between Fort Myers and Naples is a unique site that offers visitors a glimpse into a part of Florida's history that not many know about.
It all began in 1894 when an unusual man named Cyrus Reed Teed brought his followers to Estero to build New Jerusalem for his newly invented faith, Koreshanity. He and his followers - called the Koreshan Unity - believed that the entire universe existed within a giant, hollow sphere.
When Teed died fifteen years later, the colony began to fade. In 1961, the last four members deeded the land to the state.
Now, visitors can relax on the site, enjoy Florida beautiful nature and learn a little bit about the short-lived religion of Koreshanity and its' community.
You can tour the historic settlement and Plants of the Garden at your own pace in a self-guided tour or purchase a guided tour with one of the park's rangers. Guided tours are available to the general public throughout the year. Tours are also available for larger groups, however due to high demand from December-March it is recommended that you make your reservation ahead of time by calling (239) 992-0311.
While you stroll the landscaped grounds you will see eleven buildings that are on the National Register of Historic Places.
You can see how the Koreshans lived by viewing the Founders House, Planetary Court, Victorian Gardens, Damkohler, Art Hall, Vesta Newcomb and Members Cottages.
It is also interesting and educational to see how much things have changed in society overall by visiting the Koreshan Bakery, New Store, Large and Small Machine Shops and the Generator Building.
Visitors are also invited top take a hike where Teed's visionaries carried out survey experiments in attempt to prove the horizon on the beaches of Collier County curved upward, bring your fishing pole and cast a line into the cool waters at the park, listen to the sounds of nature as you slowly sail down the waterway towards the Estero Bay in a rented canoe or if you want to bring your own boat, a boat ramp is available for vessels up to 24 feet.
The site is an excellent place to bring lunch and dine under the shade of pine trees in the picnic area by the Estero River. Grills and restrooms are also located in the picnic area for your convenience.
Animal lovers will be happy to do some wildlife watching while visiting the settlement. Bobcats, Grey Foxes, River Otters, Alligators and Manatees are often seen in or around the Estero River.
Koreshan is also home to over one hundred bird species such as Swallow-Tail Kites, Bald Eagles, Bobwhites, Belted Kingfishers and others.
If your family enjoys camping together you may want to check out the Koreshan State Historic Site's Full Facility Campgrounds. The Site offers sixty campsites each with electricity, water, a picnic table and a fire ring.
Twelve sites located next to the Estero River are designated for tent camping only and there are four paved. Sites have a vegetation buffer between them for privacy.
ADA campsites available as well.
For your convenience, fire wood and ice are available for campers at the ranger station. Also, the utility area has a washer, dryer, sinks and a soft drink vending machine.
Feel free to bring Fido along as pets are welcome on the campground!
Call ahead or visit the Koreshan State Historic Site's website to see the schedule for upcoming events such as Reflections on Resistance: Conquistadors and the Calusa, Love Our Park Art Show, A Taste of History Lunch with the Koreshans, Vintage Car Show, Estero Concert Series at the Koreshan and more!
The Koreshan State Historic Site is located at 3800 Corkscrew Road, Estero, Florida 33928.
For more information, call (239) 992-0311 or visit https://www.floridastateparks.org/park/Koreshan