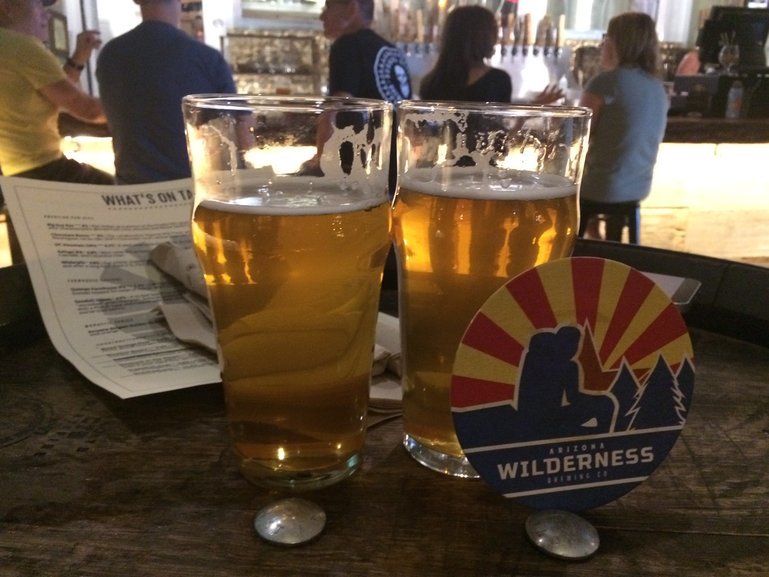 Arizona Wilderness Brewing, post hike refreshments.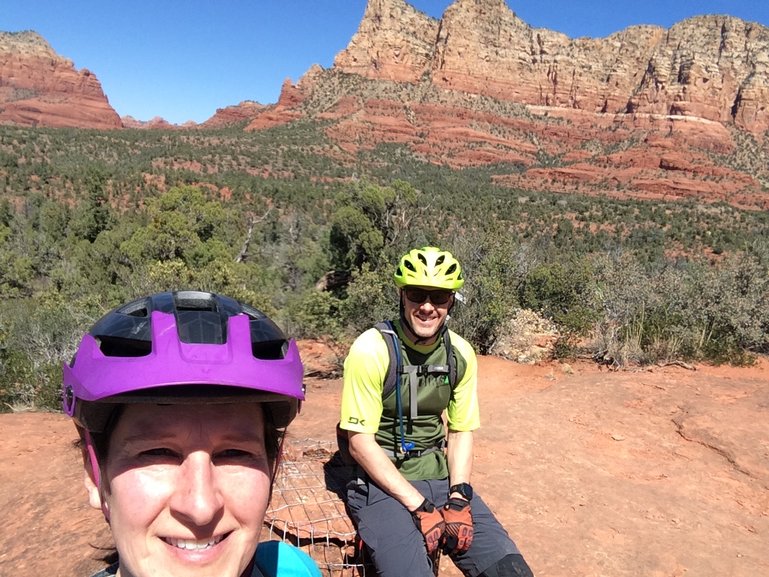 Sedona mountain biking
The Arizona sun continues to call to me home. The state of my birth will always hold a special place in my heart plus I finally got to share it with the other half! Watson was pleased with both the hot temps in the Sonoran/Phoenix desert and the rocky trails that tested his hiking and biking skills. But, travel always seems to hold equal parts joy alongside doses of angst. To travel is to test limits, to learn, to be patient, to laugh, to sigh and to wonder what lies around the next bend. The very reason we go is to experience what is unexpected.
I was not expecting to have a close encounter with desert rocks. I had hoped to stay on my bike and away from antibiotic ointment. South Mountain's Desert Classic and a rocky-downhill wash took a small chunk of my knee and shin as a trophy. I may have squeezed my front brake a touch too hard and in the process hooked my Camelback strap on my saddle, pinning me to the bike as I went over sideways. Other than one bloodied leg, the DC was fun and flowy while tall saguaro cactus dotted the dusty terrain like sentinels observing our ride. Mountain biking can be equal parts fun and frustrating. After 16 miles logged on day one, we loaded bikes in the rental and drove straightaway to REI to buy knee guards.
We expected hot, sunny weather and got it. Everyday was in the high 80's, a delightful, non-humid warmth that seeped into our hearts. For sun-seeking Michiganders, visit Arizona for its average of 320 days of sun. We were not expecting Lost Dutchman State Park in the Superstition Mountains to hold the most extreme activity – a hike up to Flatiron Peak on Siphon Draw Trail. With very little research, we agreed to warm up our legs for the Grand Canyon. We slathered on sunscreen and started walking. The first mile presented only a slight grade but the formation loomed ahead. Mile two began to climb into a natural canyon with plenty of boulders and loose rocks to navigate. It led to a chute of smooth rock that continued into a waterless gorge where we scrambled up and over compact-car sized rocks. The hike morphed into bouldering and scrambling as the grade increased. A low-grade burning sensation had invaded my thighs and we still had to make our way back down!
We did not expect to ride a crammed shuttle bus in the Grand Canyon for several hours. The lure of Hermit's Rest Trail took us to the final stop at the south rim. Private vehicles are not allowed on the access road from March to November. Once on the trail, it immediately went down, switchbacking on rock staircase. It was Easter Sunday. We were not in church but the views inside the canyon were spiritual and spectacular. The colors changed as the sun moved through the morning, the haze turning the rock cliffs to vibrant reds, burnt oranges and a misty green in the distance. The Colorado River snaked below us while we walked around edges peering almost a mile to the base. Unlike the shuttle bus, we were alone on the trail from the Dripping Springs Junction on. We soaked in the solitude under the overhang at the springs, ate some snacks and listened to the birds calling above. We started back on aching legs, still traumatized from the warm-up hike. My thighs were at a level of soreness that it hurt to touch them.
I wasn't expecting Josh to fall off his bike too. He can thank Sedona's roster of gnarly single-track for a bruised palm along with a fat lip. Made in the Shade notched another victim while Bell Rock and the other red rock buttes knowingly looked on. Still nursing an oozing shin, I had opted to bail early in favor of the deck at. Bike & Bean. That afternoon, we fit in a bonus hike to Devil's Bridge overlook. Two feet proved safer than two wheels. Bordering on hangry, we found Oak Creek Brewing for Nut Brown Ales and locally made tamales for dinner.
Our expectations of the Phoenix craft beer scene were low. That theory was disproved over the course of a flavorful week. With all the sweaty, athletic activities, we made frequent stops at local breweries. We noted that AZ is particularly good at Hefe's and pilsners. After our first day biking we found Perch Brewing that doubled as a tropical bird sanctuary. The patio, full of large and loud birds, made it one of the more memorable. After torching our legs in the Superstition Mountains, we landed at Arizona Wilderness Brewing. The Wilderpils was the perfect brew, light and easy drinking. Plus, for the Easter holiday they were pouring the Chocolate Bunny porter!
And, I was not expecting Josh to buy a mountain bike! On our last day at Sonoran Cycles, a gleaming graphite gray Pivot in the showroom stole Josh's heart. After two-years of researching and putting money aside in a special account, he turned to Jake, "Let's do it!" I snapped a picture of the shiny two-wheeled creature, thinking I should send an announcement to friends describing the newest member of our family!