We started our trip on a reverse red eye flight, going from east to west from the Great Lakes to the desert. To reverse means to go the opposite way or to flip-flop. We did all of those things this trip to Tucson. We reversed time zones, embraced an opposite climate and traded wet (and cold) for dry. My mind had been conjuring images of a reaching saguaro cactus in a glinting sun. I could almost feel the heat from 1400 miles away.
Of note, I packed a fleece jacket but I never wore it. It was weird, the sun shone everyday and not just for a little bit, but all day for a week straight. It was a glorious dry heat, perfect for mountain biking and hiking the nearby Catalina Mountains. I collapsed into bed each night tired from our Tucson two-a-days. Mornings, we'd hit a trail to ride some desert and rocky miles then the afternoon we'd find a short hike into the foothills for an afternoon view, an encounter with a rattle snake or a sunset sensation. The show-stopper this time of year was the spring bloom. Yellow, white and purple wildflowers lined the trails at elevation and the ocotillo and barrel cactus were sprouting vivid yellow and red bursts.
There are no flowing rivers or lakes to jump into to cool down after a sweaty activity but there is a never-ending stream of fresh salsa paired with easy-drinking craft beers at over 20 breweries in the Tucson area. Salsa is amazing food group and a good fit for all three meals. Here's a sample Tucson menu: For breakfast, scramble eggs, add pepper jack cheese and a medium spiced fresco salsa. Lunch should include a plate of crispy chips with salsa and guacamole and Mexican style tacos (cilantro, lime and onion). Be sure to try Taqueria Juanito's on Grant (order the beef cheek) and then try more fire-roasted salsa and dinner at Blanco Tacos. Order a poblano chicken and red pepper quesadilla with a classic margarita on the rocks with a salt rim.
As for the beer, we'd give Tucson an above-average rating. We noted hefeweizens, Mexican ambers, IPA's and blonde ales as the staples. We thoroughly enjoyed stops at Catalina Brewing, 1912 Brewing and Sentinel Peak. We fit right in at Catalina after reading the plaque on the wall: We Bike, We Brew. Plus, all the tap handles were a variety of bike accessories, gears or front shocks. Try their Chiltepine Mesquite Porter for a slight beer after burn. 1912 Brewing also had a great vibe with friendly wait staff, determined to take our taste buds on a journey from a Blueberry Pie Sour to a Whiskey-aged Irish Red. And after a battle to find parking, we pub-hopped downtown to Barrio, Pueblo Vida and Iron John's.
Tucson is a big city. We discovered you do not pop over to the other side of town say from the Saguaro National Park to Oro Valley on the east side. There are lots of suburbs and each has it's own compliment of six-lane roads leading you past strip malls, a Whole Foods and pods of retail and restaurant. Our advice: Pick an area or burb and explore. We chose Oro Valley and a condo with a pool off Oracle Road. It provided easy access to Catalina State Park, Honeybee Canyon and the Golder Ranch Trail system. Honeybee Canyon was the perfect warm-up even though we logged 16 miles on day one. It was an easy pedal into an open canyon mesa where we encountered some helpful locals and free range cattle. The return loop was a fun and flowy downhill with a dash of rocks thrown in to keep us focused.
Following Dusty Betty's lead, we also did the 50-Year Trail from Catalina State Park. Beware of the immediate climb past the equestrian area then hold on for a bumpy ride over loose rock on both the climbs and descents. There are plenty of pedal-knockers on Tucson trails and mind the cactus that flank the trails with mere inches to spare. We also logged the Chutes and Sweetwater Trails during our week in Tucson. Even with the spikey obstacles and sharp rocks, we loved Tucson on two wheels for its impressive variety of flow, technical challenges and epic scenery.
As our week of sun wound down, we noted most people from Michigan on spring break were in lounge chairs by a pool or putting their feet in the beach sand at a tropical resort. After a trail ride, Josh and I munched on PBJ's on tortillas then snapped our own version of a spring break photo from the knee down. We called it: mountain bike shoes in the desert, then admired the dirt lines on our ankles.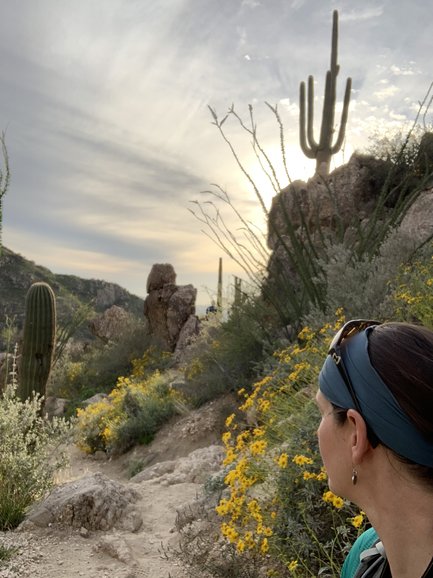 Catalina State Park, Romero Canyon hike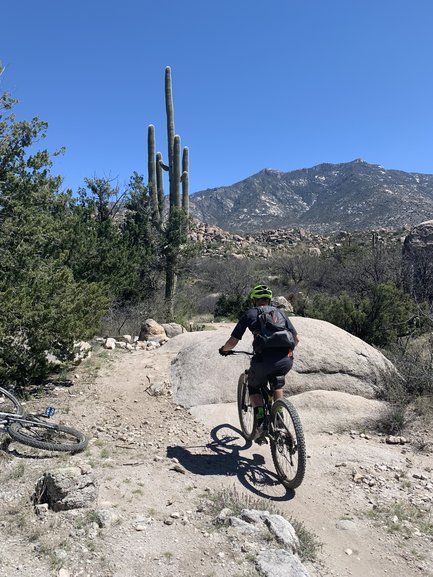 Golder Ranch Trails near Tucson