We've got the details of how you can reach this beautiful riverside town whether by bus, train, car, or even boat…!
By Car
---
Wareham is fed by the A351 from the West, the A352 from the East, and the B3075 from the North and South. Being a very popular destination the roads to Wareham can get very busy, especially during the summer, so please leave plenty of time if you are heading here. Beware especially of the stretch between the Bakers Arms and Wareham known locally as the Sandford Road.
Car Parks
There are several car parks in town, at: Bonnets Lane, Connegar Lane (off Church Lane), Howards Lane, Rempstone Centre (Church Street, behind Sainsburys), St John's Hill, Streche Road and Wareham Quay. Note there are spaces at Streche Road for coaches and lorries (up to 7.5 tonnes) for a maximum 23 hours stay.
Charges apply between 10.00 am and 7.00 pm on all days of the year, including Sundays and Bank Holidays. Parking is free before 10.00 am and after 7.00 pm and a ticket must be obtained immediately.
By Bus
---
Wareham can be reached with More Bus or First Bus.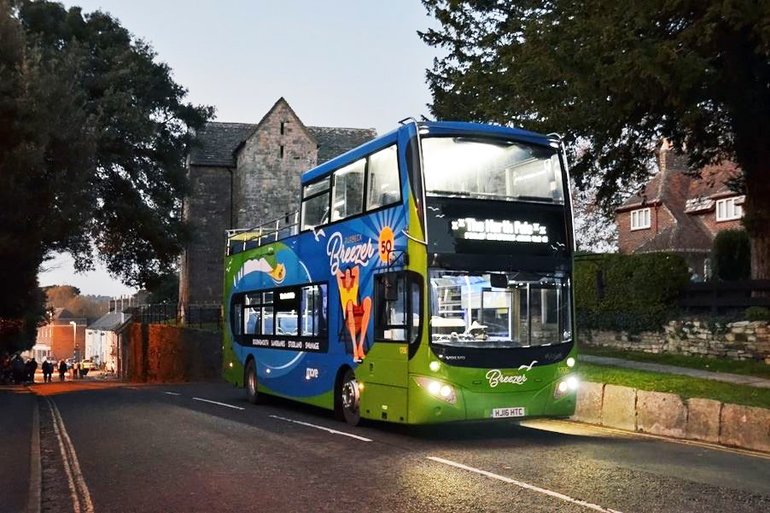 Breezer Bus
From Bournemouth
Take the More Bus M1 or M2 buses to Poole, then from Poole transfer to More Bus number 40 or First Bus X54.
From Swanage
Take the More Bus number 40.
From West Lulworth
Take the More Bus number 30 or First Bus X54.
From Weymouth
Take the More Bus number 30 or First Bus X54.
By Train
---
Wareham station is on the London Waterloo to Weymouth line, and is less than a mile from the town centre.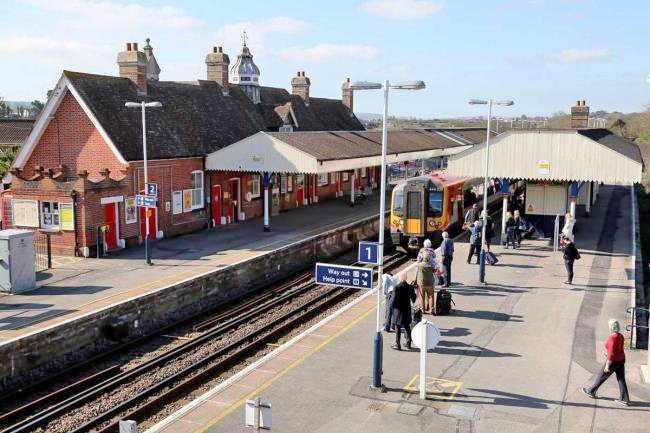 Wareham Railway Station
There are 69 spaces in the car park which is open 24 hours a day and costs £3.10 per day. There are usually taxis outside the station, and you can catch bus number X54 from near the station. There is cycle storage available.
Schedule and prices are available on South Western Railway website.
By Boat
---
There are a number of pleasure boats trips you can take from Poole to Wareham and from the town itself.
Greenslade
Throughout the year Greenslade offers a special return cruise to Wareham from Poole Quay. Each journey takes approximately 1 hour and 10 minutes along the Frome river, plus time ashore. As a bonus along the way, the skipper gives a commentary pointing out places of interest and wildlife!
Brownsea Island Ferries
During the warmer months (April to September) Brownsea Island Ferries offers a morning cruise to Wareham from Poole on board one of their distinctive yellow boats. The cruise lasts 1¼ hours each way, plus time ashore.
City Cruises Poole
City Cruises Poole also offer a relaxing and tranquil cruise up the River Frome from Poole Quay. Their cruises take place in the evening and run from April to the end of August. The trips last 3 hours 30 minutes including time ashore in Wareham.
Friends of Dolphin
Another Poole based boat company is the Friends of Dolphin that visits Wareham from 11 am and returning at approximately 2.30 pm. Uniquely, it provides free trips for disabled persons of all ages and disabilities.
Wareham River Cruises
For those already in Wareham just looking for a trip up and down the River Frome to take in all there is to see, then Wareham River Cruises is the main choice. Take a 40 minute trip on their 12 seater Admiralty Whaler 'Orca'. There is a commentary onboard describing the history of the Wareham. Trips go every 45 minutes from 10 am from 1st April until the 30th of September. In high season they may run earlier and later trips.