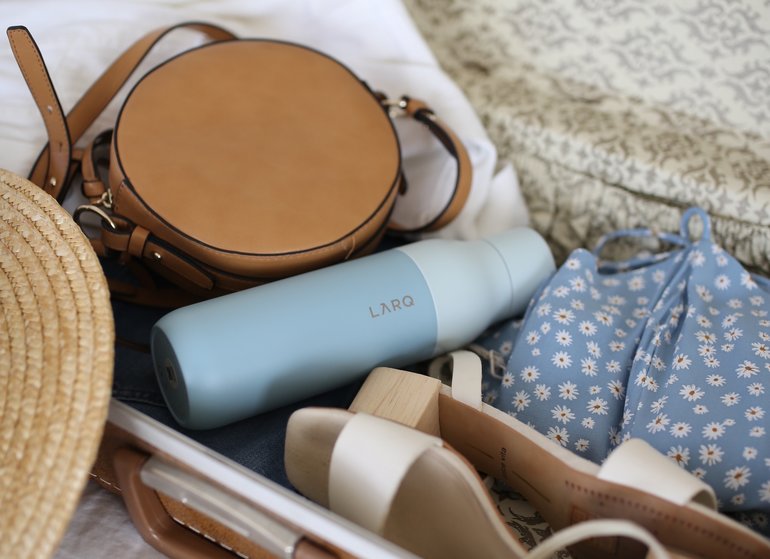 Last summer, I traveled through Dublin, Italy, and Greece for one whole month with just one bag on my back. Whether you are restricted by how many bags you can bring, or you simply want to travel light, packing everything you need for FOUR weeks into one bag can be difficult! Especially when you need to pack for different climates!
From my experience, here is what I found that worked well!
Avoid clothes with heavy materials
---
You will want to leave your collection of knit sweaters at home! Remember that you can layer lighter shirts in order to make an outfit warmer if you need to.
Bring one jacket that can transition for multiple occasions
---
I suggest a denim jacket as they are not too heavy, warm enough, look great with a large variety of outfits, and can be worn in both day and night. You can also wear this jacket while you're traveling from place to place so it doesn't take up space in your bag.
Only 1 pair of jeans
---
Not only is it usually too warm in Europe in the summer for jeans, denim can take up space in your bag like crazy. Limit yourself to one pair of jeans only!
2 pairs of shoes
---
The only 2 pairs of shoes you need are a pair of tennis shoes (cute, good for walking), and a pair of sandals. I suggest bringing your most neutral shoes, so that you can mix and match them with many different outfits.
Neutrals are your new best friend
---
Speaking of neutrals… Do your best to make sure that most of the clothes you do pack are neutrals, or colors that are easy to transition into multiple outfits.
Fun jewelry
---
Small, lightweight, and easy to transport. Jewelry is the best way to change up your outfits and make a casual outfit look fancier!
Toiletries/beauty supplies
---
For the month that you are traveling, you may need to leave your 6 step skincare routine at home. Get creative with how you can simplify your makeup/hair/beauty routine. I brought only a hair straightener, as I could use it for straightening and curling. Buy the small, travel size shampoos/conditioners and just refill as you run out. (or skip the hassle and waste and just get a shampoo bar!) I didn't bring a hairdryer, I either used the one in my hotel/hostel or I let my hair air dry! Skimping on this front will allow you so much more space for clothes and other important things!
Be very realistic with yourself
---
If you've never worn earrings a day in your life, you likely won't do it now either. So don't go packing 4 pairs because you think you might. If you're considering packing a top, but you're on the fence about it, just leave it. There is nothing worse than lugging something around you aren't going to wear.
It may be difficult, but I know you are more than capable of pulling this off! You will be so thankful that you don't have to carry a heavy suitcase up stairs, and honestly, not having as many options makes getting ready so much faster. You are in Europe after all! Don't waste your time deciding between which of the 6 skirts you should wear today.
Do you like traveling light? Or are you a multiple suitcase kind of person?