Cologne has a history that spans over 2000 years! Almost 2000 years ago, it was under the Roman Empire and the Romans called it "Colonia". It was an important trade town that has seen French rule as well as served under the rulership of the archbishops of Cologne, who were the most powerful feudal lords of the time. While it has seen a tumultuous affair with ancient rulers, most recently Cologne and it's inhabitants also suffered (like most of Europe) during the Second World War. During World War II, almost 90% of the city was destroyed and hence, what we see today, is just a glimpse of the past. One of the most interesting aspects of Cologne history is the Cologne Dome, which withstood all the aerial attacks from Allied forces- and was used to house the poor and injured.
With just a weekend at our disposal, we wanted to make the most of this trip- although at the time we did not know it - this would be the last trip we made before the lockdown began!
Choosing the Right Place to Stay
---
As a working woman traveller, I am always intrigued by places that have a rich history and I also try to make the most of my time by focussing on quality over quantity when travelling! I travelled to Cologne on a rainy Friday evening, hoping to the weather gods that we have a bright sunny weekend! We booked an Airbnb at a location that made accessible to public transport much easier. The studio apartment was small but clean and efficient. The view, however, was to die for!
Since we reached quite late in the night, we had a quick dinner from a Doner place right next to the apartment building. That's the benefit of staying at a central location- there's food all night!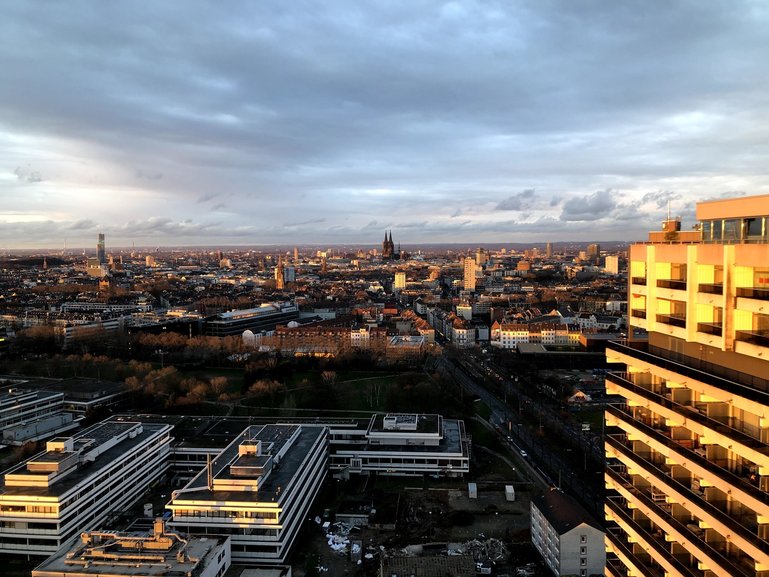 Panoramic view of Cologne
Choosing the Right Path
---
To ensure we make most of Saturday and Sunday (we had till 4 PM), we kept most of our activities for Saturday. Like many European cities, many historically important sites can be accessed by walking- if you choose the right starting point. We began at the Neumarkt and walked towards the Heumarkt. On our way, we saw the beautiful Kolumba Kunstmuseum.
Achtung! Pay Attention Where You Step
---
While walking on the streets of Cologne you will often come across bronze step stones. These stones or Stolperstein (which literally means stumbling stones) are in memory of those who lived near where these stones are today but were either deported to concentration camps or fled the country during the Nazi rule in Germany. This project is active in many cities across Germany.
Cover the Most Memorable Places
---
On the banks of the River Rhine, you will be able to see the famous Hohenzollern Bridge. We took a little stroll along the banks and were surprised to see that the Lovelocks Bridge actually runs in parallel to Hohenzollern bridge that has a train crossing every 2 minutes! We took a stroll along the Lovelocks Bridge before we realized we were extremely hungry!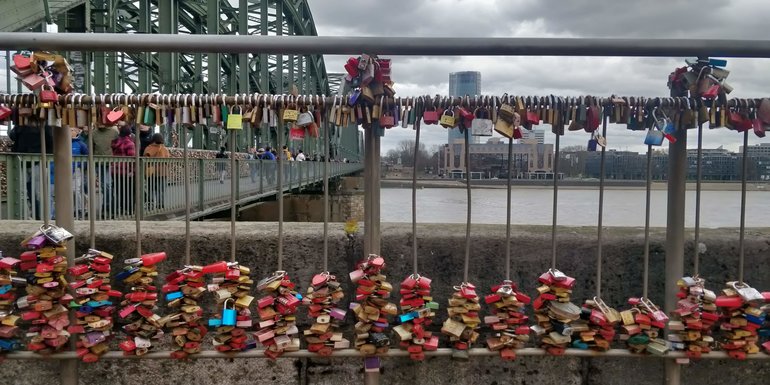 Lovelocks bridge Cologne
When in Cologne you must try the Kolsh- a beer which is apparently only available in Cologne (legally). I am not a beer enthusiast, so I can only recommend you to try it and let me know what you think! The best part of our meal was that the Cologne Dome or Cologne Cathedral was bang opposite our restaurant.
Museums in Cologne
---
Another interesting aspect of our trip was devouring a delicious slice of Chocolate Tart at the Cologne Chocolate Museum. If you are in for it, the museum also provides a tour! Our Saturday was extremely successful and we packed dinner for ourselves and ate it on our Apartment rooftop with a view of the city! If you are a Senf enthusiast, Cologne also boasts a Senf Museum which you can visit. We stepped into the Museum and bought a good-sized bottle of Senf for home!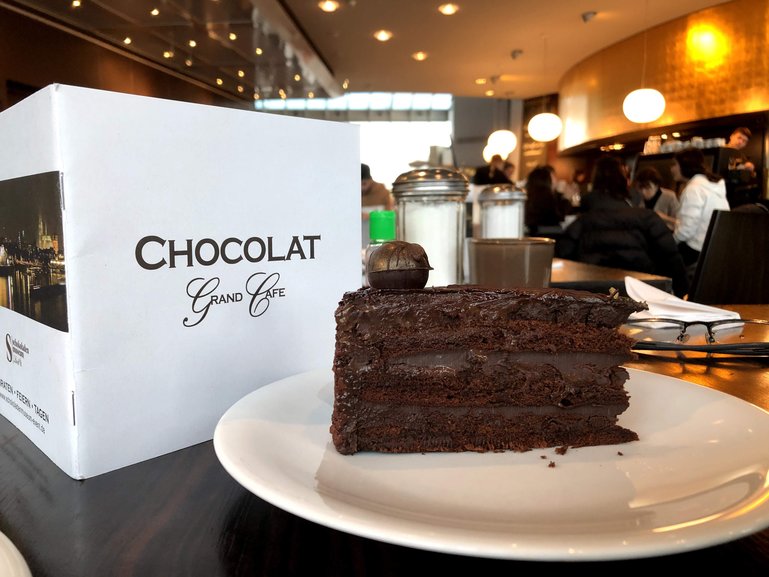 Chocolate Museum at Cologne
History Buff
---
Since we were departing at 4 PM on Sunday, we planned to visit just once place. It was the Cologne Holocaust Museum. While I highly recommend visiting this museum, please be prepared to read and understand a very terrible time in history, that could leave you disturbed for hours if not days. I know it had that effect on me. However, if you are a history nerd, this places is a treasure trove of information about the 3rd Reich and Hitler's rise to power post World War I.
While a weekend is definitely not enough to explore the city of Cologne, I like to call this trip as "Highlights of Cologne"! It was relaxed and yet we saw many important historical places and also explored the culinary palette of the city. I am sure I will be back again!