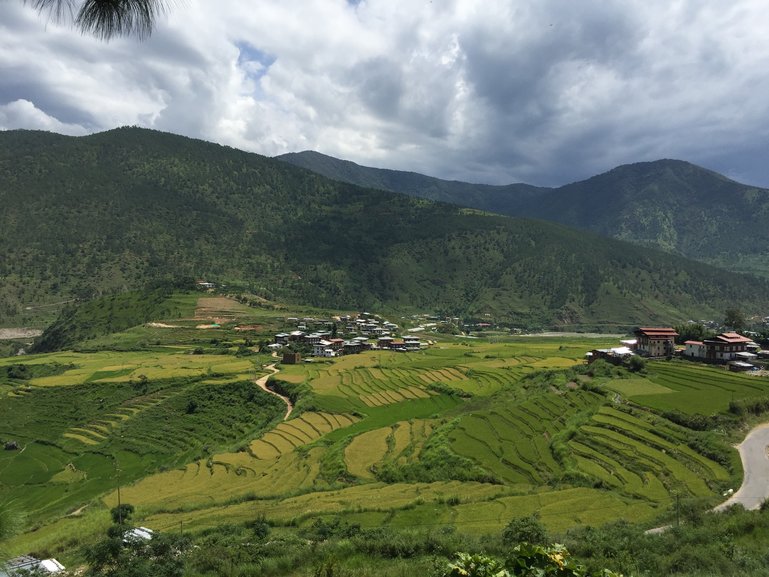 Rice fields Sobsokha, Punakha
Time
---
Bhutan time is 6 hours ahead of Universal Time and there is only one time zone throughout the country. Bhutan is 12 hours ahead of Pacific Standard Time and 11 hours ahead of Pacific Daylight Time, Bhutan does not observe Daylight Saving Time.
Electricity/Power Voltage
---
The electric current I Bhutan is 220-250 volts, 50 Hz, with round hole two-pin and three-pin power outlets in the hotels rooms. A universal adapter is perhaps the most useful converter to buy and bring along. There are electrical appliance shops, but they are unlikely to be available what you are looking for sometimes.
Health and safety
---
No vaccinations are currently required for traveling to Bhutan. Before embarking on your journey to Bhutan, please seek advice from your doctor with regard to vaccinations and appropriate medication that you should have prior to your travels.
Though Bhutan is one of the safest countries in the world you should still one should be caution of your belongings to be properly secured such as cameras, passports, purses and wallets when visiting the sights.
As the most of water sources in Bhutan are untreated, please avoid drinking tap waters, ice cubes in drinks if it has not been boiled. We recommend you to use the treated bottled water which are affordable.
As the road in Bhutan are on mountains that have plenty of curve, turns and winding. We suggest you to bring medication for travelers who are prone to car sickness.
Travel & Medical Insurance
---
We highly recommend all our travelers to buy your Emergency Medical and Emergency Evacuation Insurance before traveling to Bhutan. The additional insurance that you may want to consider purchasing includes coverage on trip cancellation, lost baggage, interruption and supplement medical insurance which is optional but highly recommend as we cannot give refunds on canceled, prepaid travel arrangements.
Climate
---
Bhutan's climate varies dramatically depending on the elevation. Compare with the central valleys, part of eastern region of the country and southern parts of Bhutan is warmer. Higher the altitude it is cooler in the weather condition with brisk wind blowing off the mountains, that can even make the valleys in low elevation chilly. In the places like Punakha, Wangduephodrang, Monggar, Lhuntse, Trashigang on can enjoy a semi-tropical weather with cool winters, whereas in the places like Thimphu, Paro, Trongsa and Bumthang have a much harsher climate. June to September is the monsoon season with light rainfall can be expected throughout the country. November to March the climate is dry, sunny for most part of the country and at nights, morning and early evening are usually chilly and temperature drop to freezing. There is generally frost and snow on the ground at higher altitude. We recommend packing warm clothing for nights in Bhutan. The hotels are heated but can still be cold. Autumn and springs are best season for trekking in Bhutan.
Average temperature chart.
Clothing, Shoes and Etiquette
---
For the best in comfort and durability, pack lightweight clothing that is quick-drying, loose and comfortable which allows the body to breath. Khaki-colored clothing hides dirt well. Keep in mind that it can get quite cold at nights and early morning depending on season or altitude, consider packing warm clothing. Layered clothing is better than one or two thick garments. Wind breaker will be perfect to carry and use for day hikes.
While visiting the religious site like Temple, Monastery, Dzong and at Festival dress modestly and wear full sleeved collared shirts (covered arms, no shorts or short skirts) and remove hats, caps, sunglasses before entering any religious establishment. Walk clockwise around the religious monument.
It is good to have a comfortable shoe that slip off and on easily for the visit of religious establishment as you will need to remove shoes before entering chapel room. You may want to leave your socks on, which is acceptable.
You may bring walking shoe, sandal and a pair of semi-formal shoes for appointments/function/dinners. We suggest a lightweight, quick drying hiking /trekking boots with good traction for hikes and treks.
Money
---
Bhutan's currency is the Ngultrum (Nu.), The Ngultrum is fixed to the value of Indian rupee. US dollars are accepted in handicraft shops, few hotels and for exchange in all banks in Bhutan. The small grocery shop and bars they don't accepts US dollars.
Credit and debit cards are accepted in few hotels and shop with an additional surcharge when paying by card. Visa and Master cards are more widely accepted. Bank of Bhutan ATM allows the withdrawal of local currency from your both credit and debits card, the maximum amount of Nu. 30,000 (roughly USD 400 –500) per withdrawal per day. A small transaction fee will be charge per withdrawal.
Ngultrum are not accepted and exchanged outside of Bhutan.
Note: Please inform your respective credit card company of your travel plans in advance of your departure. For your safety they will not authorize overseas charges unless they know the dates and destination of your travels.
Communications
---
There are two national telecom service providers in Bhutan, Bhutan Telecom and Tashi Cell. They provide comprehensive mobile (cell) phone network with global roaming assessale, however the network coverage is still spotty. If you wish to purchase a local pre paid SIM card in Bhutan that will work with your phone, Bhutan Sky Trails guide will be happy to help you with acquiring one.
You will be able to make international phone calls and check your email at accommodation used by Bhutan Sky Trails during your tour in Bhutan.
Internet
---
Most hotels have a free or inexpensive wifi services. In Bhutan even luxury hotels internet connectivity can be spotty. If you wish Data Card for internet (usb type) can be purchased from Bhutan Telecom or Tashi Cell and use where ever there is cellular network.
For more information and option visit: B-Mobile: http://www.bt.bt or Tashi Cell: http://www.tashicell.com
Accommodation
---
A wide variety of local accommodations are available in Bhutan, ranging from farmhouse stay to high end hotels. The hotels in Bhutan with 3 star category are referred to standard hotels. There are few luxury 4 and 5 star hotels in Paro, Thimphu, Punakha, Gangtey and Bumthang. Standard hotels accommodation offers the necessary facilities and maintained properly. The hotels in western Bhutan are better than other parts of country with fewer amenities. The accommodation providers that cater to our guest are registered with Tourism Council of Bhutan.
Food
---
Bhutanese delicacies are rich with spicy chilies and cheese. The hotel and tourist restaurants will prepare mix of Continental, Indian and Bhutanese cuisine suitable to western taste. The meals served at tourist restaurants and hotel will be mostly buffet meals that you can select and enjoy. Bhutan Sky Trails tour escort will make a reservation lunch and dinner in advance during your tour in Bhutan. We will arrange picnic lunch for tour that pass through areas where local tourist restaurant are not available, day hikes and on treks. Please advise us if you have any food restriction, so that we will do our best to accommodate the needs and preferences.
Photography
---
There are lots of Photography opportunities of people, natural scenery, houses and religious monument structures. Bhutan is a Photographer's paradise, we recommended you to seek permission before you take a photo. Photography in shrine rooms of monasteries, temple, dzongs and religious institutions are not permitted. Outdoor photography is usually permitted, but when visiting such places, please ask your guide before taking any photographs.
---
Shopping for local goods and craft like hand- woven textiles, wood-carvings, bamboo woven baskets, carved masks, wooden bowls, thangkha paintings, handmade papers and Bhutan's exquisite postage stamps. Purchase cautiously as gemstone or antiques may not be authentic. Buying and selling of antiques is strictly forbidden in the country. Also refrain from buying anything derived from endangered species. Bhutan Sky Trail takes no responsibility for any unsatisfactory purchases made while traveling with us.
Customs
---
All visitors are required to fill a passenger declaration form for checking by concerned officers on arrival. The following articles are exempt from duty
* Personal articles use by the visitor
* Equipment's or appliances for professional use
* Photographic equipment, video cameras and other electronic goods for personal use are allowed
Import/export restrictions of the following goods is strictly prohibited:
* Arms, ammunitions and explosives and explosive devices
* All narcotics and drugs except medically prescribed drugs
* Wildlife products, especially those of endangered species
* Antiques
Be Cautious while purchasing old and used items, especially of religious or cultural significance, custom authorities will not allow any used/old items to be taken out of the country unless certified as non-antique.
* The sale of tobacco products is ban on Bhutan. The maximum amount of tobacco product for personal consumption on payment of 100% Custom Duty and 100% sales Tax. Permissible and type for import for personal consumption are as follow;
* 800 sticks of cigarettes; or
* 1200 sticks of bidis; or
* 150 pieces of cigars; or
* 750 grams of other tobacco products.
Please have your Customs declared Receipt as a proof of import all the times as you may be asked to show by the local authorities if found smoking in public areas. Hotels and other entertainment may have designated smoking ares, please check with hotel staff and your tour escort.