The Kingdom of Bhutan is a country nestled in the Eastern Himalayas. In Dzongkha, the national language of the Kingdom, the country is known as Druk Yul "Land of the Thunder Dragon", and its people are known as 'Drukpas'. The term comes from its state religion, which is the Drukpa Kagyud. Bhutan, the last independent Himalayan Buddhist kingdom very fondly maintains its tradition. It has one foot in the past and one in the future. The high Himalayas in the north separate the kingdom from the Tibetan Autonomous region of China, while the rugged eastern region borders the Indian states of Arunichal Pradesh, in the south by Assam and West Bengal, and in the west by Sikkim.
Roughly, the size of Switzerland (38,394 sq.km) and population of 779,666 people, can be called a small and under-populated country when compared to its giant neighbors. Country to its size, Bhutan is composed of large variety of people group, from the yak herders in the north and the orange growers in the south. The little kingdom has an extraordinary ecological diversity. It is about 300 km West to East, and 150 km from North to South.
A conscious policy of isolation complemented by formidable geographical barriers has enabled the kingdom to maintain its independence throughout its history. Ancient stone implements and other archaeological findings indicate that there were settlements in Bhutan dating back to 2000 B.C. The chronicled history of the kingdom however begins with the advent of Buddhism in the 8th century.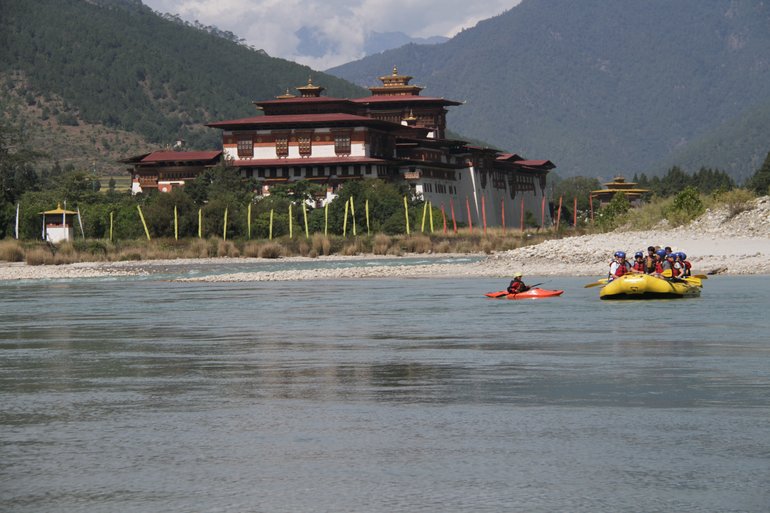 Punakha Dzong ( Place of a great Bliss)