Serengeti has gained its popularity for being one of the Seven Natural wonders in Africa and a UNESCO World Heritage Site.
The great animal migration is the annual migration of the giant group of grazers in the move through the Serengeti and Masai Mara ecosystems in search of green pasture, in a regular pattern. This is surely one of the greatest Natural wonders of the world.
Life Starts in The Serengeti National Park
---
December – March: Currently the wildebeest are in the southern area of the Serengeti, as in late November and December, the herds of the wildebeest migration arrive on the short-grass plains of the Serengeti. These are south and east of Seronera, around Ndutu and include the north of the Ngorongoro Conservation Area. Dispersed across these plains, wildebeest and zebra and other grazers are everywhere – feeding on the fresh, nutritious grasses of the Serengeti. The animal then stay here through January, February and March, with most wildebeest calves born in a short window around February, this is why regardless of the ecosystem the migration normally termed to be in Serengeti as the as calves are born there hence, life starts in the Serengeti.
Gradually, animals spread in the west across these plains, then, around April, the migration starts heading to the north. More specifically in Ndutu which is in the Ngorongoro Conservation Area. Along with the river crossings, this is a real highlight of the wildebeest's journey and a fabulous time to see the herds congregate on the dramatic sweeping plains of the south. Hence February has been the only time of year when you are almost guaranteed to see the big herds all together as they always come south for calving season.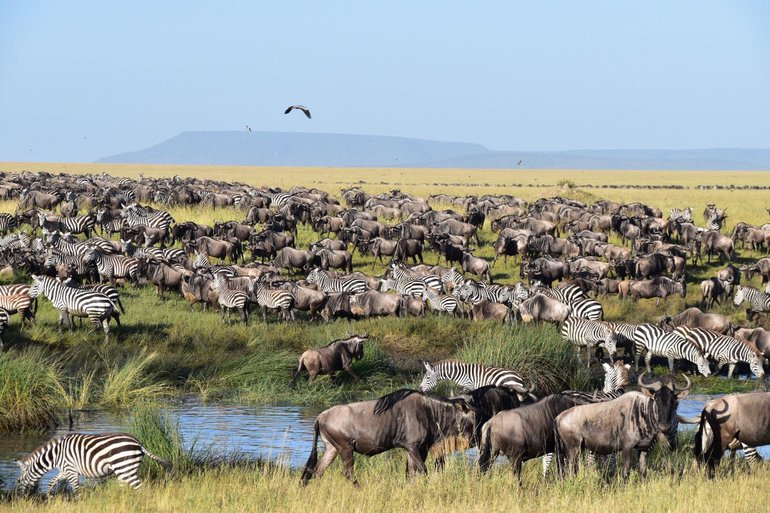 The Wildebees herd in the Serengeti