Tanzania is the best Wildlife Safaris in Africa as Animal Lover Needs To Take to top safari destinations. When coming to Tanzania on a safari, you came with some expectations. The safari guide in Tanzania is a highly skilled and trained game spotter of the chosen company. The guide teaches the novice explorer so much about game animals and their natural habitats. An excellent safari guide enhances the safari expedition.
Go off the beaten track with a Tanzania safari and explore the natural wonder of the Ngorongoro Crater on foot or relax on the pristine beaches of Zanzibar. With a multitude of high-quality services, it's easy to ensure that your Tanzania Wildlife Safari delivers an unforgettable experience.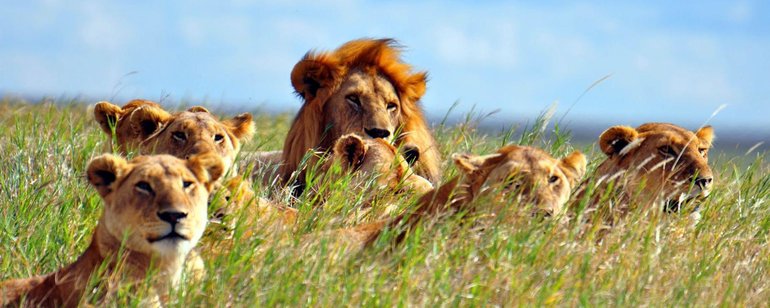 Serengeti National Park
Serengeti National Park
---
The Serengeti, which means 'endless plains' in the Masai language, is one of the most celebrated parks in Africa, renowned for its annual Great Migration when an estimated three million antelope – mostly wildebeest — migrate to Kenya's Masai Mara Game Reserve.
In the Serengeti, guests can expect to see an incredible variety of wildlife, from lions, leopards and cheetahs to elephants, hippos and, if you're lucky, a black rhino.
On this safari trip to Tanzania, you can also expect to see a variety of buck and buffalo, as well as giraffes, hyenas and wild dogs.
Here the terrain is thorn bush savanna, which is home to a large number of plant species such as Acacia Senegal, Bermuda grass, baobabs, and elephant grass.
As part of the Tanzania safari packages, a guided trip to Serengeti offers a wide variety of safari tours including the opportunity to witness the great migration, visits to Masai villages, and trips in a hot air balloon.
Mount Kilimanjaro
---
Mount Kilimanjaro, the highest peak in Africa, is not strictly a mountain, but a stratovolcano that began forming around a million years ago. About 30,000 people climb Kilimanjaro each year and about three-quarters of these climbers reach the summit.
This climb is relatively safe and most climbers who don't summit fail to do so because of altitude-related issues or harsh weather near the peak.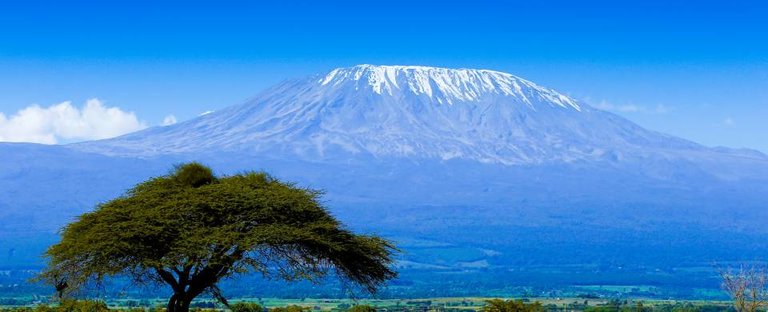 Kilimanjaro Trekking
Kilimanjaro home to a host of different ecosystems, from the tropical jungle, savannah and desert to montane forests, subalpine plants, and the alpine zone.
Animals in this area include blue monkeys, olive baboons, civets, leopards, mongoose and bush pigs. There are also honey badgers and aardvarks, although they are hard to spot as they're nocturnal.
Besides climbing Kilimanjaro, there are several other ways to explore this area, including hikes, wildlife watching, and game drives.
Ngorongoro Crater
---
All Tanzania safari trips should include a visit to the Ngorongoro Crater, the world's largest intact volcanic caldera, and the best place to see the Big Five. Approximately 25,000 large animals live in the crater, including the rare black rhino. Here activities include game viewings, walking, trekking, excursions to Olduvai Gorge and visiting the Masai and other tribes.
Must have a piece of clothes for the safari is a hat
---
One of another Best Wildlife Safaris in Tanzania Every Animal Lover Needs To Take, Hat is a nice to have fashion detail and looks nice on pictures, but it's usually totally unpractical. During the game drive, it becomes windy so you have to take care so it doesn't fly out. The jeep has the roof so your head isn't actually under the sun.
If you're really lucky, the lion will cross your road
---
The truth about a Safari in Tanzania is the country with the highest density of lions in Africa, so there is a high probability that you'll see a lion from up-close in Serengeti and Ngorongoro National Park. During our last game drive, we've seen 7 of them eating next to the road, two lions mating between the jeeps and one of them peeing on our jeep. So you never know.
Did you know that Simba in the Swahili language means lion?
Another Best Wildlife Safaris in Tanzania Every Animal Lover Needs To Take! is the largest number of lions in Africa is in Tanzania. One of the misconceptions we have is when coming on a safari was that there was no way. The craziest moment was when the lions between the jeeps started to steam in front of an enthusiastically tickling crowd. Moments before, the lion rode the jeep's wheel like a dog marking its territory.
⠀⠀
You will saw those hunting zebras, gazelles, a lioness mom throwing her cubs off a rock, a lion running away from an angry cheetah mom, a lion eating and keeping a caught bison from hyenas. Scenes I never imagined I'd see live. ⠀⠀
National parks in Tanzania are similar to each other
---
Truth: The vegetation, scenery, animals and the whole experience of each national park are unique. You can choose according to your preferences what you'd like to see. A savannah or the lake, more lions or more hippos, but my suggestion is to see them all.
Tarangire, you should go for baobab trees, vervet monkeys and giraffes, Tanzania walking safari, wildlife game drive.
Serengeti, you should go for lions, leopards, endless plain and the African savannah.
Ngorongoro Crater, you should go for the wonder of nature and amazing Tanzania wildlife safaris living in the volcano crater.
Lake Manyara, you should go to see all animals together drinking the water, buffalo swimming in the swamp and more than 500 bird species living in this national park.
Lake Eyasi you will go for Tanzania Safari and Pure culture experience visiting Hadzabe and Datoga.

Tanzania Safari Month by Month
---
Planning to go in African Safari tours and holidays will be a great deal to see the Big Cats. Tanzania accessible all year round for your holiday's trip.
Tanzania is regularly voted as one of the best Wildlife Safaris in destinations in Africa and is a year-round safari destination. There is no bad time to travel to Tanzania since each season offers something special with both the dry season and the wet season offering enormously different safari experiences. During the dry season, the skies are clear, the days are sunny and you will see the harsh sun suck the moisture
The best time to go for a safari in Tanzania is during the dry season, July to October. During this period the weather conditions are conducive throughout the country; both for road access and an abundance of wildlife for viewing.
Tanzania Safaris in January, February, March, April, May June, July, August, September, October, November, and December!
Hot Air Balloon Safari
---
Thinking of adding a hot air balloon flight to your Tanzania safari? Fly far into the sky, just enough for you to view the beautiful Tanzania scenery underneath. Unique of the most popular Tanzania tour is the Serengeti balloon safari. As you gently float upon the clear horizon, observe the animals from a harmless distance. Then, extravagance in the sunrise from a perspective you'd never expect. If you have naught fear of heights, then a Tanzania balloon safari is impeccable for you!
Some things are worth getting up early for and this is certainly one of them. The wonderful experience of a hot-air balloon ride is enhanced many times over by conducting it over the incredible scenery and wildlife viewing of Serengeti National Park.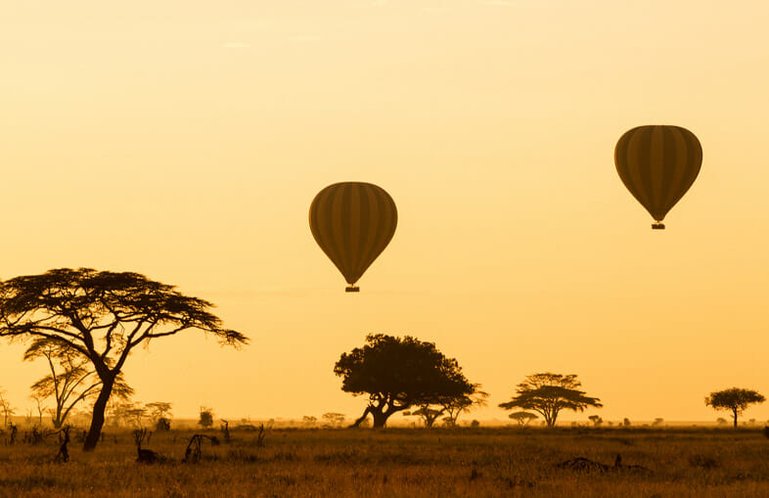 Balloon Safari Tanzania