I've trekked to some of the most iconic locations in India. Some places stay in your heart right from the first time you see it, and some creep in without you ever visiting that destination, staying with you as a craving, a yearning, a desire. The latter is what Hampta Pass is for me. I've been to Himachal for many treks, but somehow, this spectacular mountain pass and the glimmering Chandratal Lake have always eluded me. And as I got more and more busy with my work and family, this desire seemed to go further and further away – until my birthday, when my husband gifted a spot on a 5-day-long Hampta Pass trek just for me!
I spent the days leading up to the trek mentally going over the itinerary again and again. I was at office, or at home, but my mind was wandering between the Kullu and Spiti Valleys, wondering if they'd change from lush green to rugged sepia just how all the travelogues described the Hampta Pass trek.
With a triple-checked backpack and tonnes of excitement, I headed to Manali to begin my journey to Hampta Pass. A few hours of travelling later, I met with my operator at the pick up point where he introduced me to my fellow trekkers. Our 2 hour ride to the beginning of our trek seemed short as we exchanged stories about our previous treks. Some were first-timers and were still in the 12th grade, and I enjoyed diving into my treasure trove of trekking tips to share with them. We then began our trek to Chikha, which was another 2 hours away. Walking past the green valleys of Kullu reminded me just how much I missed the beautiful Himachali landscapes. I knew this trek had much more in store for me in the coming days! We set up camp at Chikha and readied ourselves for a gorgeous night under the stars.
We refuelled with some freshly cooked eggs and tea in the morning. Some days, I miss that amazing cook who kept our tummies happy throughout our days in the mountains. With charging energy, we headed forward on our trek and were greeted by majestic views of the Dhauladhar range and Indrasan Peak. That day, I even got to do my favourite thing on a trek – river crossing! We held hands and formed a chain so that we prevent ourselves from tripping into the water as we carefully tread across the river. I even took the chance to cup my hands and splash some of the chilling water onto my face to freshen me up for the rest of the trek. We reached a vast opening between the mountains, which would be our campsite for the day. Hampta Pass was close and we could see it in all its glory, a little in the distance.
The next day, we had our eyes on the target as we set out to our ultimate destination – the Hampta Pass. It was a challenging day as the terrain grew steeper and we climbed higher and higher to over 14,000 feet above sea level. Once we crossed the pass, I could see before my eyes every single detail all those travelogues described and all those photos captured. The scenery gradually shifted from the lush green of the Kullu Valley and transformed into the desolate, sepia landscapes of the striking Spiti Valley. I felt like I was witnessing the greatest magic trick nature could pull on us. We eventually reached our campsite and put our tired bodies to rest, our minds still reeling from the sights we saw.
Yet somehow, the best part of the trek was yet to come and the next day would show us just that. We hiked our way to the serene Chandratal Lake and boy, did it shatter all expectations. Clean, untouched and azure, its waters reflected the mighty mountains of Lahaul-Spiti, creating a whole new world within its reflection. It was unlike anything I'd ever seen before; I was mesmerised as I sat by the lake, wishing I could dive into the new mirrored world, but it was soon time for us to leave and head back to our campsite.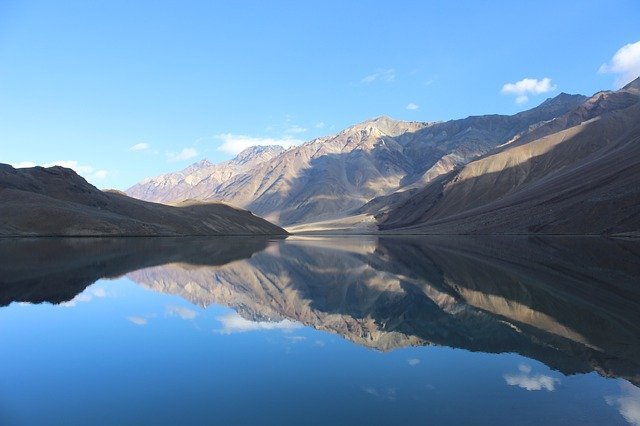 The pristine Chandratal Lake
We woke up in the lap of the Himalayas for the last time on our Hampta Pass trek. We drove back to Manali but the driver made sure to stop at the Rohtang Pass so we could take some pictures, but I just silently bid goodbye to the mountains. It was an experience that I had dreamed of for as long as I could remember, and now, having done it, it stays in my heart forever. I only wish I don't wait this long to visit Himachal again, especially now that the fire of trekking has rekindled in my soul!