Situated in Arunachal Pradesh, the Hampta pass trek is a rare and once in a lifetime experience for one and all. It is located at an altitude of 14,000ft on the Pir panjal range in the Himalayas. Named after the Hamta village, this place is famous for its picturesque scenes, the eye-catching beauty of nature, and the landscape's peace. If you are someone who would love to trek across rough terrains and reach a higher altitude, this place is your go-to choice.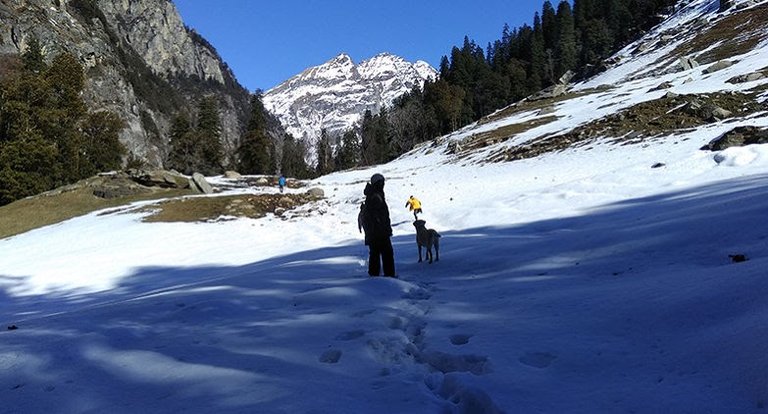 About Hampta Pass trek
---
On one side of the Hampta pass, you will spot the landscape of Lahaul with little or no vegetation, whereas on the other side, you will get a chance to witness the Beauty of Kullu valley, with forests, flowers, grasslands and greenery all around you.
The Hampta pass trek will give everyone an experience of a world that is beyond amazing. You enter a completely different world, and the feeling and joy is incomparable.
Best time to visit Hampta Pass
---
Located at a high altitude, you can plan to visit Hampta pass six months in a year. The most favourable time to plan this would be from June to the end of October, although you can not be sure of getting a uniform experience all through these months. People often try trekking here during May, but the snowclad mountains make it improper and a rough, uncomfortable experience for them.
Level of difficulty
---
Considering many factors like altitude attained every day, length of the trek, weather, etc., the Hampta pass trek ranked as a moderate trek.
The trek begins at Manali, which is at an altitude of 6,725 feet. You have to reach the Hampta pass trek at 14000 feet in about four days. The beginning of the trek is rather smooth, although the difficulty increases as you move towards higher altitudes.
How to reach Hampta Pass?
---
To begin trekking at Hampta pass, you need to first reach Manali. Most people prefer to reach Manali by bus from Chandigarh or Delhi. From Delhi, it takes around 12-14 hours, whereas, from Chandigarh, it is an 8-10 hours drive to Manali.
You can also board a flight to the Kullu airport, but most people do not prefer this method of travel as the chances of a flight getting delayed or cancelled are very high. The journey to Manali is itself a satisfying experience. On your way, you cross the Beas river, which makes a pretty good scenery along with the mountains in the background.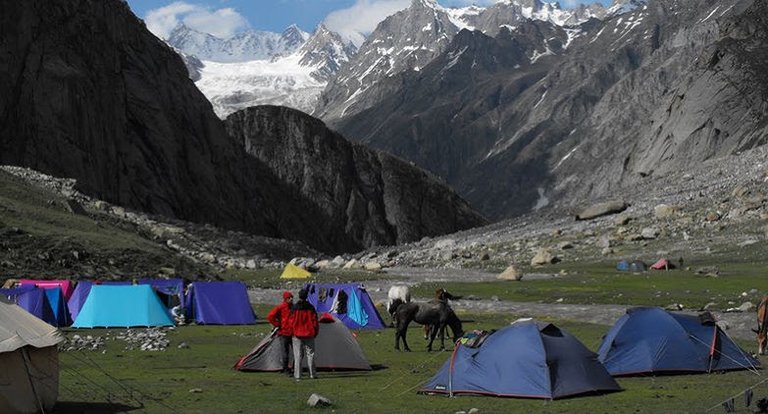 The journey after reaching Manali
---
You begin from Manali and drive to Jobra via Prini. This drive can only be completed by hiring a private taxi. No other public transport or mode of travel is available there. At Prini, you will find several hotels, restaurants and lounges where you can refresh, take a rest and prepare yourself to begin trekking. Finding a place to rest and refresh at and beyond Jobra is a difficult task. Hence you better take complete rest and have good food beforehand. Once you reach Jobra, the first camping site of the Hampta pass trek, it is a four-day long trek.
Mandatory documents required for Hampta Pass trek
---
Don't forget to carry any valid photo ID card along with you, which can be anything; your aadhar card, Pan card or driving licence. The forest department will submit your identity proof, without which you will not start trekking.
Total expenditure of Hampta Pass trek
---
While planning any trip, we always need to keep in mind before beginning the total expenditure. While planning this trek, you need to form a budget in your mind. The total expenses range from 8000 to 15000 depending upon your choice of accommodation, your food, your trekking gears, the vehicle you choose to travel with, etc.
Major points of attraction of Hampta pass
---
1. The drive from Manali to Jobra
The drive from Manali to Jobra is one of the most undervalued parts of this trek. This drive takes you on a journey from Apple orchards to deodar forests and finally to the oak trees. From the hot climate in Manali to a cold and then a colder, Jobra is an experience worth having.
2. The forest
You will get a chance to witness oak, maple and birch trees at one place on the first day of your trek. The beauty of nature that you will get to witness all through this trek would be second to none. So, for all the nature lovers out there, this is a worthwhile experience.
3. The pass crossing
Although every trekking pass experience is great, this Hampta pass is altogether a different, one of its kind experience. It feels like you are walking through a Gorge. It is a narrow valley, with snow beneath your shoes and brown walls around you. You will also get to see ice columns trickling from the sides and echo of your voice.
4. The changing experience from Kullu to Lahaul valley
The first thing you will catch a glimpse of at Lahaul is the Shea Goru Valley, thousand of feet below your trekking point. The view is so mesmerizing that you can never get over it. On one side, you will find the Kullu valley with its dense forests, lush green grasslands and beautiful flowers. On the other side, you will find the Lahaul desert, which is not exactly barren but has patches of green grass here and there.
5. Amazing campsites
With mountains all around you, nature at its best, and beautiful scenarios all around, you can never compare the campsites at Hampta pass to any other campsite in this world.
6. The descent to Lahaul
Not only is the trek to the Hampta pass a mesmerizing experience, but also is the descent to the Lahaul an unforgettable part of this journey. All through this, you will experience a change of terrain from the snow-clad mountains to the moraine filled gully. The beauty of nature here will be captivated for a lifetime in your eyes, heart and memories.
Why trek at Hampta pass?
---
If you are someone who finds peace in the lap of nature, then you can never afford to miss the chance of admiring the beauty of nature, the changing terrains, the picturesque scenes and the experience that you will gain through this trek.