If you're thinking about adding Arizona to your USA travel bucketlist, think no more! Arizona is a must do on any USA roadtrip, being home to Antelope Canyon it's something you're not going to want to miss. The canyon itself was formed as a result of flash floods, creating what are referred to as 'slot canyons'. The result of which is incredibly beautiful for us humans to wander through.
Check out my tips below and enjoy the photos - I'm sure they'll convince you that you should visit Lower Antelope Canyon as soon as you can!
What You Need To Know
---
Booking
Due to the danger of flash floods, you can only visit the canyon by booking through a tour. There are lots of companies that run tours but personally, I'd recommend Ken's Tours. Reason being, firstly I liked that there was space for parking and that it was located right next to the lower canyon. Secondly, our guide was great - super informative, friendly and interactive. And finally, I liked that we were given enough time and independence to look around and take our own photos.
Try and book ahead of time to avoid disappointment. Although I've heard people say they've been able to book on the day, I wouldn't leave this to chance. Besides, there isn't an awful lot to do around the area so you don't want to be hanging around for days, waiting for the next available slot. So, if you can, book ahead.
Cost
On average, the tours last around an hour and cost approximately $55 per person. This does vary from company to company but this is usually the standard. Expect to pay more if you want to film or visit in a smaller group.
What time of the day should I book?
I'd recommend that you try to book a slot for earlier in the day for the sole reason that it's a lot cooler which makes it easier to enjoy the experience. However, if you're hoping to get one of those famous light beam shots then you're going to want to book a slot for later in the day.
Be aware that you cannot film in the canyon, tripods aren't allowed but you can take photos on your phone/camera. They offer exclusive photography tours where you have the opportunity to bring tripods in but these are a lot more expensive.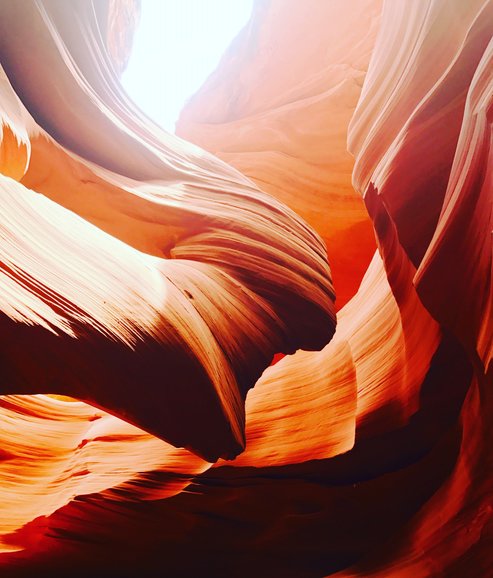 Upper vs Lower
There are actually two different parts of Antelope Canyon and it's most common for people to only see one. There are some differences but in my opinion, it's not worth seeing both unless you have the cash to spare.
I personally chose to visit Lower Antelope Canyon and here are the reasons why:
The upper canyon is a drive away from the car park and although this should be covered by your tour, for time preferences I preferred the short walk from the car park to the lower canyon. What can I say, I'm lazy!
The upper canyon allows approximately +10 more people in per group than the lower canyon does meaning it can be slightly more crowded. Here's some quick math for you, the less people there are in the canyon, the better your change at getting a photobomb free shot.
I will mention however, if you're thinking about visiting the lower canyon, please be aware that there's a small ladder that you will have to use to enter and exit. With the upper canyon, there's no steps or climbing necessary. If you or a family member struggles with mobility issues, it's probably best for you to go for the upper canyon. They're both beautiful, I don't think you can really go wrong in making a decision here.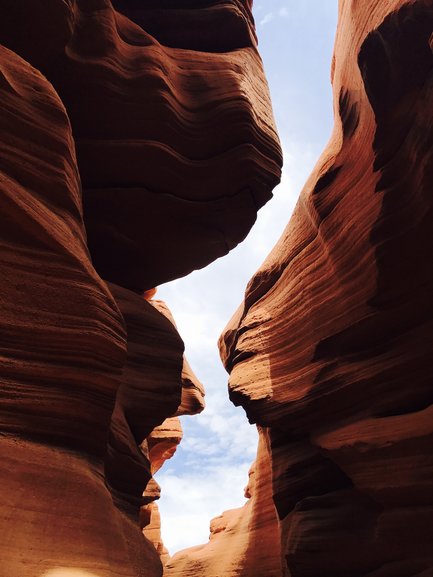 Tips For Visiting The Canyon
---
Pack light
I've heard tours are getting stricter on what you can and can't bring on the tour. I'd recommend packing a small bag and bringing only valuables, water and sunglasses.
Wear comfy light clothes
It's likely to be extremely warm whatever time of the year you are visiting. Wear comfortable, light clothing to avoid getting uncomfortable on the tour. We had to wait approximately 30 minutes outside before we entered the canyon and although it's mostly shaded, it is hot out there.
Eat before
You can buy some snacks onsite but there's limited choice. Make sure you've eaten before but bring snacks and water to keep you going.
Listen to the guide
Our guide gave us some great insight into how the canyons are formed, showed us how to take great photos on iPhone's and even took some lovely photos of us. Befriend the guides!
Where Is Antelope Canyon And What's Nearby?
---
Antelope Canyon, if you hadn't guessed already, is located in Arizona in the USA. It's neighbouring states include California, Utah and Nevada. The nearest town is Page which is extremely small and there are limited things to do however, it has the necessary amenities for a trip to Antelope.
The other must-do attraction nearby is Horseshoe Bend. It's just a 12 minute drive away and gives you the most incredible view of the Colorado River - beautiful enough to make the header on my homepage!
I hope you get the chance to experience both of these places in your lifetime. Coming from London, it's a completely unknown landscape for me, and I can promise it's like nothing I've ever seen before.
So, what are you waiting for? Get exploring now!