Upper Antelope Canyon is among some of the most photographed locations in the world - and for good reason! We were visiting friends in San Tan Valley, Arizona in January, and took the opportunity to make our way up the state to see all the photographs of the lines and curves of the canyons in real life and we were not disappointed we made the journey!
How to Get There
---
We drove from San Tan Valley straight to Page - and that took a good 6-7 hours with normal traffic and couple bathroom and selfie breaks. With that in mind, we had to start our drive at 5am to make it in there at a decent time to get our tickets, etc. From Phoenix or Scottsdale, you would head up the I-17 S and then US-89 S and you should get there within 5 hours.
The drive was really scenic and straightforward. The most fascinating thing was witnessing the vegetation and temperature change from cacti and sunny warm dessert, to coniferous trees and snow (yes! snow!) - all within a few hours.
Plan Ahead
---
You can only enter the canyons with a tour guide as the grounds are protected by Navajo Parks and Recreation. The mandatory guided tours were introduced in 1997 to prevent vandalism (shame) and ensure safety. Even if you book a tour ahead of time, make sure you plan the start of your day to arrive with enough time to line up, and head into the canyons before sunsets. The tours do not operate an hour prior to sunset.
We did not plan ahead, and did not book a tour ahead of time - and we arrived on a day where no one else seemed interested in the canyon, and the tours closes much earlier during the winter, so we almost didn't make it. Luckily there was absolutely not another single person there when we arrived. So we received a completely private guided tour. It was also near the end of January, and the temperature was cooler and less people choose to visit this area during the winter. The cooler weather was a complete blessing, I have been to Arizona in the middle of July - and I can imagine that the canyon would only feel like an oven (assumption confirmed by our tour guide). In fact, the heat in the summer limits the number of tours per day as well - so make sure you stay hydrated and wear appropriate attire.
Sneakers a Must, Hiking Shoes Optional
---
The gorgeous grooves and curves of the canyon provide for the perfect backdrop for some slick insta-worthy fashion shots. I've definitely seen some fashion shoots in the canyon online - but I can bet that they're professionals and had the fancy garments to change into once they've made their way into the canyon. The walls are quite tight, some folks would need to turn sideways to slide through some of the crooks and crannies. With that - it's completely up to you if you want to wear a pretty tulle ballgown or that slinky silky slip dress, but just know you may risk tearing it or will definitely get some dirt and sand on it. Whatever you choose to wear, practical footwear is a must! There are stairs going down, sandy pathways, a couple rocks to climb up here and there, and a flight of steep steps back up - I think I may have even read that if you don't have proper footwear, they can refuse entry. Some grippy sneakers or running shoes (I wore a pair similar to these from Nike) should suffice; hiking shoes or boots would be excellent but not necessary. Because of all the stairs and some slippery walkways, if you have mobility issues, try calling ahead to see what accommodations or alternatives there are for you to visit the canyon.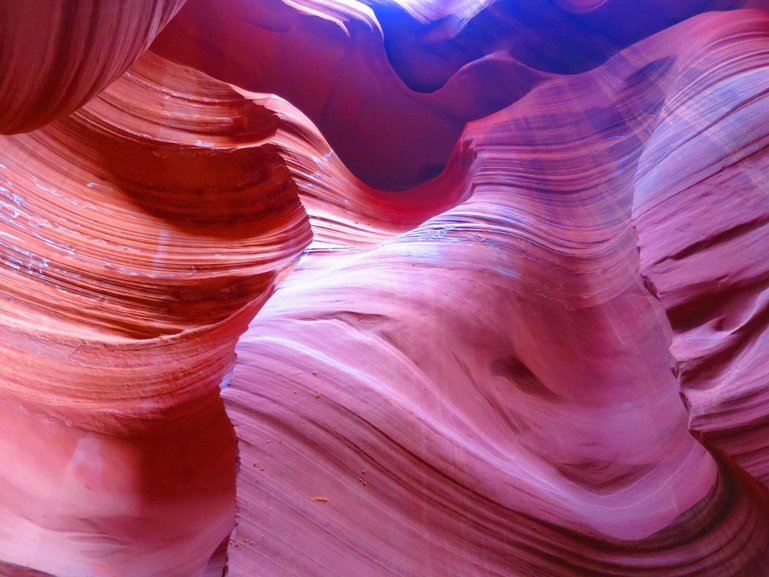 Upper Antelope Canyon