After a long time of social isolation and staying home, everybody is now looking forward for the first phase of bars and restaurants to reopen on Saturday. Here are my top 5 hidden gems of Leipzig for you to check out.
Frau Krause
---
For everybody wanting to experience some true east German atmosphere, Frau Krause in Connewitz is the place to go. The term "Gastro Pub" might sound like home to some Brits while it describes what it is – a pub style bar with a few very classic (east German) dishes and nibbles. Locals enjoy their "Hausebier" here, fresh from draft. In the winter guests gather inside of what looks like a corner bar some good 30 years ago, with all its patina. In the summer, the beer garden across the road is pulling people in from around the neighborhood.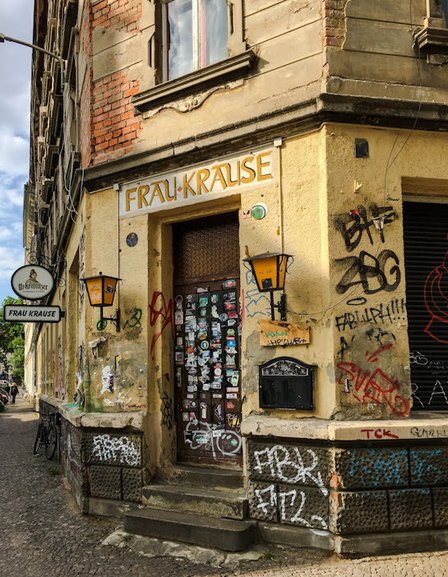 Frau Krause (image credit Leipzig Free Tours)
Simildenstraße 8, 04277 Leipzig
https://www.facebook.com/Frau-Krause-117934588264223/
Heiter Bis Wolkig
---
Heiter bis wolkig is the name of the cafe and bar that is part of the old Plagwitz train station grounds called "Bürgerbahnhof Plagwitz". As the name also refers to the initiative that led to the development of the area suggest, the cafe is designed as a place for people to come together away from busy streets with neighbors and visitors a like. Plenty of DIY furniture and lots of space makes one unwind and enjoy coffee, cake and drinks, all of which is fair trade and regional. If you wish to bring your kids, they will be delighted as a large playground also provided by the initiative is located just next to the cafe.
Röckener Str. 44
https://buergerbahnhof-plagwitz.de/cafe
Rudi Bar
---
Just in the middle of Karl-Heine-Straße, Rudi lures in its guests with just an unpretentious sign by a big window. Nothing can go wrong when your drink is prepared right in front of your eyes on the bar counter of this modern and stylish place. It all started here with just a Whiskey Sour in 2014 but the list has since grown. You can find your favorite "Sour" here of course as well as a number of all time classics.
Rudi Bar Leipzig
Karl-Heine-Straße 59, Leipzig
https://www.rudi-bar.de/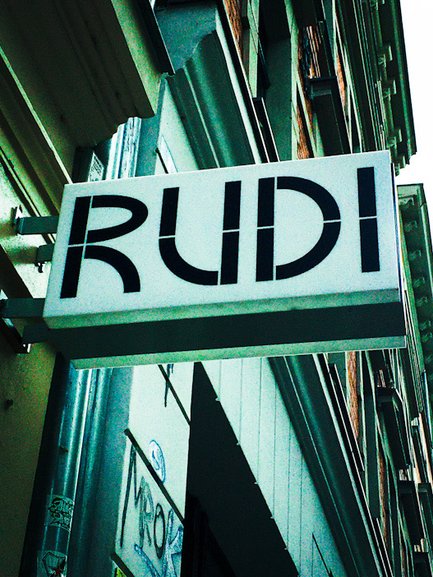 Rudi Bar Leipzig (image credit Leipzig Free Tours)
Liqwe
---
Right at the northern start of endless Zchochersche Straße, Liqwe bar is a local favorite founded by three students. Drink a pint of wheat beer for three euros and immerse yourself in the arty decor of this cozy place.
Delicious cocktails for a fiver are also at your fingertips as well as housemade shots like the Mexicaner, which is basically a variation on the flavors of a Bloody Mary. This place is tiny, but I can't help but love it.
Liqwe bar Leipzig
Zchochersche Straße 31, Leipzig
https://www.facebook.com/liqwe.bar/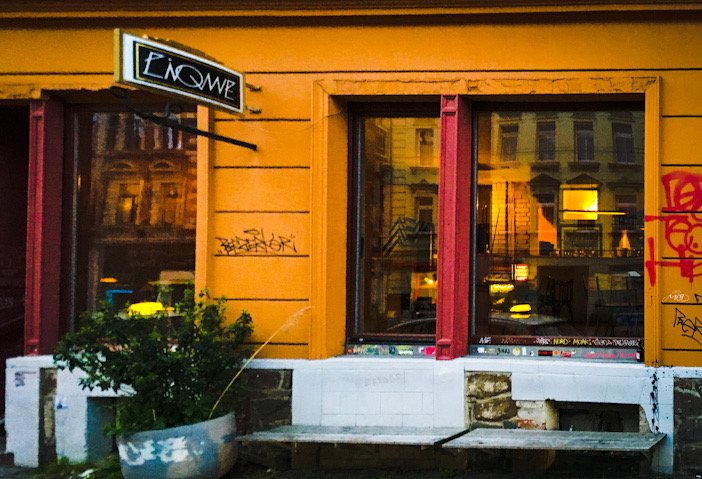 Liqwe Bar Leipzig (image credit Leipzig Free Tours)
Stoned
---
For the ones closer to the center, this little bar lies just a stone throw away east from all the hussle and buzzle in Leipzig's inner city. The bar calls itself "The home of Punk n Roll" and does so rightly. Members of bands such as TV Smith ans The Sex Pistols have played small gigs here. Frequent live concerts are accompanied by a focus on hoppy drinks. Hey, Ho, …
Kolonnadenstraße 15
https://www.facebook.com/stonedleipzig/