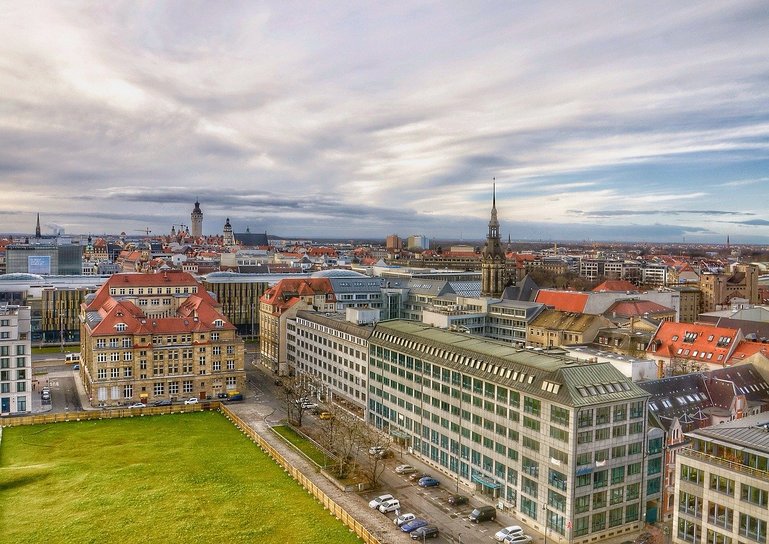 Leipzig
The city
---
Leipzig, located in the German state of Saxony, is famous as a city of protest, and a city which stands up for itself. As an urban shelter for left-wingers as well as a stronghold for the Refugees Welcome movement, it is no surprise that residents of the city do not appreciate right extremist politics. So when the Alternative for Germany (AfD), a far-right group with anti-migrant sentiments, planned a march for the city on July 19th 2019, authorities and residents prepared for a clash of ideologies which could have turned nasty.
July 19th 2019: an AfD Flop
---
The reality was somewhat different, thankfully. However, what Leipzig's residents showed was a textbook approach to dealing with the threat of populist politics and gatherings. Although many saw the AfD leader André Poggenburg's attempt (not the first) to get at the city as a deliberate ploy to stir up tensions, the reaction was to disrupt and out-chant the unwelcome guests, not intimidate.
In the end, only about 30 supporters of the AdF were present to 'hear Poggenburg. The reality is that they could hear nothing at all, as the 500 or so counter protestors surrounded the marchers (from a restricted distance marshalled cautiously by the police) and drowned out anything the smaller crowd could muster. Then everyone packed up and went home. Job done.
'No' to fascism
---
This was Leipzig's 'no' to fascism, which is exactly what it sees Poggenburg and the AfD spreading. Chants of 'Nazis out' were clearly audible at proceedings on July 19th, and it is clear the anti-migrant sentiments which are much more commonplace in another Saxon city of Dresden are not welcome in Leipzig.
The discourse approach
---
The lack of violence was fitting too. For if this wave of populism that seems to be sweeping the world is to be overcome, then discourse, not confrontation, is the answer. That is exactly the approach the increasingly popular Green Party in Germany are promoting, with their slogan of 'Give courage rather than spread fear' giving a natural home to those who wish to fight back against this populist surge. Unsurprisingly, Leipzig is a natural home for this Green ethos.
Inclusion
---
As it is for the great ethos of 'inclusion' which is the counter argument to those which parties like the AfD are making, in a similar line to movements in the likes of Hungary. In fact, populist politicians in the United States (Donald Trump), Brazil (Jair Bolsonaro) and the UK (Boris Johnson) are all basking in the attention given to them by their exclusive politics and policies, but the tide will turn.
---
Of course one of the pillars upon which democracy is based is that of free speech, However, in the case of social media, free speech seems to have become increasingly 'hate speech', and they should never be confused as the same thing.
Free speech does not mean the freedom to spread hate and fear. Some regulation of social media is clearly required as it is here that populist politics has been born.
Modern democracy
---
It is inevitable that modern democracy cannot look like democracy of the past: everything changes. Populist politicians use the core principles of this outdated democracy to bring supporters to their cause, seeing their hate-filled speech as their right under these 'sacred' liberties. Yet modern democracy must impart common sense on this approach, and not allow the principles that have been fought for for so long to be trampled on by politicians who only look to further their interests rather than work to the benefit of the masses – migrants included.
Overcoming party divides
---
One of the ways in which populism has been allowed to garner so much support in recent times is the failure of more traditional political parties to work together for the greater good. Petty bi-partisan squabbles have led to the inability to work together, even when existential threats such as dangerous populist politics marks a threat on the horizon. Collaboration when required should be the hallmark of responsible, modern political parties, and this is certainly required in populism is to be overcome.