On the territory of Slovakia there are many unique world places and monuments, which can not be found anywhere else in the world. On the other hand, there are breathtaking world works, copies, which can also be found in Slovakia. Therefore, Slovakians don't have to travel thousands of kilometers to see them.
In this article we will show you one of the 3 copies of the famous statue of Christ of Rio de Janiero. Rio de Klin, which stands on Orava. Specifically, in a small village Klin near Namestovo in the north of Slovakia.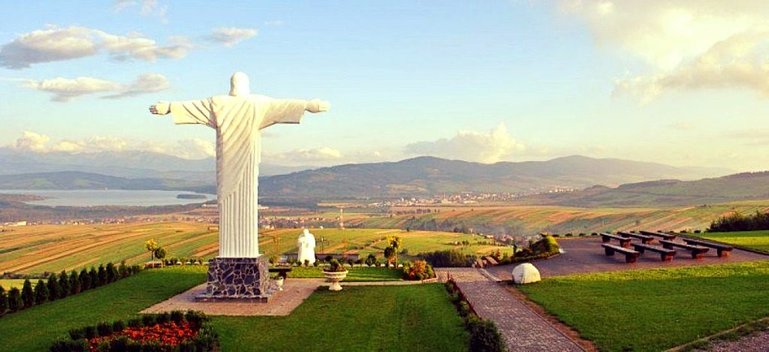 Statue of Christ, Klin, Slovakia, Source: Pixabay
Rio de Klin is the third copy of the famous Brazilian statue in the world so far. The second one is the 23-meter-high Christ the Redeemer in Lisbon, Portugal. Rio de Janeiro, the capital of Brazil, is full of tourists, who admire the beaches, cultural monuments, but the main landmark is the statue of Christ towering over the big city.
Rio de Klin
---
Rio de Klin is a statue towering above the village of Orava Klin, which in terms of the number of tourists and monuments can not compare with the great Rio de Janiero. But from the point of view of beautiful nature, views and atmosphere, it will also cross Brazilian metropolis.
The statue of Jesus is located on the hill Grapa at an altitude of 686 meters, its height is 9.5 meters, the span of hands has a width of 7 meters, the weight and the pedestal is 23 tons. It has been here since 2008.
Under the feet of the statue is a beautiful view of Klin, Orava dam, Namestovo, Vavrecka, Dry Mountain and Rohace mountain. In good weather you can see all the way to Zakopane in Poland at the top of Giewont.
The creator of this important, amazing monument is Peter Ganobjak, a local folk carver.

Rio de Klin, Orava, Slovakia. Source: Pixabay