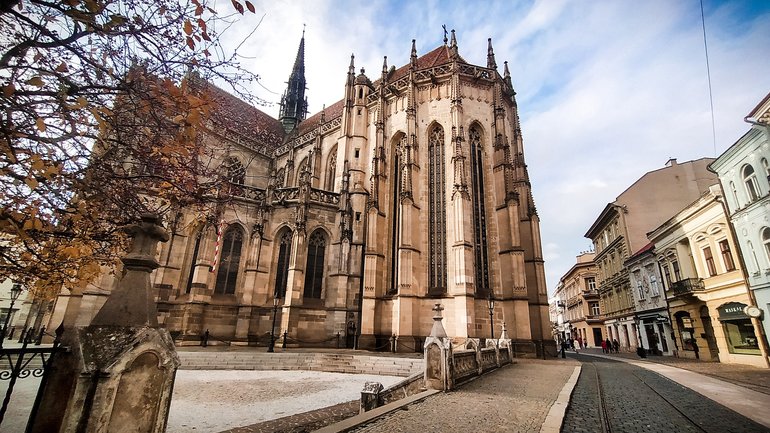 "a city hidden among forested hills with an old town experience you can't miss"
I first heard about a little city by the name of Košice, only last year when I was, alone travelling light on a 1300cc Yamaha through the central Slovakian mountains. I had satisfied my nature fix in a few days thankfully and felt I wanted to reconnect with people again in a big town and an electric feel once again. In a glance at the map, it seemed Kosice was the major city in the whole eastern area of the country.
Right from the moment I arrived in the city I saw things that encouraged me to start liking. However when I rode into the old town, I was thrilled, it was truly beautiful space, statue gardens, fountains and ancient cobblestoned walkways flanked a gorgeous Gothic cathedral with point towers and the element of patina adding to its beauty.
You should first take a stroll down the Hlavná boulevard and see what there is waiting for you. Enjoy eating and drinking out daily, without spending much money at all – better still it does not appear there are many tourist traps here if at all, this is brilliant as it means you can indulge more in the holiday you really want. I think the quality of service in restaurants and cafés in Kosice are exceptional, they are so caring and attentive by nature in this country it definitely contributes to my enjoyment of the city.
Recommended Places
---
St Elisabeth's Cathedral
The State Theatre
Jakab's Palace
St Michael Chapel
Plague Column
Old Town Hall

Recommended Food and Drink
---
The Beer House
A fantastic microbrewery with friendly staff serving big, bubbly beers and hot food. You can sit inside or outside here, and table service means you don't have to send someone inside, away from the table.
www.thebeerhouse.sk
Carpano
I loved this restaurant, I recommend sitting outside if it's warm enough and try to plan your table choice so that you can see the cathedral when sitting down. It gets a bit busy here but the atmosphere is calm and classy. Food is brilliant I was actually surprised as I thought it could be a tourist trap, it was actually great food at great prices considering the view.
www.carpano.sk
Kino Usmev Cinema
The outside of this cinema has been reimagined as a buzzing bar with a great social atmosphere, the bar does close earlier in the night than bars on the Hlavna so be sure not get there too late!
www.kinousmev.sk
Primi (a member of medusa)
I was very pleased by the family atmosphere, and not a tourist to be seen. Professional staff. Children can learn to make pizzas inside. The ingredients are picked well and there is something for everyone on their attractive menu, simply the food is fabulous and the flavours are right up there with the best.
www.primi.sk
Our Favourite: Collosseum Club
If it wasn't for a chance encounter with some jolly locals one night in Košice, we may never have found this place! Hidden near the city walls of the old town, down an unsuspecting alley, we were led to a door covered in graffiti with no clear signage to indicate it was a venue. Once the door was opened, inside I was amazed to see there was a whole community of people enjoying themselves under the rest of the city. The walls are all painted black and covered with graffiti, artwork and gig flyers. The bar is wild and there are many interesting objects adorning the walls. Rock and heavy metal fans will love this place, which is also used as a live music venue. There are football tables to play and plenty of people to meet and create amazing memories with! If you are in Kosice's old town and looking for an alternative nightlife experience, search Collosseum and head there!
www.collosseum.sk