The most iconic buildings of Bratislava are the castle and the UFO observation deck. You can see them on many photos. Now I would like to give you some information about the observation deck and show you a few pictures taken from the UFO. You're looking out on a fantastic view.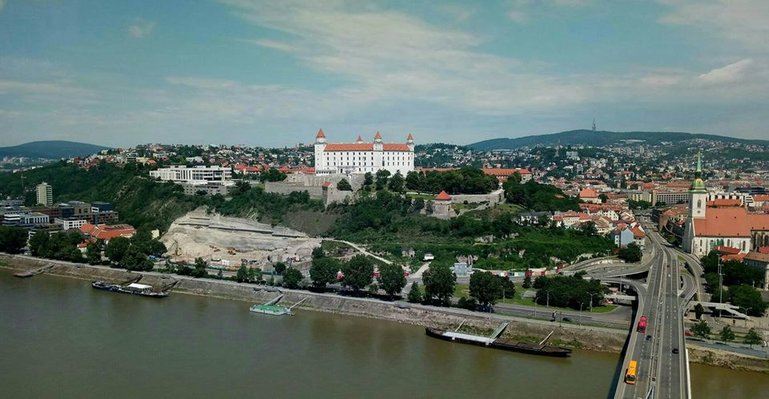 Bratislava castle
We bought a voucher but the entrance fee for adults is now 8,90 €.You can buy a *Day&Nigh*t too,it means that you visit the observation deck twice in one day. It costs 11,90 €. It is very nice to see the sunset from the UFO, those orange-red colours are always beautiful. If you eat one main course from the menu, you will get a 100% discount off the entrance fee. The prices with this discount are still quite expensive compared to other restaurants but you have lunch with a beautiful view (the cheapest meal is for 27 €).
We had that voucher for 7,90 € – that kind of voucher is valid until end of September 2020, you can buy it on the internet. For that price we had an entry ticket and one drink (alcoholic or non-alcoholic) in a small bar (beach under UFO) next to the bridge. It was okay but do not expect a luxury drink, I was a little bit disappointed, we got the drinks in plastic cups :(.
The students can buy a ticket for 7,20 € (there is an ID check), children over 111 cm-s and until 15 years of age pay 5,95 €.
The elevator takes you in 45 seconds to the top of the deck – to a height of 95 m. When the weather is good, we can see into the distance up to 100 km-s.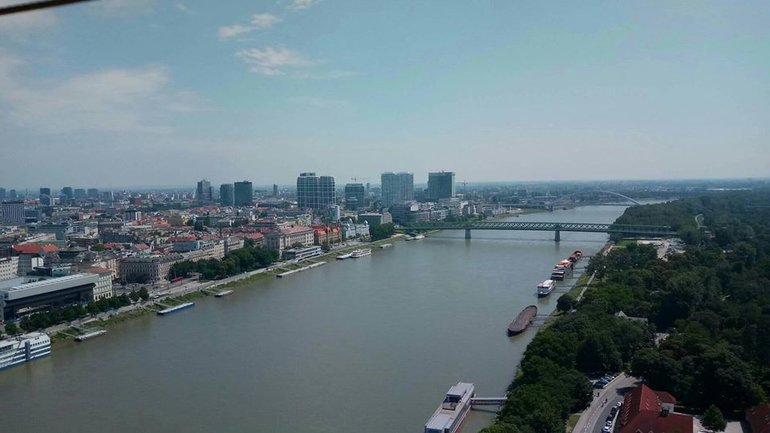 Danube
There are 60 windows on the building, what gives you an amazing view from the restaurant.
Many people ask if the observation deck rotates – no, it does not.
One extra thing - as a unique attraction you can try skywalk. It costs 39 €/ person. If you are brave enough, do not miss this opportunity.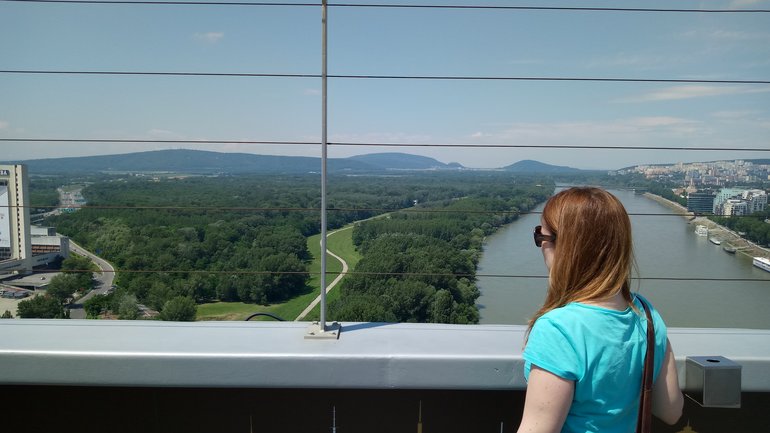 Location: Bratislava, Slovakia - UFO bridge or the Bridge of the Slovak National Uprising (Most SNP) - a few minutes walk from the Old Town.