If you stay at a resort in to Kos, try to get out to the nearest town to explore more excursion options and usually for cheaper than excursions being offered at the resort. There are a range of tours from Kardamena and Kos town including 3 island tour, Zia sunset, Plaka forest, village tour, Greek traditional dinner experience and many other excursions are advertised at tourist offices and booking locally is often cheaper than making an advance booking online.
Kos is in close proximity to Turkey and you can easily include a day trip to turkey into your Kos itinerary. You can also book excursions to Bodrum from local tourist offices from your nearest town. As you'd be entering a new country, ensure you take your passport with you!
Kos is a very small island. Whilst staying in Kardemena town which is on the further western part of the island, it took us only a 40 minute drive to get to the other end of the island in Kos town, on the further eastern part. Due to the short travel distance to get around, it would definitely be cost effective to hire a car. Although it is possible to get around the island with local buses (€2.80 single fare) directly connecting to Kos town, they do however operate infrequently (around 14 buses daily) and there can be an around an hours waiting time between buses. You can hire a care for as cheaply as €7 per day.
We had visited Kos at the start of May which is considered low season. The period where the scene is live with tourists and the nightlife is buzzing would be between June to September. If a lively clubbing scene is important to you, then it would be best to visit Kos during the peak season. Otherwise you can get great package deals from loveholidays when choosing dates a little earlier, also by having the option to pay off your holiday in installments makes the booking just that more affordable.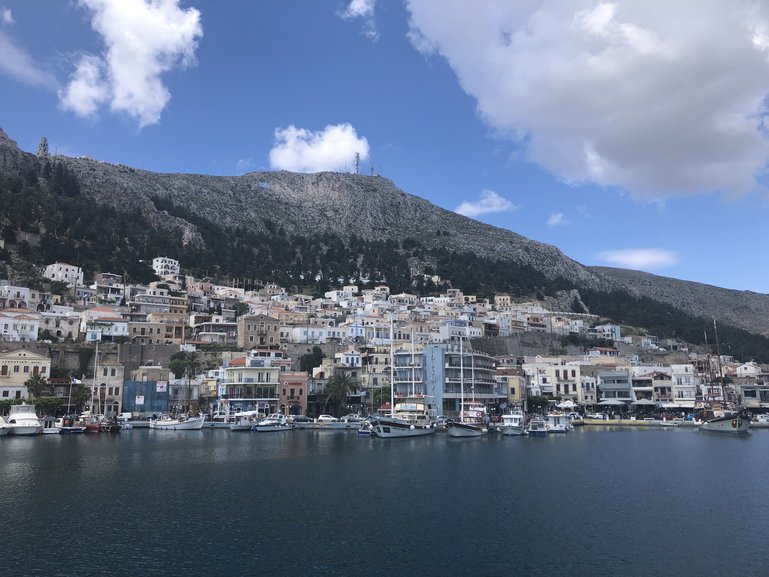 Kalymnos island nearby Kos