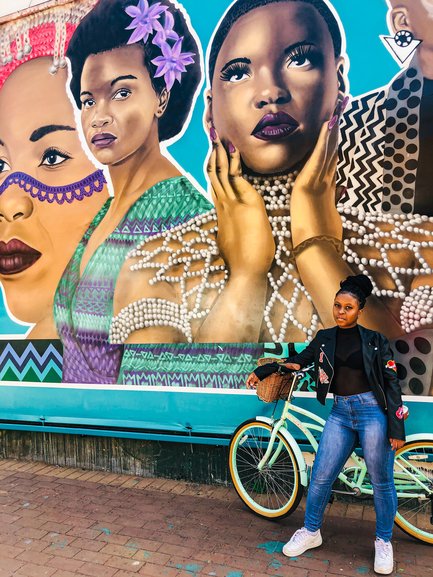 The trip to Maboneng was very spontaneous. I had an uneasy feeling about this whole trip from the beginning. I am not the biggest fan of Johannesburg and these human trafficking stories from Twitter were not helping. However, I want to enjoy every bit of my country the same way I enjoy other countries, so I forced myself to not let the ugly stop me. The good thing about exploring South Africa is that I have friends scattered all over the country so I always have a travel guide. I also have a best friend who's based in Joburg and likes to explore and experience new things so I had someone to explore with.
This was supposed to be a two-day trip but I ended up spending almost two weeks in Joburg. I started off in Maboneng and ended up in Melville, not so far apart. This blog, however, is about Maboneng.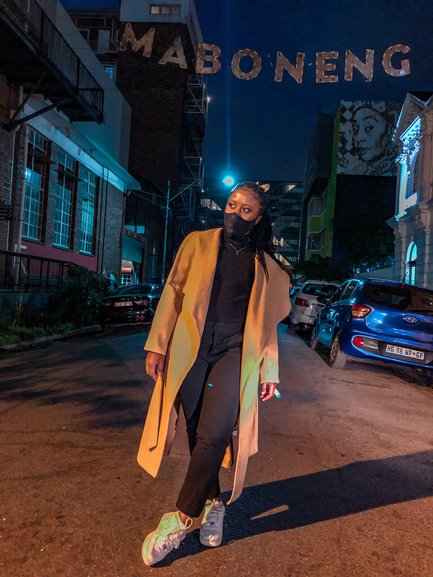 The Unconventional Maboneng
---
Maboneng Precinct is a few blocks that make up a contemporary urban space in and around Fox Street. It reminds me of Brooklyn, New York. There is Graffiti everywhere, young, fashionable people hanging around, buildings made out of crates and just cool vibes all around.
I rented a loft right in the heart of Maboneng for the first two nights that I had planned to spend there. It was very cute, black-owned and the owner even left a vintage bicycle for me to use as I explored the creatives hub. I would sometimes do my work with the balcony sliding door open and couldn't help but feel like my all-time fave, Carrie Bradshaw.
One of my first outings was a solo sushi and white wine lunch at The Blackanese: Sushi and Wine Bar. I was convinced by the waitress to try the white wine and sushi combo and it didn't disappoint at all. The Blackanese was opened by local entrepreneur Vusi Kunene and the spot was even featured in The New York Times. I coincidentally went on a Tuesday, when they have a 50% off sushi special. I'm so basic when it comes to seafood. I ordered an eight-piece California roll which would've been R90 but because it was Tuesday, I got it for R45. Their glass of sauvignon blanc wine that I had ordered was R45. So I spent a total of R90 for a good lunch while enjoying the Maboneng scene.
What Makes Maboneng, Maboneng?
---
I think what makes Maboneng a trendy spot is the vibe. What contributes a lot to the vibe is the aesthetically pleasing look of most spots. The cool fashionable people who hang there are also a big factor. Maboneng is very industrial, funky and modern. It is also just an overall cosmopolitan space as you will meet people from different backgrounds, very much like Brooklyn. There is a lot of music and art everywhere, it's very inspiring for a creative. It also seems like most businesses are black-owned in Maboneng and I love it for that.
My friend and I went to what I thought was going to be a chilled lunch at Jojo Rooftop Lounge on the first Wednesday. It is pretty weird that I thought a visit to a lounge would be chilled right? My argument is that it was a Wednesday afternoon and I didn't expect a party. It was a pleasant surprise though, just like the time I thought I was going to a brunch at Lot 45 in Bushwick, Brooklyn. I witnessed one of the most amazing sunsets ever while there. The food was great, the atmosphere was just right and the views were magnificent.
After two days of living my best small-apartment-freelance-journalist-sex-and-the-city-life, I went and crashed with a friend. Apparently just two days in the City of Gold was not enough. Maboneng also becomes livelier from Thursday until Sunday!
Stomach Bug From Hell
---
I was so keen to experience a good weekend in Maboneng but a bacteria from hell had other plans. The worst case of food poisoning happened to me on Saturday and my body shut all the way down. I was throwing up the whole day and I really thought that I was about to meet my maker. I couldn't eat anything, if I drank even water, I'd puke. My friend advised me to drink a Coke and when I finally did, all became well, or so I thought.
Because I was feeling a little better after drinking a Coke, I decided to go out for a late lunch with my friend on Sunday. We went to Hallmark House, another unexpected rooftop party that I am not complaining about. We got there at around 4 PM only to find out that if we had gotten there before 2 PM, we wouldn't have had to pay the R100 entrance fee that we each paid. Calling earlier to make a booking for after 4 PM would've saved us R50 each. Valet parking was R50, which is quite important in Johannesburg. They have a set menu that I thought was affordable: R150 for each dish that is served, except dessert. Their drinks were normal for a sit-down spot so a 330ml Hunters Gold cider was R30.
I think the general consensus here is: Give Vonani a glass of wine, put her on a rooftop, play good music and she will be happy.
Other Things to do in Maboneng are:
---
Ravioli
A black-owned contemporary Italian restaurant in the heart of Maboneng. Mpho Masilo from Rabokala village in the North West launched the dashing restaurant two years ago. He also owns the popular Shakers Cocktail Bar, also in Maboneng.
Afro Bru
A spot where you can enjoy craft beverages, crispy pork knuckles, golden schnitzels and live Music.
Curiocity Hostel
According to their website, Curiocity was the premises of the Pacific Press during the apartheid era, which published material for the ANC and Black Sash and is said to have offered refuge to struggle stalwarts like Mandela and Slovo. In the heart of the vibey Maboneng precinct, it's now the perfect base for exploring the culture, history and creativity of the city. It is not just a place of accommodation, Curiocity also houses the Hide Out Bar and offers activities such as city skate tours, Friday braai nights and bike rentals.
The Living Room
A unique blend of the natural and the urban, the Living Room is a boutique guesthouse and venue. They have a lush rooftop and restaurant where they serve simple delectable meals and eclectic tapas, all perfectly paired with our signature cocktails and smoothies.
Arts on Main
A Lively Sunday market with vendors for casual global eats & locally made fashions & design objects. Arts on Main is a mixed-use creative hub in Johannesburg's urban neighbourhood, the Maboneng Precinct. The premises consists of artists' studios, galleries, workshops, eateries, and various office and retail spaces, offering visitors a range of events, arts and merchandise. It is a unique environment for the city's creative community to develop and share ideas and engage in multiple innovative experiences in one venue.